The Long Lost City of Detroit: The Economic and Financial Pain of Motor City. How Detroit went from 1.8 Million to 912,000 Residents. 28.9 Percent Unemployment.
There is no other city in the United States that highlights the Achilles Heel of the current financial crisis like Detroit Michigan.  Detroit Michigan had a booming population from 1870 to 1950.  In 1870 Detroit had 79,577 residents and in 1950 Detroit had a stunning 1.8 million.  The massive boom came with the growth of the U.S. auto industry.  The nickname Motor City was aptly deserved as Detroit became a powerhouse of economic growth.  Yet all that has now changed.  Detroit now has 912,062 residents, a decline of 50 percent from the peak in 1950 and those leaving the city continue.  Detroit isn't in a recession but an economic depression.
It is rare to see such a large out migration from the once powerful Detroit but visualizing this on a chart is simply amazing: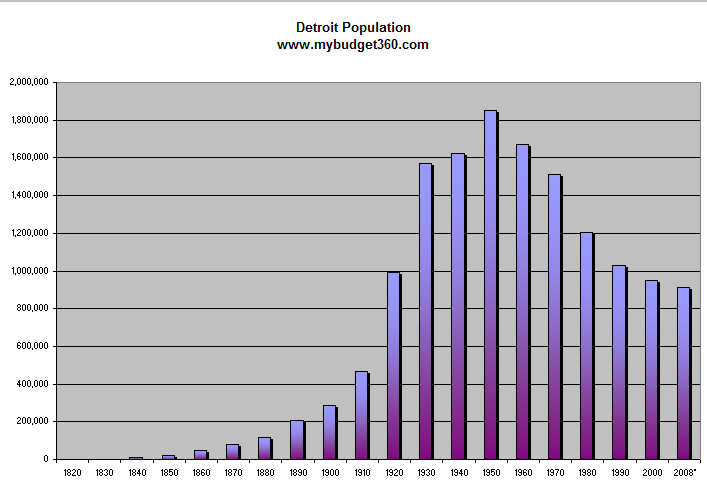 From the 1950s onward, Detroit has slowly lost residents.  However the metro area was still in growth mode up until 2008.  The city has seen the major pain of this economic crisis on every front.   Consumer demand has shifted to more fuel efficient cars.  Global competition has eaten into the competitive advantage of the big three automakers.  Michigan also has had a weak economy with housing prices in the doldrums for over a decade.  While much of the U.S. has dealt with the housing bubble bursting in recent years, Detroit has been dealing with its own depression for over a decade.  But even the recent bubble brought some growth to Motor City in the housing mania: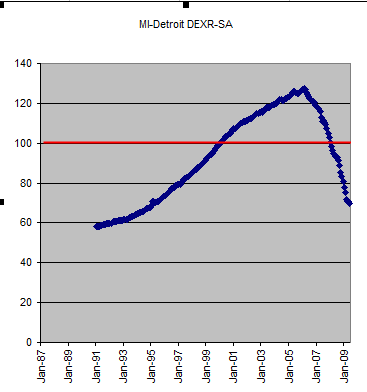 What is fascinating with the data above is that Detroit housing values have been under inflationary trends for nearly two decades.  The recent bubble pushed index data over 100 for a brief interval but we are now back below the range.  Yet Detroit saw a housing decline based on real economic fundamentals of a weak economy.  That is, much of the drop came from employment or out migration instead of toxic sophisticated mortgages.
The unemployment rate however for Detroit is off the charts.  The current unemployment rate for the city is 28.9 percent.  It is amazing that such a big city is having unemployment surpassing the national average at the peak of the Great Depression.  Even the local MSA is seeing unemployment nearing 20 percent: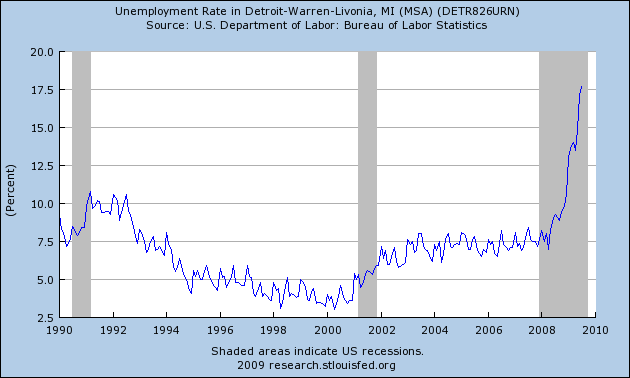 If that is the headline number, we can only estimate that the actual unemployment and underemployment must be nearing 40 percent.  This kind of employment pain is simply a reflection of the real shifts in the economy.  The U.S. consumer in large part is changing their habits.  Detroit is a reflection of a past that is no longer here.  It is hard to spend more than you have and build cars that simply were not fuel efficient.  It has changed some of its ways but is it too late?  Most automakers got caught in this shift yet not to the point of the big three.  In fact, we need to remember that two of the big three are now government owned.
In many ways, it is painful to see a beloved American city with so much history being dismantled.  We would like to see it as this: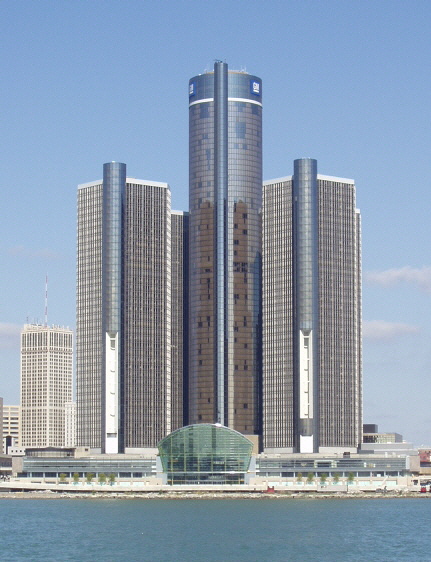 Yet the current reality is more like this: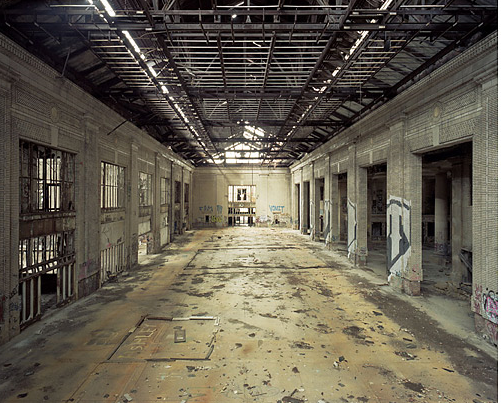 Source:  Time
In many ways that photo above could be out of some futuristic dystopian movie where a city is left to atrophy over time.  Yet it is not.  It is the slow progression and reality of the new austerity in America.  People have spent and borrowed too much on credit.  As a nation the U.S. Treasury and Federal Reserve have done everything they can to keep this going but as you can see from the above, consumers are just not buying it.  And how could they?  We've gutted our manufacturing base.  One lesson Henry Ford knew even with his workers is that you must pay your employees enough to purchase the product they develop especially if it is mass produced.  The only way we got people to buy cars in the last few months was through cash for clunker gimmicks and not a focus on employment.  Will this last?
It is interesting that some of the new strategies to resurrect Detroit include bull dozing large portions of the city.  A city government that is in massive deficit, it may be cheaper to demolish certain areas instead of letting them sit and allowing crime to grow.  Plus, the city has lost tens of thousands of residents so some of the structure reflects a city that is no longer as big as it once was.  In many ways Detroit needs to downsize just like its line of autos.
I know it is hard to look at examples like this because it detracts from the Wall Street casino.  In amazing fashion the market keeps going up even though employers are not hiring and layoffs are still in the pipeline.  However Detroit is a real example of the pain currently faced in the trenches in America.  Wall Street is so disconnected from Detroit, it has forgotten it even exists.

If you enjoyed this post click here to subscribe to a complete feed and stay up to date with today's challenging market!