The 4 Horsemen of the US Debt Apocalypse: 80 percent of federal government operation costs go to four areas in Health and Human Services, Social Security Administration, Veterans Affairs, and Department of Defense.
Here is a question you probably won't find on Jeopardy: what is the actual risk of a U.S. default on its debt?  The answer to that is none because the Federal Reserve has the magical power to create new debt to pay off old maturing debt.  Must be nice to operate beyond the normal rules of accounting.  Yet there is a problem where the debt to GDP ratio is now at a level only surpassed by that brought on by World War II where the industrial powers were literally in full scale war.  It is probably worth noting that we have mountains of debt and a large portion of this is being held by China, a nation that is being politically unsettled by words of the incoming administration.  We are essentially in a situation where our tax receipts are not keeping up with our spending.  So the debt only grows.  And four departments eat up 80 percent of all federal government spending:  The Department of Health and Human Services, the Social Security Administration, Veterans Affairs, and the Department of Defense.
Spending will only grow
We have an addiction to spending and debt is our crack.  The U.S. is in an enviable position where we can spend as much as we want courtesy of the Federal Reserve.  Debt is fine to a certain level and you must have enough revenue coming in from the real economy to support this deficit spending.  The new administration has already alluded to big spending with tax cuts – which will only balloon the deficit.
Here is how our debt to GDP ratio looks like: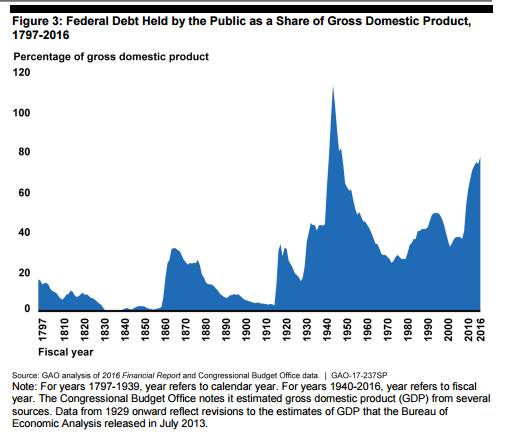 Source:  Government Accountability Office
What is interesting in no projected scenario do we see debt shrinking.  It only grows and grows extensively.  Two departments cater to older Americans and those costs are going to explode over the next few years: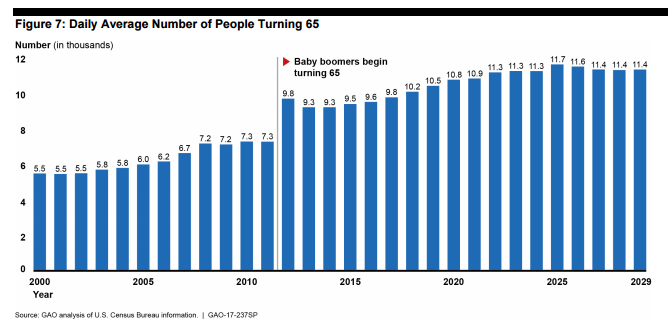 And this problem is bigger than you think because half of elderly Americans rely on Social Security as their primary source of income.  Not a good thing when we are running deficits like this.  The other two departments are focused on war and large scale weapons and then taking care of the people that serve our country.  Sadly, we don't do a great job taking care of our Vets but do invest a lot in very expensive weaponry.  One large reason why the U.S.S.R. went bankrupt was spending way too much on military.
What you won't see is politicians going after any of these areas.  These are political kryptonite.  Old Americans and the military.  You can't win by cutting anything here.  So you can expect this spending to continue for the near future.  But what does this mean in the bigger scheme of things?  It means shadow inflation through debt.  Things that are financed will get more expensive if more debt devices are injected into the system.  Take college tuition for example.  It didn't go down during the Great Recession but kept on moving up thanks to government backing of loans.
Keep in mind all of this is happening without much resistance because the economy on paper is looking good.  The headline unemployment rate is low even though 95 million adult Americans are not in the labor force.  The stock market is great but only half of Americans even own one stock.  Real estate is up but the homeownership rate is down.  But here is a fact and that is America is getting older and this is going to be a massive expense on our balance sheet.  These four departments eat up 80 percent of federal government spending and will likely continue to do so.

If you enjoyed this post click here to subscribe to a complete feed and stay up to date with today's challenging market!