Record 95.1 million Americans not in the labor force. The challenge of having an army of non-working adults.
The year definitely ended with a bang and the number of Americans not in the labor force is now at a record high as well.  95.1 million Americans are now floating in the "not in the labor force" category that finally got some mainstream attention in 2016.  This is a big deal because you have an enormous proportion of your adult population off the charts.  This convenient math has also allowed the unemployment rate to look lower than it probably should be.  After all, if you are simply dismissing millions from your overall calculation then things can look better.  We end the year with an enormous number of adults that have fallen off the labor force bandwagon and in many cases, you have old adults who wish to retire but realize their new retirement plan is working until they die.
The non-working army
In the last three months of the year the not in the labor force figures jumped by a whopping 841,000.  This figure dwarfs any job gains that have been made over the period.  You need to understand that this is significant because even if the figures are booming by older Americans, this simply means liabilities are going to be surging across the board.
Take a look at the chart below to see the 95.1 million in all of its glory:
Source:  BLS
You should be worried for a variety of reasons with this massive growth.  Half of elderly Americans rely on Social Security for virtually all of their income needs.  Medicare expenses are also ballooning out of control.  The fact that you have so many people being thrown into this expensive cost structure is troubling for taxpayers but also young Americans that have to support an incredibly large number of people with a seemingly unlimited growth liability.
It is important to have a robust labor force.  Today we have one where one-third of working private sector workers are supporting the other two-thirds: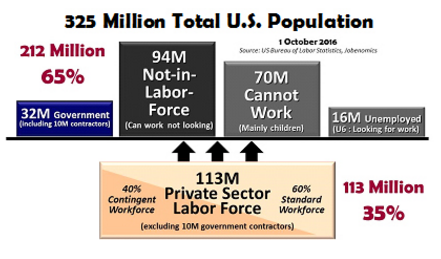 You have to wonder how long this structure can hold if the trend simply continues to move forward like it is.  The cost structure is going to buckle at some point and liabilities are simply ballooning.  With $20 trillion on our national debt and household debt ramping up again, we are simply supporting this economy with money borrowed from the future.  That can work fine for a period of time but the easy temptation of borrowing always leads to days of reckoning.
I've thought about this topic a lot because it amazing that nearly one-third of our population is not in the labor force.  This obviously excludes children that can't work by default so this makes this number all the more telling.  I see it within my own neighborhood.  Older retired families that now live carefully on their Social Security checks.  One person mentioned they had very little in their 401k or pension money and Social Security was it.  In many cases the 401k has been a failure for average workers.
So we end the year with a record number of Americans not in the labor force.  Are we on track to seeing 100 million Americans not in the labor force?

If you enjoyed this post click here to subscribe to a complete feed and stay up to date with today's challenging market!