94,609,000 adult Americans not in the labor force: In January 2009, 80,529,000 were not in the labor force. Now we've added 14 million Americans.
There is truly a silent majority in the United States and those are people that are not in the labor force.  It is hard to believe but since January of 2009 we have added a whopping 14 million Americans to the already staggering number of adult Americans that are not in the labor force.  Many older Americans are fully reliant on Social Security and are one missed direct deposit from being out on the streets and starving.  Adults not in the labor force are largely ignored because they have weak purchasing power.  Who is going to advertise to them?  Yet this massive group makes up nearly one-third of the entire population.  Are we heading to 100,000,000 adult Americans that will no longer be in the labor force?
The not working silent majority
The number of adult Americans not in the labor force has ballooned to ridiculous proportions.  This has far outpaced any standard retirement projections.  Back in 2006, we had 77,339,000 people that were not in the labor force.  Today it is up to 94,609,000 (a stunning increase of 17,270,000 in just ten years).
Take a look at the figures: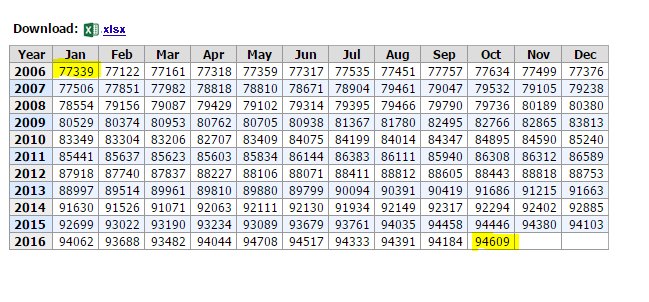 Source:  BLS
If you take this back 20 years, you can see that the trend started accelerating in the late 1990s: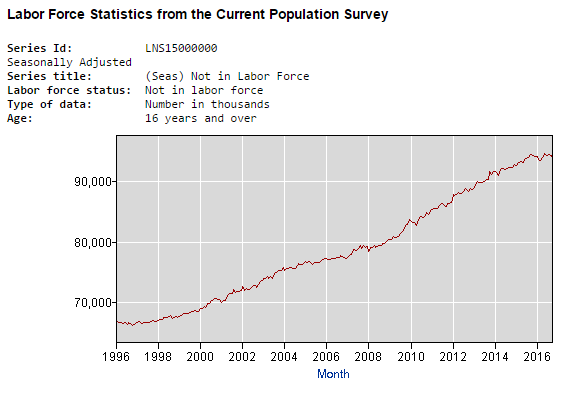 The workforce getting older has been a big part of this but we have gone through the following:
-The 1990s tech boom and bust

-The early 2000s recession and 9/11

-The Great Recession that hit from 2007 to 2009
Normally you would expect a standard recession but that is the thing with economies, they are simply hard to predict.  The Great Recession was the worst recession since the Great Depression. We have gone into uncharted territories of debt to keep on moving forward.  It is still to be determined whether this move was an exercise in kicking the can down the road.
So let us say that most of the growth of those not in the labor force are older Americans.  If that is the case, then we still have much to worry about because the cost of health care is ballooning and these expenses tend to pickup into old age.  We move from an era of working productivity to one of dependence on family or the state.  And given the smaller number of younger Americans and weaker wages, it is not entirely certain that younger Americans can support the army of older Americans not working.
Yet in that large not in the labor force category, we also have working age Americans that have simply dropped out of the labor force.  We also have many Americans going into massive levels of student debt with degrees that are uncertain to yield a return on their investment.
More than 20 million Americans are currently enrolled in colleges or universities: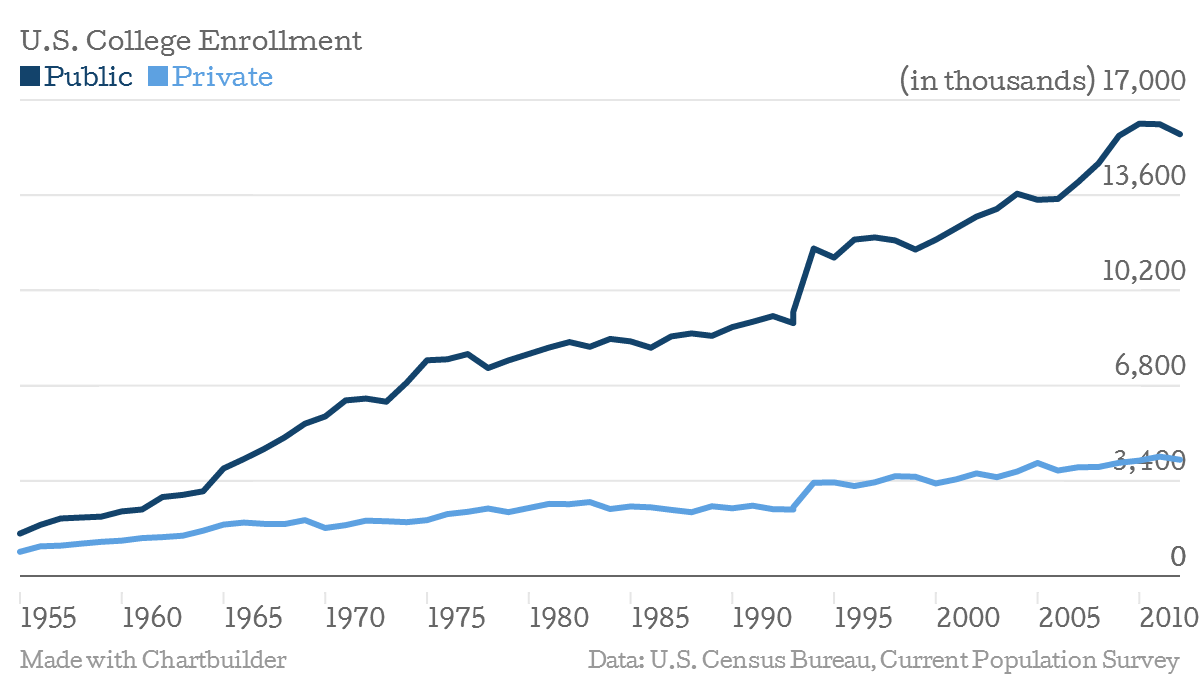 Overall, we have a large number of adult Americans not working yet financial commitments on the nation are growing.  It is not by accident that this important topic was fully ignored during the political season.  Those not in the labor force are the silent majority after all.

If you enjoyed this post click here to subscribe to a complete feed and stay up to date with today's challenging market!