Who's afraid of a little bit of inflation? How low interest rates hide the real price of housing, college tuition, and cars.
Inflation is like the proverbial story of a frog in hot water.  Drop a frog in boiling water, it jumps right out.  Drop a frog in regular water but slowly raise the heat, and it will slowly boil into oblivion.  Inflation has a subtle way of destroying purchasing power.  Unless incomes are rising, which they are not, any minor price change is going to have a solid impact on buying power.  Americans have been feeling this declining standard of living for more than a decade now.  Yet the change has come at a subtle pace where few have reacted to it.  For example, college tuition has soared in the last decade.  Since incomes have not kept pace, many have gone into debt (from about $200 billion in 2000 to now being over $1 trillion today).  Another big issue is with the rising costs of healthcare especially with many baby boomers now drawing on the medical system in the US.  Anyone that has looked at going to college today or has required medical care will tell you that inflation is very much real in our economy.  So who's afraid of a little bit of inflation?
Inflation is happening
Contrary to the extensive money printing that the Fed is doing and their outward statements that inflation is tame, the reality is, for the items most Americans need prices are going up: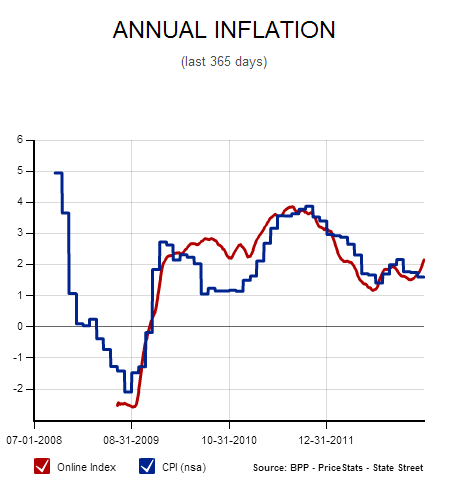 This is obvious and is more insidious when wages are stuck in neutral or even moving backwards.  Price increases are hitting at a time when incomes are not going up.  This game is complicated and many simply point to measures that really don't reflect the real economy.  For example, the CPI never spotted the housing bubble.  Why?  Because it measures something called the owner's equivalent of rent.  That is, how much can you get if you were to rent your home.  However, most Americans own their home and will not rent it out.  Yet because of easy money policy, the sticker price of homes went up dramatically.  So what are we really measuring here?  Easy access to debt or actual prices?  The same thing is happening today.  Sure, Americans can only afford so much home and they base their lives on monthly payments but the cost of housing is going up (sticker price).  Yet this does not show up because of the owner's equivalent of rent measure.  Also, this easy money policy of the Fed is causing large funds to invest in real estate crowding out regular families.
I've seen this argument also for college tuition.  This is one area where it is hard to hide inflation: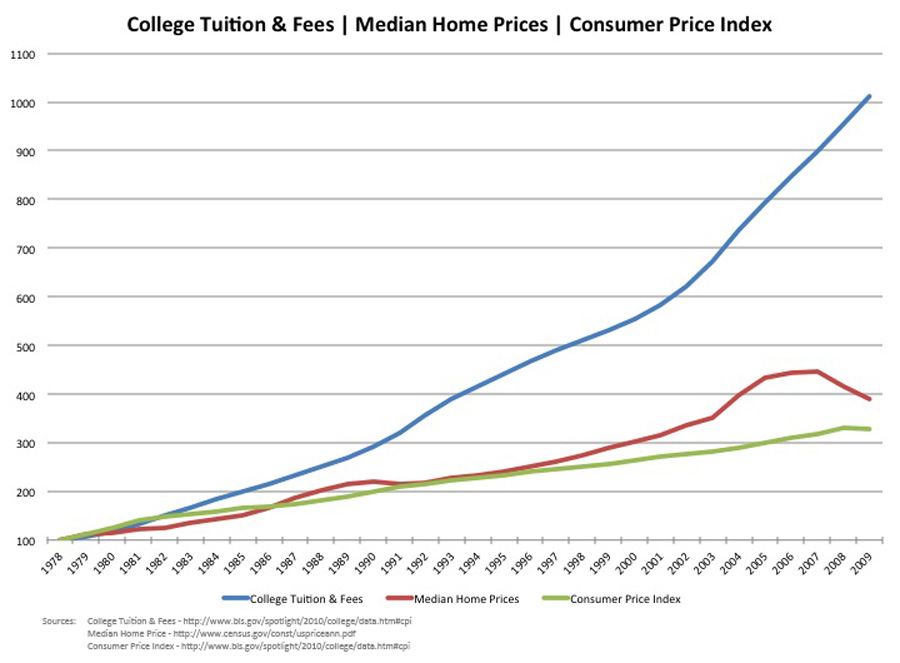 Yet the argument I see here is that rates are low so students can go into graduated or income based repayment plans that keep their payments near a car payment.  That is one way to look at it but all you are doing is locking up decades of future income to the current sticker price.  Just because a $150,000 home at a higher rate is the same payment of a $200,000 home at a lower rate doesn't mean the underlying home did not go up in price.  The same applies to college.  I think most people would rather have the same payment with a higher interest rate and a much lower cost.  This is the odd calculus that people now live by.  Just like those zero down and zero percent car offers.  You are still paying the sticker price one way or another.  As you can see from the chart above, clearly tuition is one area where costs have soared.
Medical Care
The bubble in higher education will pop and we will also have challenges with medical care.  Behind college tuition, medical care is the second fastest inflating sector: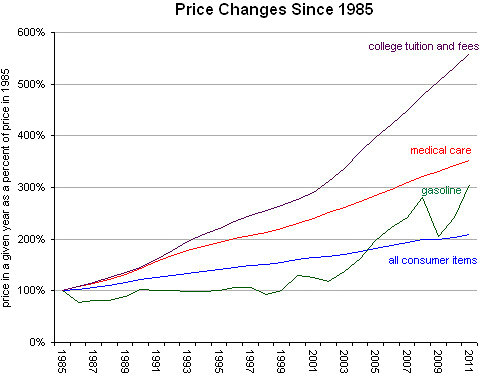 This is all very much unsustainable.  Since 1985, college tuition has soared nearly 600 percent and medical care is quickly approaching 400 percent.  The overall CPI is at 200 percent.  When you put this into the context of wage growth you can understand why so many people are struggling: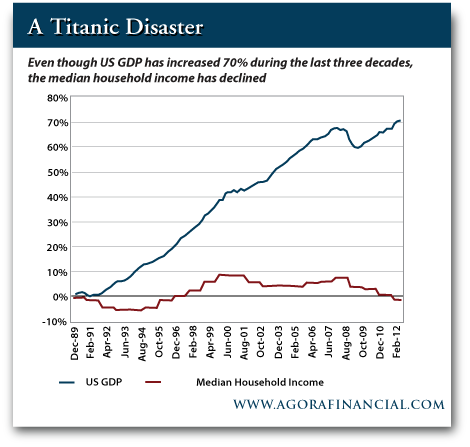 Real wage growth has not occurred yet GDP has grown steadily since 1989.  The standard of living is going down and this should be obvious to most Americans.  The stock market as we have discussed clearly does not reflect the issues that are really hitting most Americans and benefits very few people in our society.  But in the end, who is afraid of a little inflation right?

If you enjoyed this post click here to subscribe to a complete feed and stay up to date with today's challenging market!