Amazon is annihilating the Department Store faster than you think with 80 million prime subscribers: 4 charts showing the destruction of the department store.
If you enjoy the process of shopping at department stores you may want to get it out of your system sooner rather than later.  Forget about the fact that the US has built a ridiculous amount of mall space thinking that Americans were perpetually going to only buy in-person in cavernous florescent light stores.  Amazon has set the new model of shopping and how can you beat shopping in your pajamas?  After recently purchasing a big piece of furniture online, I can see why department stores are in big trouble.  The recent list of retail bankruptcies are only going to grow larger.  People have made a conscious decision and are voting with their wallets online.  The word of the day is "disruption" and it is happening much more quickly than expected.  When you look at these three charts you can see that retail is in deep trouble.
Online is crushing the department store
Just like Blockbuster failed to see Netflix changing the way people view shows and movies, most retail stores failed to see how Amazon would shape the way Americans shop.  We are a consumption based society.  That is the fuel that keeps this ship moving.
Online sales which once were thought of as a tiny sliver of the market are now crushing the daylights out of in-person retail sales: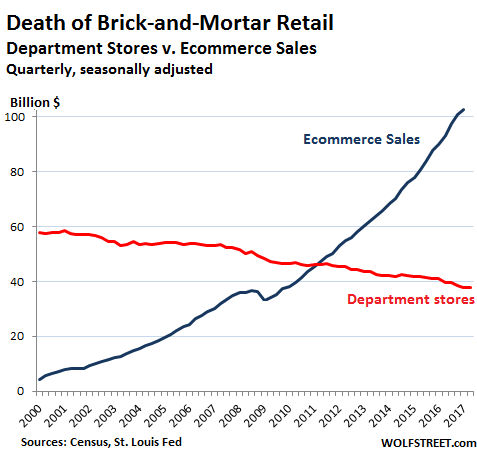 Chart #1 – Bye bye department store
Ecommerce sales are now over $100 billion on a quarterly basis.  Department store sales have been on a steady declining trajectory since 2000 and now have fallen below $40 billion on a quarterly basis.  This is bad.  It is bad for commercial real estate.  It is also bad for those retail shops that simply cannot compete with the logistical power that Amazon now carries.
Chart #2 – This is not a temporary change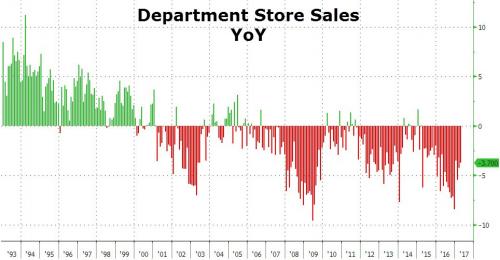 The destruction here is only going to accelerate.  This is going viral.  People are just not shopping in department stores like they once did.  This is crushing sales as you can see above.  Of course you now have places like Target and Wal-Mart that have sizable ecommerce positions.  Yet this completely crushes the idea that this change is temporary.  This is the way things are heading and they are moving in that direction fast.
Chart #3 – One ecommerce store in Amazon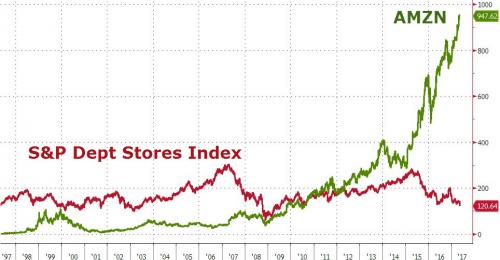 Amazon is the big powerhouse here.  Take a look at the above chart.  Amazon is singlehandedly changing the way people shop and is completely disrupting the department store industry.  Amazon is nimble and their logistics are incredible.  They are a logistics and supply chain management company.  They do this the best. So it is going to be increasingly difficult for other retailers to compete in this space short of them producing something better.
Product developers used to fight hard to get their products on the shelves of say Wal-Mart.  Now you can go directly online to Amazon.  This type of disruption was seen with YouTube and self-made videos and obviously with the ability of bloggers to serve as an alternative to the mainstream media.
#4 – Amazon is growing like a beast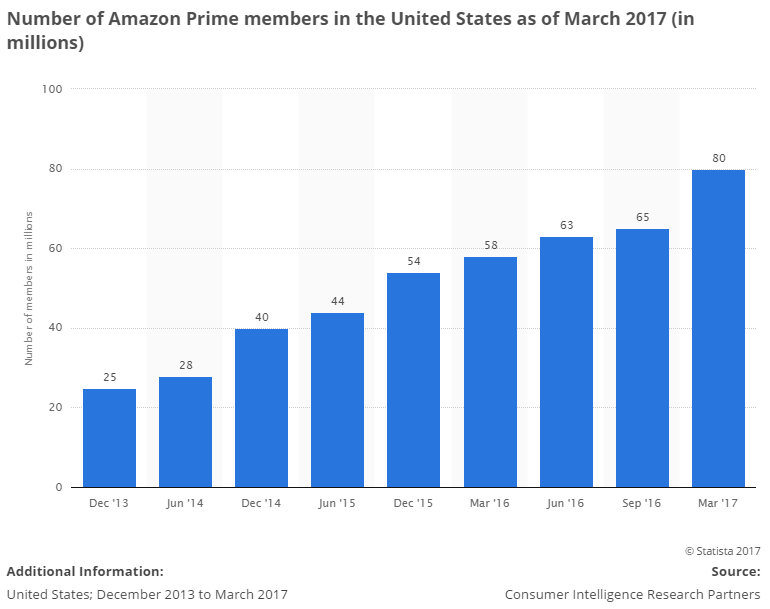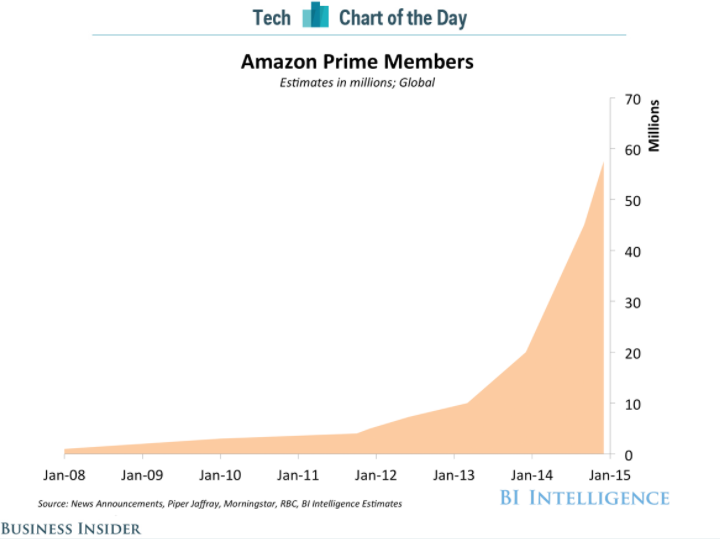 Amazon has gone viral in their prime members hitting 80 million.  They were in single digits just in 2013.  This is now viewed by many as a utility like Netflix.  Charts like this change entire industries.
Ultimately people are making a statement in the way they vote with their wallets.  If you enjoy going in-person to shop at a department store, you may want to go soon or expect to see your favorite store standing next to dinosaur fossils in the museum.

If you enjoyed this post click here to subscribe to a complete feed and stay up to date with today's challenging market!