The canary in the asset bubble is popping: $3.8 trillion bubble that you are probably not aware of.
The death of retail as we know it is real.  People are shifting their buying habits online in a fast and furious way.  The only retail outlets that seem to be thriving are dollar stores but they are thriving because many Americans are living paycheck to paycheck and online shopping is too expensive for some.  So it should come as no surprise that the way things were once done is being upended again by technology.  Giants like Amazon and Wal-Mart are cannibalizing entire industries.  Back in 2012 Amazon had less than 10 million Prime subscribers.  Today it is over 80 million.  So the big bubble that is now imploding is that in commercial real estate.  There is $3.8 trillion in commercial real estate loans outstanding and the bubble in this market couldn't be peaking at a worse time.
The peaking CRE bubble
Keep in mind that a large portion of commercial real estate is driven by malls and retail locations.  Americans are still shopping but they are shopping online.  The old model is cracking hard and we are deep into bubble territory here.
Take a look at CRE values: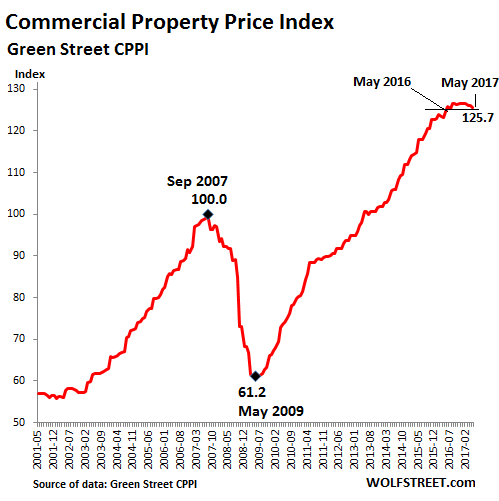 Commercial real estate values are up more than 105% from their lows reached in 2009.  Current CRE values are surpassing peak values reached during the last real estate mania.  And as you can see from the chart above, it looks like we have reached a peak.
Then you have news like this:

The above news was released this week.  Keep in mind that at one point Sears was a larger business than Wal-Mart.  And here it is slowly disappearing.  That is a big problem because commercial real estate can't simply disappear overnight.  What are you going to do with giant mall space that is now not needed?
I've been in many malls over my lifetime and recently, there is this deep sense that something is changing and you can see it.  Empty store spaces.  Massive sales.  Deep discounts.  The issue is that many Americans in particular young Americans work in retail.  While the pay is low, it is better than nothing.
The two largest occupations in the US are retail and cashiers: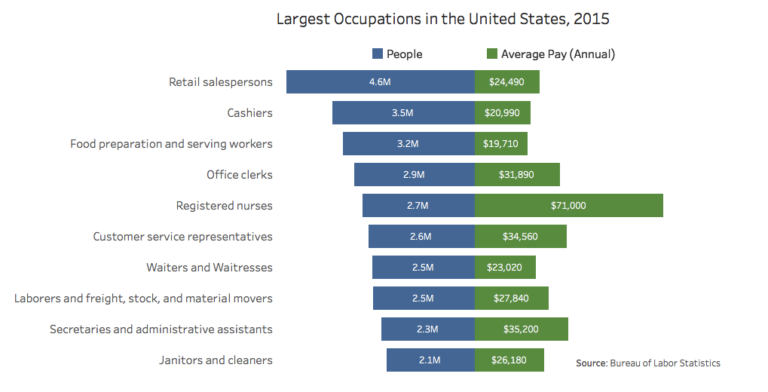 Source:  BLS
And both of these are under fire.  Then you have McDonald's announcing that cashiers will be replaced with self-serve kiosks: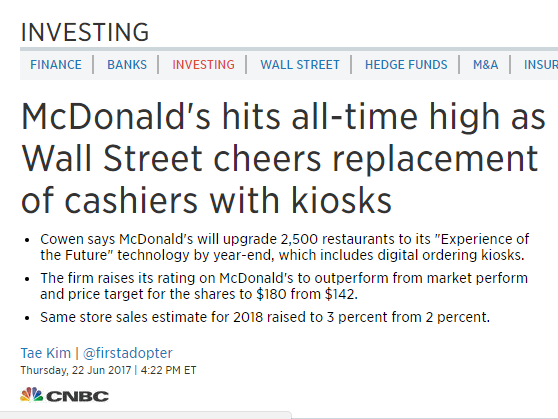 So what do you think all of this will mean for low wage workers that dominate the economy?  The above headline seems to sum it up however.  Wall Street is cheering this on but the vast majority of Americans that don't own stock are getting cut to the core.  Welcome to the race to the bottom.  The CRE implosion is not going to be pretty.

If you enjoyed this post click here to subscribe to a complete feed and stay up to date with today's challenging market!