Unable to afford homes, Americans dive into subprime auto debt to purchase cars: Auto debt getting riskier with extended terms and chasing borrowers with lower credit scores.
The word "subprime" was synonymous with the toxic loans that were made during the credit bubble.  Some tend to think that those days are long gone but we simply have shifted the form in which toxic debt is filtered into the system.  Instead of making no-doc no-income loans on houses, we are now offering no-income loans to college students and also, a large number of subprime loans to purchase cars.  This is problematic for a variety of reasons.  First, Millennials and younger Americans are carrying the disproportionate amount of debt in college loans and auto loans.  College debt is causing major problems including forcing many young people to live at home with their parents well into older adulthood.  At least with college if done correctly, you are getting a degree that should boost your earnings power.  Of course you need to be weary of how much debt you take on and the quality of the institution you attend.  But with auto loans, you are basically financing a purchase that is losing value the moment you take it off the lot.  We now have over $1 trillion in auto debt outstanding and a large portion of this growth is coming because of subprime loans to riskier borrowers.
Subprime auto loans fuel growth in auto sales
The amount of loans being originated by the auto industry is reaching near peak levels.  Many younger Americans unable to purchase homes are deciding to live in the moment and are going into big debt to finance cars.  A large portion of growth is coming from subprime borrowers and many are going into extremely long payment terms.  There are now 72 month auto loans floating in the market as common practice:
"(Bloomberg) The average loan term for new vehicles reached a record 67 months in the first quarter, with the figure for subprime new-car debt approaching 72 months, according to Experian Automotive data. For used cars, the average reached a record of 62 months, with the length for the least reliable consumers exceeding 56 months, the data show."
In the first quarter of this year, nearly 20 percent of all auto loans originated were in the form of subprime borrowers: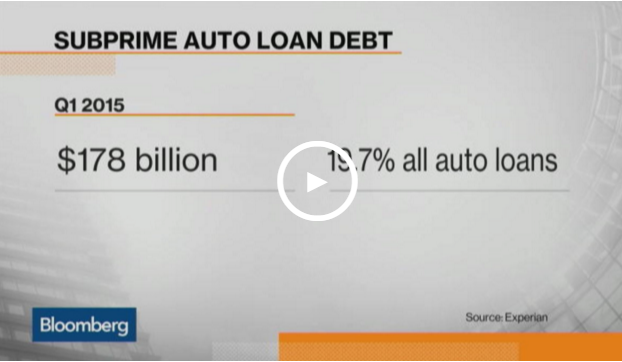 It is interesting to see this growth occurring during the second leg of the housing boom where investors simply crowded out regular families from buying homes.  Take a look at the growth of subprime auto loans since 2010: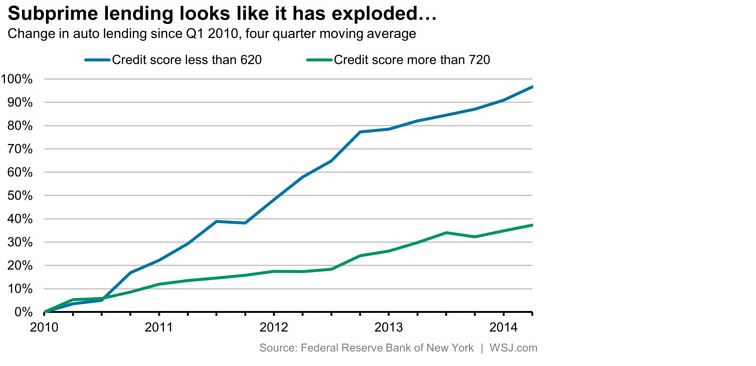 This is for a purchase that is unlikely to assist in building wealth.  It is already the case that most Millennials are living paycheck to paycheck in low paying jobs with a negative or zero net worth.  The last thing you would want to do is finance a large purchase with debt.  You might have a young person doing something like this:
Finance a car for 72 months:       $30,000

Four years of college loans:         $50,000
So right out of the gate before earning any money from a regular job many Millennials will already carry $80,000 in debt.  In essence many already have a mini mortgage before looking to purchase a home.  This is why new household formation is weak because many younger Americans simply do not have the money to buy a home.
Subprime auto debt outstanding is already reaching a record high: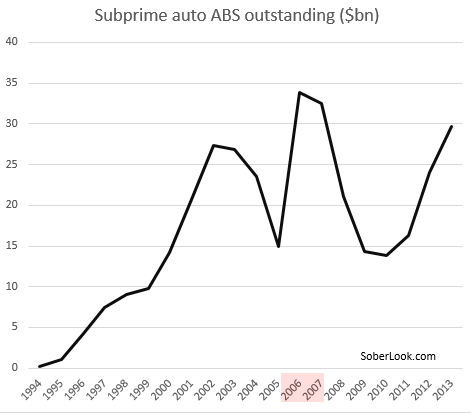 The appetite for risk is growing. A total of $1 trillion in auto debt is floating in the system.  Worries are starting to mount:
"Stretching out how long it takes buyers to pay off loans is helping to make cars affordable at rising prices and stoking sales. As volume of subprime auto debt rebounds after collapsing during the credit crunch in the wake of the 2008 financial crisis, the wisdom of lending over ever-expanding periods is being questioned.

The Office of the Comptroller of the Currency warned about the trend across the car loan market in a June report, saying "extended terms are becoming the norm rather than the exception and need to be carefully managed." Longer loans may increase the odds of lenders suffering losses on repossessions and of consumers walking away from vehicles needing repairs."
Of course the stretching out of terms and going out for riskier borrowers is simply a recipe for a disaster once the economy hits another bump in the road.


If you enjoyed this post click here to subscribe to a complete feed and stay up to date with today's challenging market!