China enters unfamiliar economic territory with rising inventory – Contraction in China's manufacturing sector now inching closer to one year. What does this say about the global recovery?
China is feeling the deep impact of the global slowdown.  The country has seen unprecedented growth for the last few decades and is now entering into a very unfamiliar territory.  Slowing demand.  Data is reflecting that the slowdown on exports from places like the US and especially Europe is having an impact in their very important manufacturing sector.  China also has hundreds of thousands of empty apartment units as the country has been heavily reliant on real estate building to support growth.  This economic contraction is not a surprise as global demand has fallen largely because of the massive levels of debt in a variety of countries and the process of deleveraging that is occurring.  We rarely see the word "decouple" from the economic corners of the world because that is largely a myth.  The global economy is more interconnected than many would want to think.  The slowdown in China will have an impact in many places including the US.
The manufacturing numbers in China
The actual figures coming out of China tell a very clear story.  The country is experiencing a slowdown: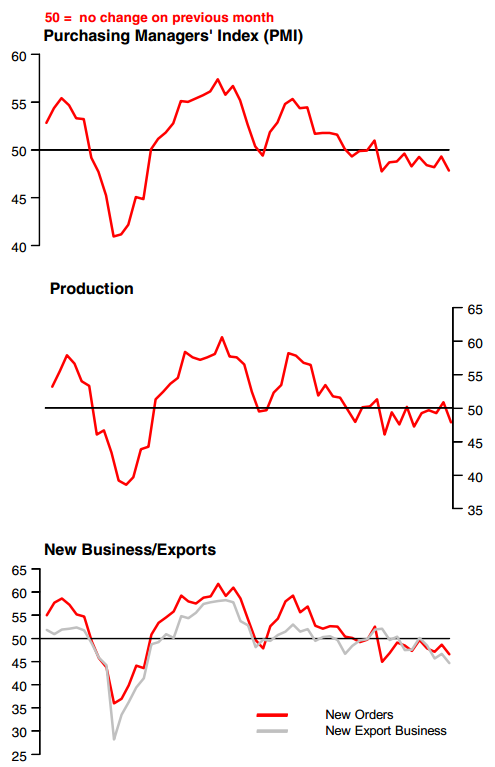 Source: Markit/HSBC
China's PMI is now down for 10 consecutive months.  New orders and new export business has also fallen hand and hand.  This is a leading indicator so there is definitely reason to be cautious about what is occurring in China.  Because of this China is finding a buildup with inventories which is a very unfamiliar place for the economy to be in: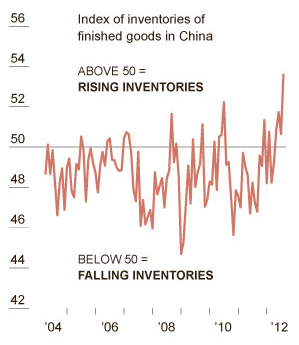 "(NY Times): – After three decades of torrid growth, China is encountering an unfamiliar problem with its newly struggling economy: a huge buildup of unsold goods that is cluttering shop floors, clogging car dealerships and filling factory warehouses.

The glut of everything from steel and household appliances to cars and apartments is hampering China's efforts to emerge from a sharp economic slowdown. It has also produced a series of price wars and has led manufacturers to redouble efforts to export what they cannot sell at home."
This should tell you something regarding how positive things are in the global economy.  Demand for goods has fallen and China now finds itself with record levels of inventory.  A few things will come from this.  China is likely to inject more government stimulus to ramp up their economy but this has already caused massive mal-investment in places like real estate.  Simply spending money on empty buildings or non-essential projects may look good for GDP, but does not really help the overall economy: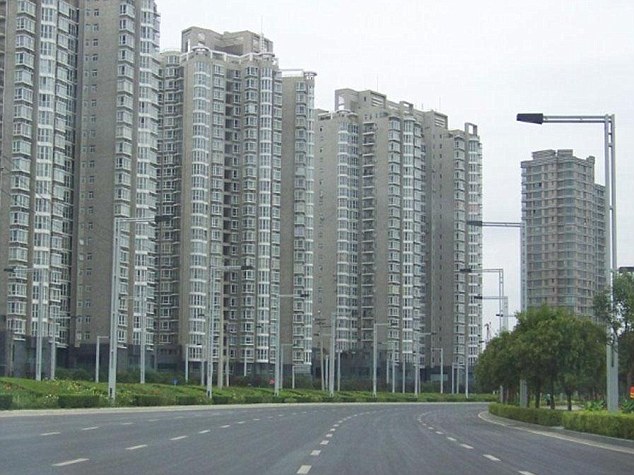 "(DailyMail) Zhengzhou New District residential towers: Soaring property prices in China and high levels of investment has fuelled the construction of up several new cities. Experts fear a subsequent property crash could damage the global economy."
To have the second largest economy in the world facing a contraction is not a sign of positive news or that the world is somehow edging out of recession.  Europe is in a deep recession and the US is simply entering an era of low wage capitalism.  The deeper issues however are built around unsustainable levels of global debt that are crushing government and household balance sheets.  Much of the demand in the last decade was fueled by easy access to debt.  With that slowly going away, consumer demand has also faltered.  The data from China demonstrates that global demand has slowed down to a significant level.

If you enjoyed this post click here to subscribe to a complete feed and stay up to date with today's challenging market!