China owns the Canadian real estate market: Chinese account for one-third of all Vancouver home sales volume in 2015.
he Canadian housing market makes the U.S. housing bubble seem like a tiny pricing discrepancy.  There have been talks for years that Chinese investors were buying up desirable properties around the globe and many pundits pushed these fears aside.  Their claim was that only a tiny portion of the market was made up by investors.  Well in Vancouver, one-third of all sales in 2015 went to Chinese buyers based on cash volume.  That is absolutely not a small group and enough to make home prices in many Canadian cities go into even deeper bubble territory.  There is no doubt the Canadian housing market is deep in a bubble.  The middle class in America now realize that owning a home is a pipe dream given stagnant incomes.  Do you want to own a home?  Too bad.  You are too broke unless you go into big debt and become a slave to our banking overlords.  In Canada, local households have zero chance of competing in places like Vancouver unless they go into comedic levels of debt.  How big is the Canadian real estate bubble?
U.S. versus Canada housing
The U.S. had a major correction in housing.  We all know this and lived through it.  But home values in many U.S. metro areas are now back in bubble territory.  But Canada never had a correction and in fact, prices continued to move up: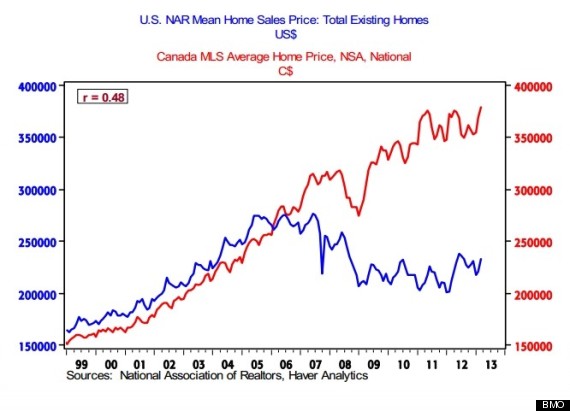 In 2005, the typical U.S. and Canadian home were about the same cost in U.S. dollars.  Today, the typical Canadian home is about twice as much and growing.  And in places like Vancouver, prices are going bananas.  A large part of this is because of foreign money flowing in and not only into Canada: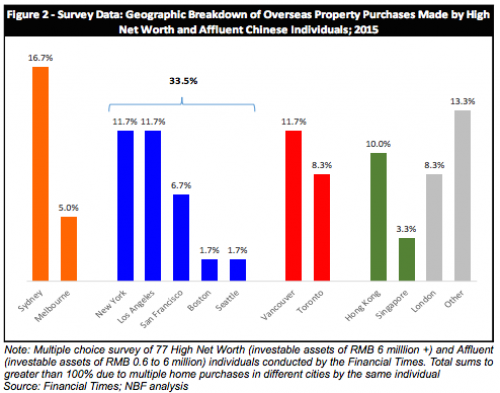 Home prices in many key areas around the world are seeing massive price increases because of outside money flowing in, most directly from China.  Here is some background:
"(ZH) According to the Greater Vancouver Real Estate Board, residential property sales in Greater Vancouver rose 31.7% in January, 46% above the 10-year sales average for the first month of the year and the second highest January ever. The benchmark price for a detached home in Vancouver: $1,293,700. The benchmark price for an apartment: $456,600. The latest data from the Canadian Real Estate Association shows the average price of a home in Canada rose an astonishing 16% Y/Y last month to more than $500,000. Underscoring the extent to which British Columbia and Ontario are driving the market, stripping out those two provinces pulls the national average down to under $300,000.

Prices in Vancouver surged 26% in February."
And what does a multi-million dollar home in Canada look like?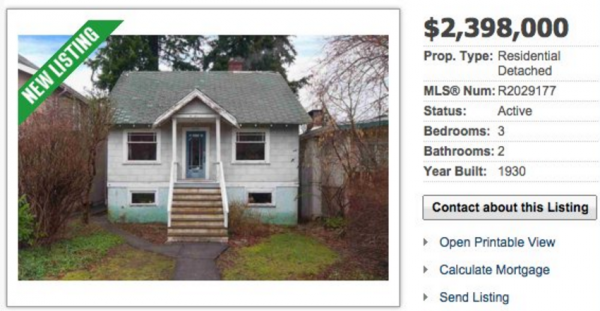 The working class in Canada is getting smashed.  These are teardowns.  Your typical family even if they are well to do has no chance of competing with this outside money swarming their markets.
And home prices continue to go up at an insane pace: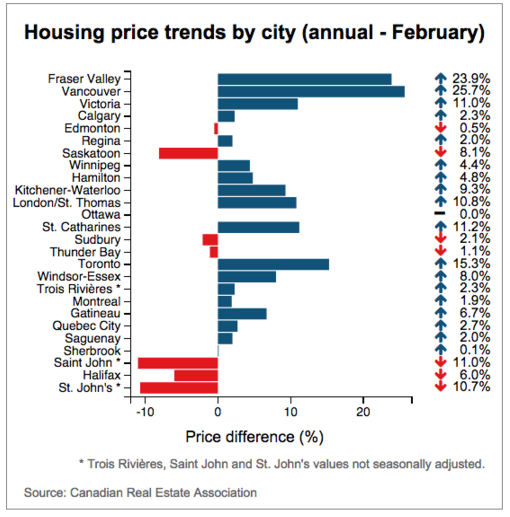 Vancouver's home prices are up nearly 26 percent year-over-year and oil has collapsed, a big part of the Canadian market.  But this doesn't matter when outside money is the dominating force.  The below data refers to figure 2 above showing where money is flowing:
"Figure 2, we depict the results of a multiple choice survey the Financial Times solicited from 77 high net worth and affluent individuals from China (admittedly not a statistically significant sample size). Of those who had purchased residential real estate outside China, 33.5% had done so in the United States, 11.7% in Vancouver, and 8.3% in Toronto. From this survey data, one could hypothesize that for every four high net worth investors from China who purchase a U.S. residence, one purchases a residence in Toronto; and for every three high net worth investors from China who purchase a U.S. residence, one purchases a residence in Vancouver. One can then apply these ratios to the NAR's estimate of US$28.6 billion in U.S. residential real estate investment made by buyers from China. From this, we hypothesize that, in 2015, homebuyers from China invested ~US$9.9 billion / Cdn$12.7 billion in Vancouver residential real estate (on a total 2015 residential real estate purchase volume in greater Vancouver of Cdn$38.5 billion, according to the Real Estate Board of Greater Vancouver); this amounts to 33% of total purchase volume."
This is a bubble like no other.  Gear up Canada, we know what it is like to undergo a housing bubble implosion.

If you enjoyed this post click here to subscribe to a complete feed and stay up to date with today's challenging market!