Get used to an America where owning a home is not part of the dream: You cannot afford a home on that income!
Well congratulations America.  Signs of another housing bubble are as clear as day.  Loans with nothing down are back in the market.  Incomes are stagnant so creative financing is necessary to buy more expensive homes.  And homes are more expensive.  The current home price data shows that across the country we have now surpassed the last bubble peak.  Yet incomes are not keeping up with wild movements in prices.  The end result is that the homeownership rate has collapsed yet somehow home prices went up.  How can prices go up with fewer families buying homes?  Easy, since the bailout funds allowed banks, hedge funds, and investors to pickup foreclosed homes from families and then turned them into rentals.  Now we have many more people living in rental homes accumulating no equity and barely scraping by.  Yet somehow with housing prices soaring, college tuition at crazy levels, and stagnant incomes we are led to believe that somehow we have no inflation.  The current model of the American Dream involves no homeownership for the already shrinking middle class.
Housing prices hit new peak
First, it is worth noting that housing prices have now reached an all-time peak.  This is worth noting because the last peak was clearly at a point where we were massively overpriced and the entire world economy came close to Great Depression II: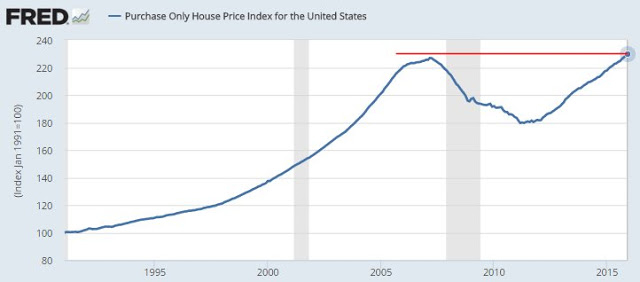 Source: St. Louis Fed
This is great news right?  Well not if household income is stagnant.  We have clear evidence that this wasn't driven by families hungry to buy homes.  Just look at the homeownership rate: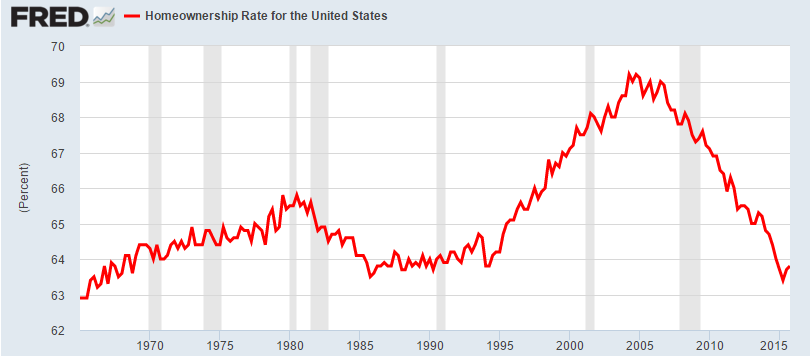 Source:  Census
Well someone was buying homes but it wasn't your typical family.  Homes were being bought by large investors to convert into rentals.  And this is where the bulk of the price increase happened.  This is why while net household formation for owners is neutral, we've added 10,000,000 renter households since 2004: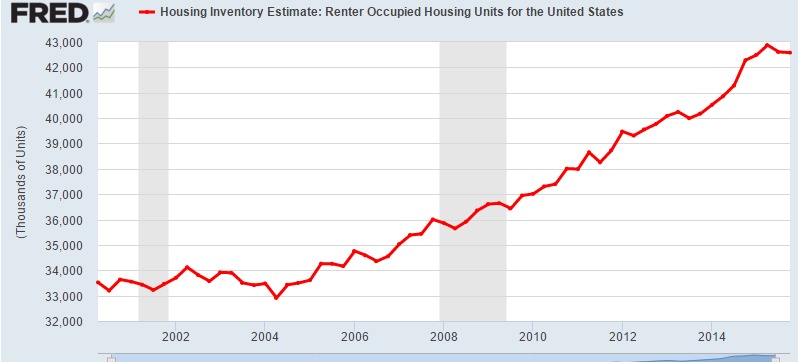 Source:  Census
So that is where the growth has happened.  Has it been that bad for income growth?  Yes: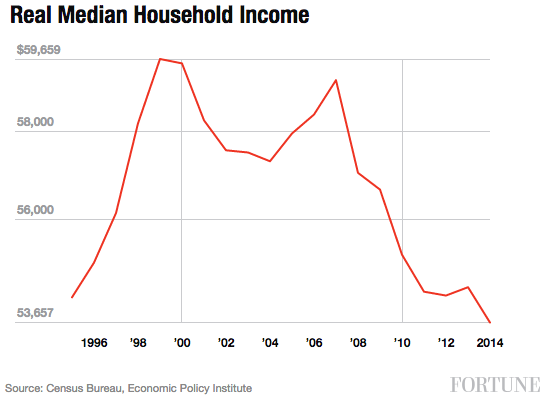 The average home price for a home sold in the US is $257,000.  With a household income of $50,000 this is much too high.  You need to factor in additional expenses like insurance, taxes, and maintenance and your budget is going to be extremely tight.  The middle class has now become a minority so having the cornerstone of the middle class, the family home disappear seems to go with the new financially rough territory.
So what do people do when they can't afford to buy a home?  They rent.  10,000,000 new renter households paints a very clear picture.  And then you wonder why anger is the fire that is moving the political structure in 2016.  The American Dream is literally disappearing before our eyes.

If you enjoyed this post click here to subscribe to a complete feed and stay up to date with today's challenging market!