Credit Cards and Auto Loans: $2.5 Trillion Outstanding Consumer Debt. If you can't find a Qualified Borrower or Buyer still lend the Money.
One of the many problems that led up to the economic crisis was easy access to debt.  This included easy access to home loans, auto loans, and credit cards.  You would have a hard time finding a reputable source that would argue otherwise.  Yet in the latest release of consumer credit data from the Federal Reserve, we see lax lending entering the market once again.  Some of this is being funneled to automotive loans while credit card debt is contracting at a steady pace.  Recent reports show that credit card companies have yanked 8 million credit cards off the market and they are not slowing down.
Let us first examine the changes in consumer debt:

Revolving debt (credit cards mostly) took a major hit last month contracting by approximately $10 billion.  More importantly, the actual amount of debt outstanding declined at a further pace because many credit card companies are seeing more defaults occurring: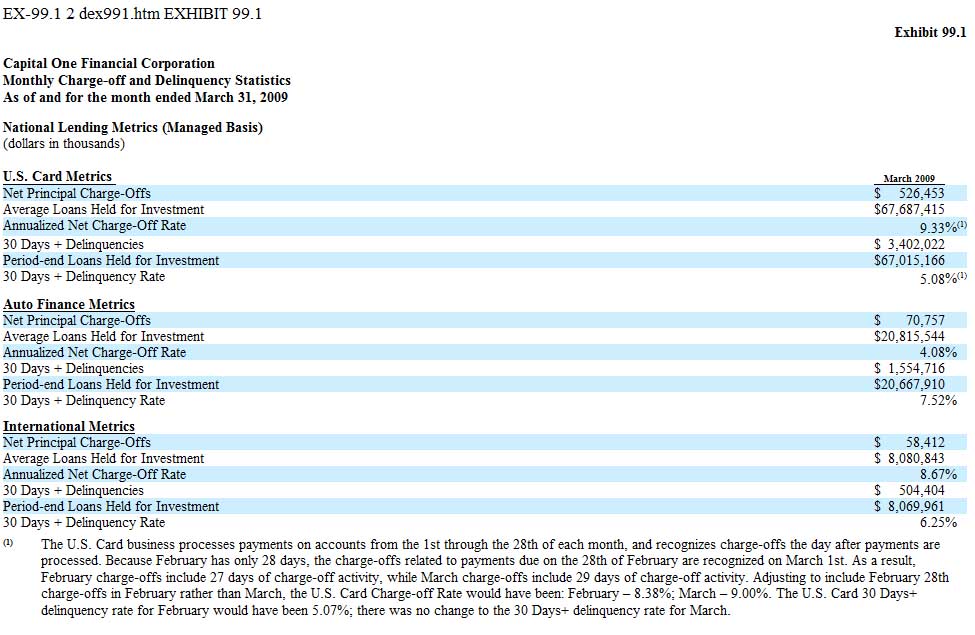 *Source:  Zero Hedge
The current annualized charge-off rate is now at 9.33% for Capital One.  Compare this to approximately 2% in January of 2006.  Looking at a $67 billion U.S. card portfolio, this is an enormous shift.  It also signifies deeper problems in the consumer economy.  Credit card companies are pulling credit while many Americans facing spiking unemployment are dealing with the reality of 24 million unemployed or underemployed.  At a basic level, credit card companies are doing what they should have been doing for decades.  American consumers have spent too much but credit card companies have lent too much as well.  Only the credit card companies and banks are being bailed out here, not the consumer.
Yet in some odd twist of fate, auto loans spiked in the latest data release:

In one month, the average auto loan rate went from 8.23% to 3.17%!  Also, the average loan given went from $22,922 to $26,268.  This is occurring when we are facing the biggest unemployment rate in three decades.  The solution to this massive debt crisis is giving bigger auto loans at lower rates to Americans?  This just doesn't make sense.  We are repeating the mistakes that led us into this crisis.
"In a quest to keep customers coming in the door and cars driving off the lot, General Motors is throwing in some enticing incentives.
"(Wilx) We know that GM wants to, needs to keep the economy going and keep the vehicle sales up," said Jeff Crippen, Owner of Crippen Auto Mall.
GM's new Total Confidence Plan offers payment protection for the first 24 months of ownership, shells out up to 9 payments of $500/month for customers out of a job and gives a fully backed 5 year 100,000 mile Powertrain warranty to top it off.
"The consumer is looking for that additional edge to say that now is the good time to buy a car and maybe today I wouldn't normally buy it, but with the programs that are out from the manufacturer it makes sense to buy a vehicle or lease a vehicle today," Crippen said."
How is this different from giving someone making minimum wage a $500,000 home loan and telling them you'll cover 9 months of payments if they fall behind?  Most would not have a problem if GM made loans out of their own stockpile of money.  Yet this money is coming from the taxpayer.  This is a company on the verge of bankruptcy and here they are making riskier loans at lower financing terms but also assuring someone that loses their job, they will be able to keep their car.  How many of you would like to go out and buy a car that you cannot afford and have the American taxpayer pay your bill?  In fact, many responsible and prudent Americans are not buying cars because we are in a recession and budgets are tight.
As you would expect when you give money for free, some will take it: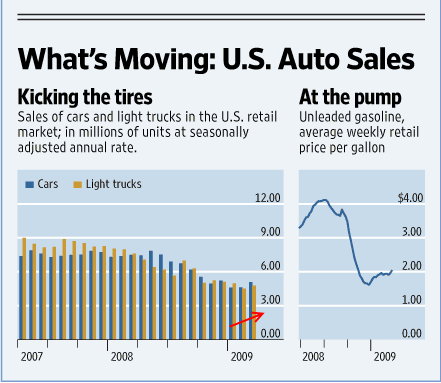 Auto sales did move up slightly but this is because of easy financing and insane offers.  Now assume more people become unemployed and they pass that 9-month mark.  What is GM going to do with all those cars once they get them back?
Now back to the credit card issue.  If mortgage loans were the foundation of this economic collapse credit cards were the spatula smoothing out the concrete.  Credit cards were used to buy televisions, vacations, and every other consumable good imaginable.  The only problem is wages weren't keeping up.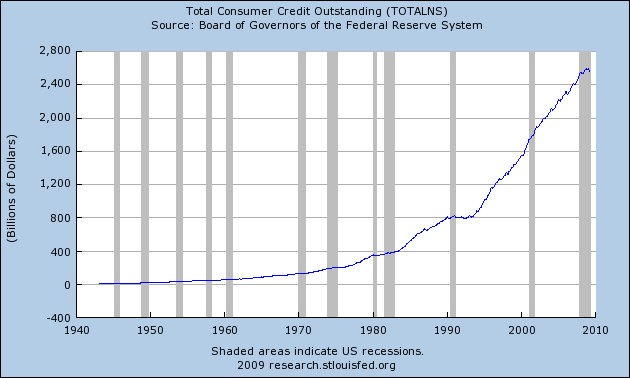 We currently have $2.5 trillion in consumer debt outstanding.  It breaks down as follows:
$955 billion in revolving debt
$1.6 trillion in non-revolving debt
Revolving debt is made up primarily by credit cards, and non-revolving debt is made up of auto loans and student loans for example.  For nearly 40 years this credit bubble has been expanding.  As you can see from the chart, we may be reaching an inflexion point for the first time in a generation.  That is, the average American consumer is reaching a point where they simply cannot borrow anymore.  The fundamental issue is many of the qualified prudent borrowers are not going to spend extravagantly.  In fact, that is the reason they are credit worthy in the first place.  The many that would take any and all credit are tapped out or have defaulted on home loans or credit cards.  So who do you lend to?  That is the issue at hand.  The bottom line is we have to secure the employment situation first and focus on wages before throwing out more gimmicks to get people to spend.
Starting another easy credit bubble will only make things more painful down the road.

If you enjoyed this post click here to subscribe to a complete feed and stay up to date with today's challenging market!