Crisis of generations – younger Americans moving back home in large numbers. Student loan default rates surging largely due to for-profit college expansion.
Posted by mybudget360 in bailout, banks, college, crooks, debt, economy, gimmicks, housing, income, middle class, student loans, wall street
The United States has over 4,000 college institutions many which have been raising tuition and fees far faster than the overall rate of inflation.  Combine this with a younger and poorer population and you have a recipe for massive debt serfdom.  As the recession drags painfully on, being the deepest and longest economic contraction since the Great Depression many people are questioning once deeply held mantras of economic prophesy.  A home never goes down in value.  You can't go wrong with a college education.  Of course these hollow statements mean little without further examination of the details.  Buying a home isn't necessarily a bad decision but it can be a bad decision if you over leverage yourself like a Wall Street investment bank.  A college education is useful if you go to a quality institution but how many of the 4,000 are for-profit paper mills simply looking to steal money from unwitting students?  The young are facing a challenging future but this pain is also leaking into the balance sheet of their parents.
Raising default
For-profit institutions now make up a large part of the college enrollment growth.  Yet default rates are soaring for these institutions: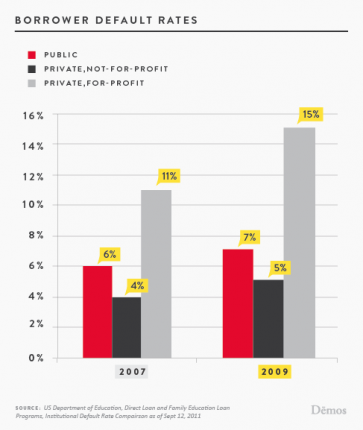 About a decade ago only 2 to 3 percent of college students went to for-profits.  Today that figure is closer to 10 percent.  What is more troubling is that they eat up 25 percent of all federal aid with very little results to show for it aside from healthy stock performance and large paydays for their CEOs.  The chart above shows that most of the growth in defaults have occurred with the for-profits.  The chart above is modest because it only looks at two years of data.  In reality, the for-profits have default rates ranging from 40 to 50 percent.
The massive student loan debt bubble
It is now household knowledge that student loan debt is much larger than total credit card debt outstanding: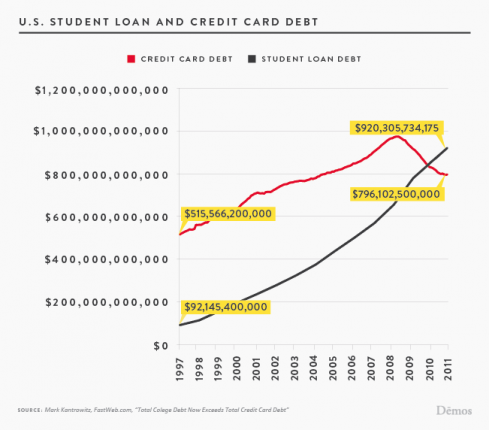 Unlike credit card debt however this debt cannot be discharged even through bankruptcy.  Student loan debt is insidious because it really goes against the idea of risk taking in America.  For example, if you overpay for a home you are welcome to walk away from the debt. This is why banks should be cautious and also responsible for some of the bad loans they make.  The same applies to credit card debt.  If you really can't afford to make payments you can have it written off in bankruptcy.  Yet with student loans this is not the case.  They can and will garnish your wages, tax refunds, and even Social Security payments.  To the contrary, the cronyism of the financial sector allows them to rob taxpayers and virtually walk away from any egregious risk taking.
The data speaks clearly to the subprime aspect of the college system: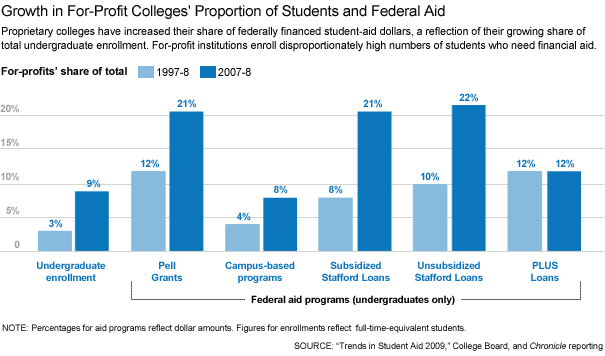 Source:  Chronicle of Higher Education
The large expansion in debt has come from for-profits but also larger public institutions.  The inflation throughout the college system is large and predatory.
Boomerang back home
Now some would like to compartmentalize this into an ageist argument that the problems facing the young in our nation are largely their own problem to carry.  Yet many are moving back home with mom and dad: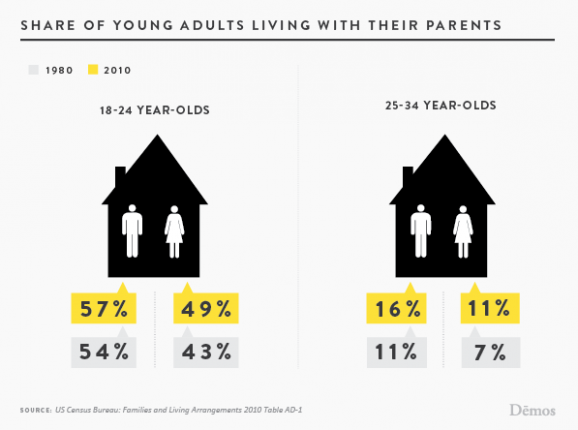 Now this data above is fascinating.  This has to do with a variety of reasons including the weak economy and bursting housing bubble.  The trend is unmistakable.  Younger Americans are staying at home longer overall.  A large reason for this has to with weaker economic growth: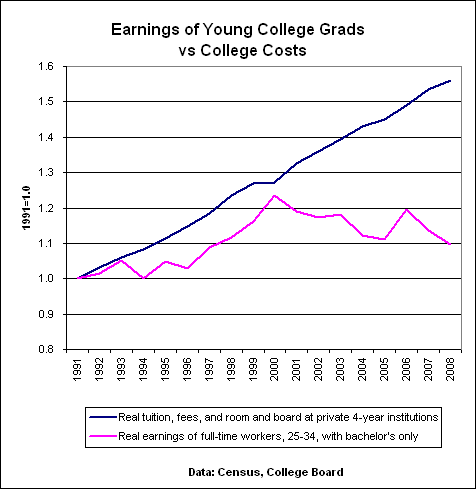 Source:  BusinessWeek
College is getting more expensive yet the return on investment is largely missing when it comes to overall wage growth.  Again, this is where parsing the data makes sense.  If you go to a top 100 or even 200 institution then you are likely to find a decent job but what about the other thousands of institutions?  At the same time the burden of debt is even falling heavily on those that went to top institutors but majored in something with little employment options.
The data is looking troubling and many of us do not want to state what we are already seeing.  We will have a younger generation of Americans with fewer opportunities and will likely be less affluent than their parents.  This is hard to grasp for a nation that usually likes to see a better life for those who come ahead of us.  Yet with the graft of the financial sector and the broken system with money seeking politicians it is no surprise that the large majority of Americans are sliding back into a time unrecognized.

If you enjoyed this post click here to subscribe to a complete feed and stay up to date with today's challenging market!