Dollar stores in million dollar neighborhoods. 99 Cents Store looking at Beverly Hills location in rise of the low-wage and high-wage economy. 1 out of 4 working Americans in low-wage work.
Whenever a jobs report comes out I always ask what kind of jobs are being added. There is a wide gap between skilled and unskilled labor building in this economy.  Those without the skills for select fields are being left behind to pickup jobs in the growing low-wage service sector.  It used to be the case that blue collar work with one paycheck was enough to pursue the American Dream.  That is definitely no longer the case.  We have 50 percent of college graduates under 25 working in jobs that do not require a college degree or are simply unemployed.  What we are seeing is a persistent trend that is creating a low-wage economy.  The system is learning how to work around this ongoing trend.  We now have a solid expansion of dollar stores catering to low income Americans.  Dollar stores are also popping up in unlikely locations.  That business is booming with 1 out of 7 Americans now receiving food assistance.  The US has a large portion of our population working in low-wage jobs.
Low-wage jobs in the US
The US has nearly 25 percent of the work-force in low-wage work.  This is much higher than many countries around the world: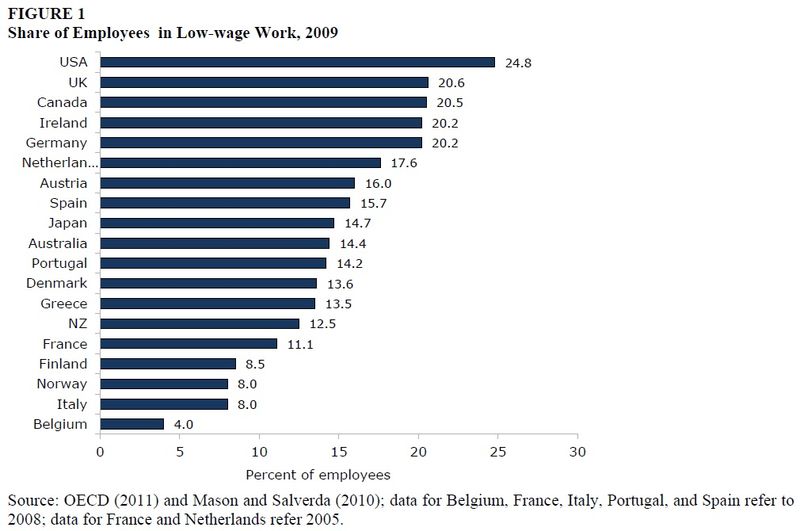 It is important to note that we also have many people working in high paying fields as well (as a raw number higher than any country).  What is truly happening however is that the middle class is shrinking.  That is really the squeeze most Americans are feeling.  You have one side of the economy simply getting by and struggling to make ends meet as inflation hits on items like rent, food, fuel, healthcare, and education while the other end is growing their wealth substantially.
I was dismayed that this wasn't the focal point of the election.  It should have been priority number one.  It was not.  A large amount of money and resources were spent keeping Americans in the dark or misinforming voters.  No matter the results of this election, this is a pattern that is likely to continue as low-wage jobs become a staple of our economy.
Change in income by ages
Young Americans have taken on the brunt of this recession in a variety of ways:
-They faced rising home values in the bubble (many bought near the peak)

-Many are facing rising rents

-Entering a weak workforce (see recent college graduate stats)

-Nominal rise in college prices hit them at a time of stagnant income growth
So it should be no surprise that young Americans have seen the weakest income growth: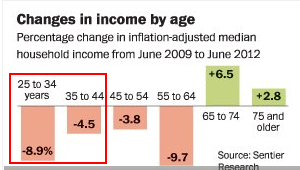 This has longer term implications for buying houses, cars, and starting families.  It shapes the way people think.  Similar to the generation emerging from the Great Depression, consumer behavior is remolded to deal with the strains on their wallets.  This permanent mindset is likely to impact investing and buying behavior for years to come.  Whenever I talk to younger Americans there is now a stronger craving for security when it comes to employment and this is understandable.
The middle class lifestyle is becoming much more difficult to have.  Two low-wage job households are the standard in the US.  The median household income is $50,000 and the per capita average wage is above $26,000.  This makes it challenging to save for retirement, purchase a home, and send your kid to college (with rising tuition).
The dollar store market
Spurred by this structural change in our economy, one sector has been booming and that is the dollar store economy.  Dollar stores are now everywhere around the country. In fact, the 99 Cents Store chain is eyeing a location in exclusive Beverly Hills:
"(LA Times) Discount chain 99 Cents Only Stores Inc. is shopping on Rodeo Drive.

The City of Commerce retailer, which has thrived in the economic downturn, announced that it was scouting real estate on the iconic street in Beverly Hills to open its flagship store, said Eric Schiffer, the company's chief executive.

"We know many customers are driving from Beverly Hills to shop at 99, and they have been saying 'Please open a location in Beverly Hills,'" he said.

Schiffer said the posh customers expected to shop at a new Rodeo Drive store are now driving to the 99 Cents store on Wilshire Boulevard near Beverly Hills. It is the best-performing store in the entire chain, pulling in sales of nearly $12 million last year, compared with the average of $5.2 million."
Could there be anything more symbolic about what is happening to our economy than opening a dollar store right in the middle of one of the most expensive areas in our country?  As the chain mentions their best store is already near by and is pulling in sales of $12 million, a big jump from the average for other stores of $5 million.  Welcome to the low-wage dollar store economy.

If you enjoyed this post click here to subscribe to a complete feed and stay up to date with today's challenging market!