United States of Dollar Stores – dollar stores see a rise in households making $70,000 a year or higher as a customer base. What does the rise of dollar stores say about the middle class?
Before 2000 dollar stores were largely seen as a bazaar of quirky trinkets and plastic oddities.  Many sold excess volume of products, even selling old Super Bowl t-shirts of teams that did not win.  Yet the dollar store of today is not the one of even one decade ago.  The disillusionment of the middle class and the rise of a low-wage American worker base have created a booming business for dollar stores.  Customers from more affluent backgrounds are now shopping at these stores because of an economic caution about their declining purchasing power.  Even in the midst of the boom in the stock market we still have over 45,000,000+ Americans receiving food assistance.  I talked about this large segment of our population in EBT Nation.  What does the rise of the dollar store tell us about the future of the American economy?
Dollar Store growth
Dollar stores have been around for many decades but the surge in big name dollar stores really hit a full head of steam once the recession arrived:

You can see that the two leading dollar stores, Dollar General and Family Dollar hit full stride after 2008.  This is a billion dollar business that is benefitting from the weakness in the overall economy.  As more income is concentrated in fewer hands, the middle class gets squeezed down and with trillion dollar bailouts targeted at the financial sector, many Americans are seeing their purchasing power dwindle.  Yet this compression is not felt as heavily at dollar stores where many can live large with a declining dollar, even if it is only for a brief shopping experience.
Part of this growth also comes from our persistently high unemployment rate: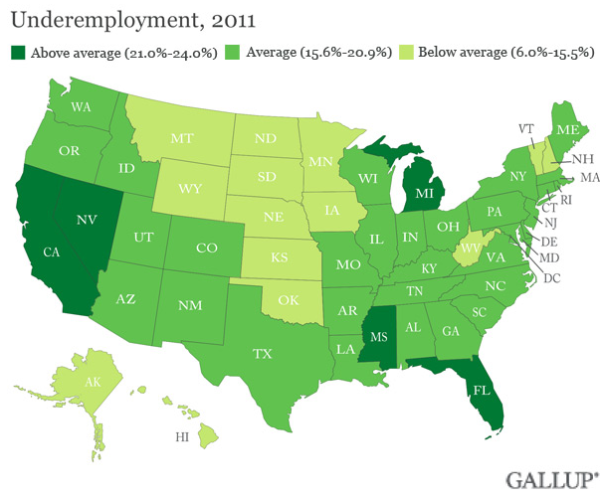 5 states still have underemployment rates that are above 20 percent.  So even though jobs are being added many are being added in lower-wage service sector fields.  5 million good paying jobs were lost since the recession hit and only about 1 million have been recovered.
Impact of compressing middle class on dollar stores
One of the surprising trends with dollar store growth comes from more affluent Americans becoming customers:
"(NY Times) Financial anxiety — or the New Consumerism, if you like — has been a boon to dollar stores. Same-store sales, a key measure of a retailer's health, spiked at the three large, publicly traded chains in this year's first quarter — all were up by at least 5 percent — while Wal-Mart had its eighth straight quarterly decline. Dreiling says that much of Dollar General's growth is generated by what he calls "fill-in trips" ­— increasingly made by wealthier people. Why linger in the canyons of Wal-Mart or Target when you can pop into a dollar store? Dreiling says that 22 percent of his customers make more than $70,000 a year and added, "That 22 percent is our fastest-growing segment."
I found this trend intriguing but this stems from the fact that most average Americans are seeing a compression to their real wage growth: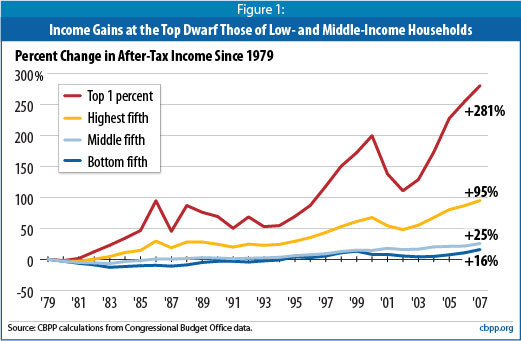 The fastest growing segment of dollar store customers are coming from those making $70,000 a year or more.  In fact, 1 out of 5 dollar store shoppers come from this group.  Keep in mind the median household income in the US is $50,000 and those that make $70,000 a year or more are in the top 35 percent of households.
This also plays into the reality of those lower-wage service sector jobs being added:
"This growth has led to a building campaign. At a time when few businesses seem to be investing in new equipment or ventures or jobs, Dreiling's company announced a few months ago that it would be creating 6,000 new jobs by building 625 new stores this year. Kiley Rawlins, vice president for investor relations at Family Dollar, said her company would add 300 new stores this year, giving it more than 7,000 in 44 states."
If you look at where dollar stores are most prevalent you will find them all across the country but they are most prevalent in the South: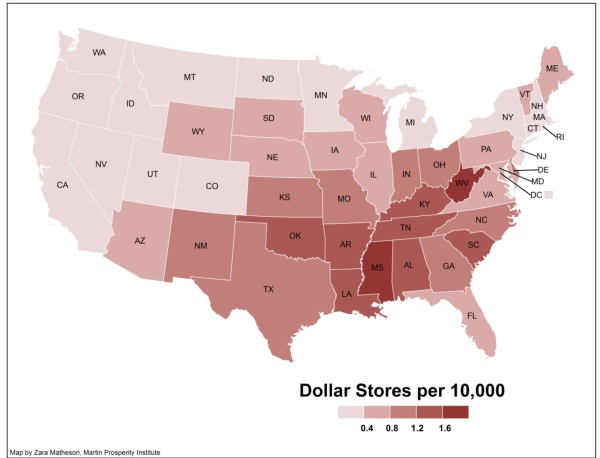 The rise of the dollar store goes hand and hand with the loss of the middle class in America.  The largest customers at dollar stores are still those with lower incomes, households making $40,000 a year or less make up nearly half the customer base.  But when this pool continues to grow you have business growth and that is what we are seeing here.  The average per capita income in the US is $25,000 which doesn't go far given the cost of healthcare, energy, and education.
It is also fascinating to see that 40 to 45 percent of dollar store items now come from big name brand companies.  This industry is now a multi-billion dollar industry.  I've driven around and see Subway and KFC for example now having marketing material showing "EBT accepted here" and dollar stores with a large and growing segment of their aisles made up of by food, are seeing a boon in this economy.  I mean think about it with 45,000,000+ Americans receiving food assistance this is a large customer base.  You also have many retirees who heavily rely only on Social Security stretching their declining buying power at these stores.  Even with low profit margins business can be good.  Not sure if we should be thrilled that dollar stores are one business segment that is booming in our modern day economy.

If you enjoyed this post click here to subscribe to a complete feed and stay up to date with today's challenging market!