EBT Nation – Electronic Benefit Transfer. Since the recession ended in summer of 2009 we have added 14,000,000+ Americans to food stamp programs. Family Dollar Stores up 23 percent in 2011 while overall stock market flat.
They say a nation is not measured on how it treats its wealthiest, but on how it treats those that are struggling.  From this base the mission of the United States is becoming muddied by the large scale financial speculation that has fractured the core of our economic system.  Everywhere you look you are starting to see signs posted of "EBT accepted here" meaning those with food assistance can use their debit cards in the stated location.  Food stamps now labeled "SNAP" are typically the last rung on the economic ladder for millions of Americans.  With the latest round of information we see that we are in record territory for those receiving food assistance.  Over 46,220,000 Americans are receiving this assistance.  How is it that we officially exited the recession in the summer of 2009 yet continue to expand the number of Americans on food stamps?
The numbers continue to grow
There is little fudging in the food stamp figures because these are fellow Americans that largely have reached their final option economically.  Millions go to places like Wal-Mart or dollar stores to maximize their disbursement.  Stories of Americans waiting until midnight at the end of the month in Wal-Marts just so their debit cards are refilled are somewhat shocking yet true.  Some tend to think that there is no issue but just look at the latest food stamp data: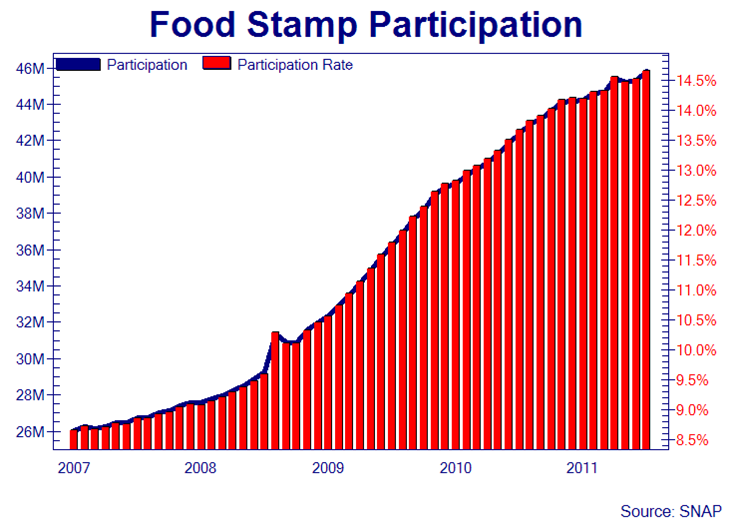 Source:  Zero Hedge
"The recession officially ended in the summer of 2009 and at that point, 32,000,000 Americans were receiving food assistance.  Today the figure is over 46,220,000 so in our recovery, we have added more than 14,000,000 Americans to the food stamp figures."
What we are largely seeing is a split in our economic prospects that is extremely pronounced.  You have few high paying jobs still growing that require very specialized skills like engineering and healthcare but a large number of lower paying jobs entering the market.
Since many Americans are trying to stretch their dollars, all you need to do is look at the dollar store growth to realize where most of the money is going from food assistance: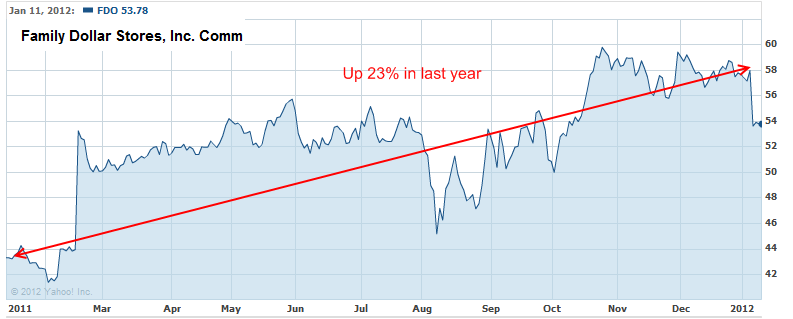 Locations like Family Dollar (FDO) are up over 23 percent in the last year even though the overall stock market was flat for 2011.  This is why you are seeing EBT signs popping up everywhere.  These are locations that will accept the Electronic Benefit Transfer debit cards.  With over 46 million Americans on food stamps it is extremely likely that you have run across a fellow American on food assistance but simply did not realize it.  Is this really the recovery we had in mind?
Until we see the food assistance participation numbers dropping, it is hard to believe that there is any recovery for the working and middle class of this country.  With the average worker wage coming in at $25,000 many are just one paycheck away from being another statistic.

If you enjoyed this post click here to subscribe to a complete feed and stay up to date with today's challenging market!