When the clock strikes 12 – the midnight economy of food assistance. Millions of people shop on the first of the month because electronic food assistance cards are credited. The lost wages of a decade and a Fed determined to bailout the world.
Posted by mybudget360 in bailout, bubbles, crooks, debt, federal reserve, food stamps, gambling, gimmicks, government, i-banking, income, inflation, recession, unemployment, unemployment insurance, wall street
We have a serious economic crisis on our hands and the media simply fails to acknowledge it.  You might be waking up to the first of the month thinking the wheels of the economy are fine.  Yet silently, millions of Americans drive into mega supercenters like Wal-Mart only to wait for their monthly allotments of food assistance so they can pay for basic groceries.  This trend is so prevalent that certain Wal-Mart centers are fully staffed at midnight since a large part of our society is waiting for that first day of the month to purchase food for their family.  46 million Americans are now receiving food assistance.  How is this issue swept under the rug?  We also have many more Americans losing their unemployment benefits because of the long-term employment issues.  The statistics show this number decreasing simply because people are falling off of their maximum number of months that they can receive benefits.  Sadly, the country is entering into a low wage environment where the working and middle class have limited employment security yet financial institutions have all the protection from the Federal Reserve even when they operate in a system of graft and irresponsibility.
The food payments grow
One out of every six Americans is now on food assistance: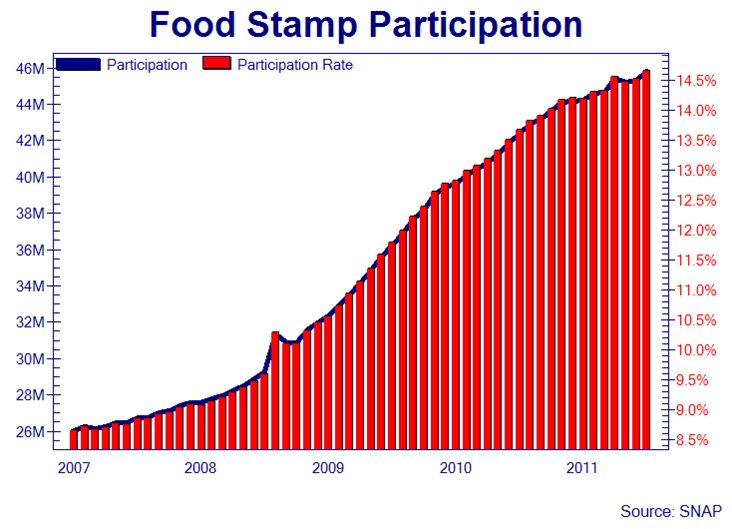 Source:  Zero Hedge
How can the above even be construed as a positive for our economy?  The percentage of Americans on food assistance has never been so high.  We have more people on food assistance than the entire state of California.  The only reason the markets rallied this week was because the Federal Reserve promised that they will bailout their crony banking buddies around the world.  How does that address the above?  To the contrary, this inflationary push will make the items the working class require even more expensive.
This issue is not new and Wal-Mart is fully aware of it because of their front row seat to the issue:
"(MSNBC) We'll bring in more staff to stock.  We'll also make sure all of our registers…are open…Some people may think at 12:01, Walmart's very quiet, but in a lot of our areas of the country, 12:01 is a big day or a big night for us, actually," Johnston said.

Becca Reeder and her husband, T.J. Fowler, are one of the families shopping before the sun rises.

When NBC News visited their home six days before the first of the month, they had no milk in their refrigerator.  Among the few things left were water, bacon grease for the dog's food, a little bit of apple juice, cheese and tortillas."
Yet somehow we are on a path to recovery.  Unless you are a well-connected financial institution the economy is still a mess.
Median pay and unemployment benefits
The working and middle class have been falling further behind in the last decade: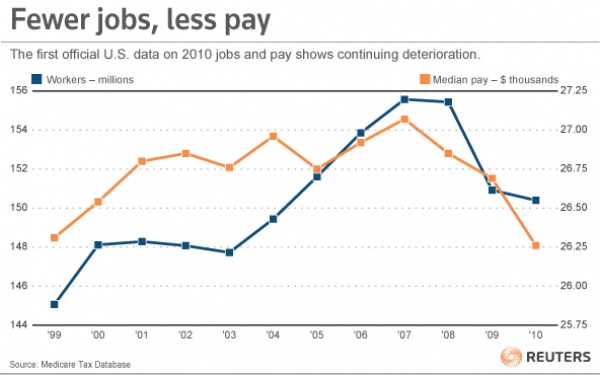 Source:  Reuters, Social Security
Not only have wages gone stagnant for the last decade, but they have fallen.  Americans trying to keep up have gone into massive amounts of debt and that bubble has now burst as well.  Most Americans that have some amount of wealth have it stored in their home equity.  With the housing bubble bursting most of that equity has evaporated into the night's dry air.  You also need to remember that 1 out of 3 Americans has no savings whatsoever.
We also see some data being thrown around about the benefit count going down.  Yet what is occurring is many are losing their unemployment benefits and being throw into the food assistance programs: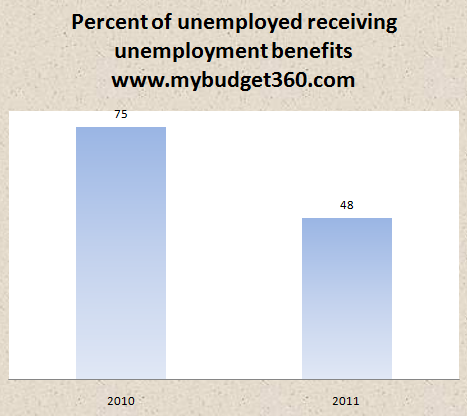 It is harder to qualify for food assistance so the above charts simply displays a migration from unemployment benefits to food assistance.  Again, none of this is reported by the mainstream press.
What of the jobs being added?  Most are coming from the lower paying sectors: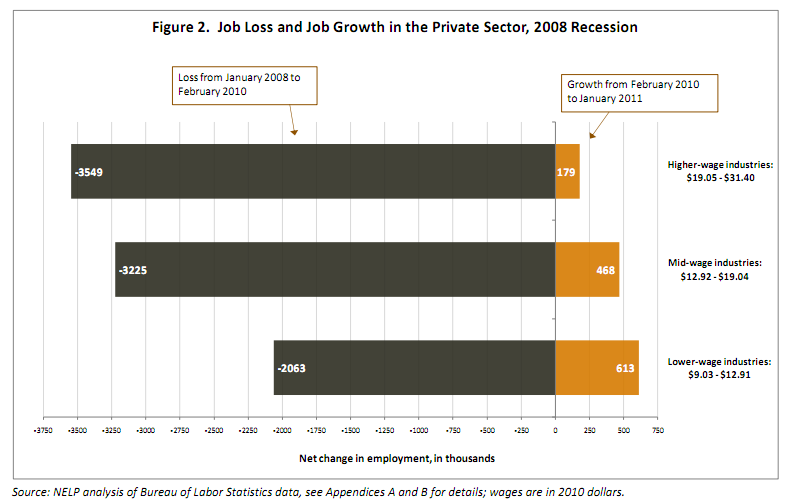 Source:  NELP
"(Huff Po) While the recovery of the labor market and the broader U.S. economy depend critically on job growth, equally important is the quality of those jobs. During the economic downturn, 40 percent of the jobs lost came from high-wage industries — yet high-wage industries accounted for only 14 percent of the new positions created in the first year of post-downturn job growth, according to a report released in February by the National Employment Law Project."
Bottom line is we have a new paradigm and it is not healthy for working and middle class Americans.
The way out through education
The higher education student debt racket has also heated up in the last decade.  Yet the return on investment from colleges has diminished because of the proliferation of for-profit paper mills: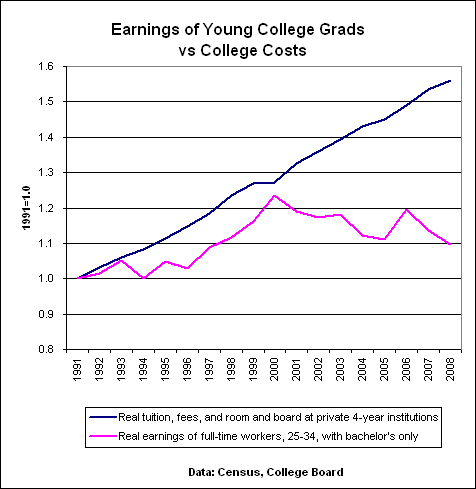 Source:  BusinessWeek
Be aware of what is not being told to you.  Look at your financial balance sheet and you can assess how well the economy is really doing.  The financial institutions that set up and created this financial pillaging of our economic system go on doing the same things that caused this crisis.  In fact, the Federal Reserve is now putting the European crisis on the backs of the American taxpayer.  Their action by default is inflationary.  Did the American voter have a say here?  Absolutely not.  This coming from an institution that gave out $7.7 trillion in shadow loans to their crony banking buddies.  Well at least we have dancing shows and singing shows to keep us occupied!

If you enjoyed this post click here to subscribe to a complete feed and stay up to date with today's challenging market!