Las Vegas real estate and the dynamics of a lower priced housing market – With median home prices around $100,000 they now reflect the reality of a lower paying service sector economy. Foreclosures and short-sales make up over 70 percent of all sales activity.
Las Vegas is a case study in the limits of the housing bubble but also the reflection of a new economy driven by a demand for lower price real estate.  Wedged in the story of a collapsing real estate market is a new reality that many families are craving lower priced properties.  Few places in this country benefited so much from the rising price of real estate like Las Vegas.  When things turned dramatically the market was left relying heavily on two industries, gaming and real estate, that profoundly relied on a booming economy but also on unlimited access to debt.  Las Vegas has the highest percentage of its homes in foreclosure and has also seen some of the steepest price falls from any large metro area in the country.  It is fascinating to see that roughly half of all purchases over the last few years have come from investors.  The trend seems to reflect a demand for low priced housing either for investing or for those living in the area to purchase a place with a much lower household income because of the recession.  What does this mean for the future of the city?
The dynamics of the Las Vegas market
Las Vegas will forever be tied with making it big.  The city of lights and big spending seems to exemplify a time when the United States had an almost unlimited access to debt and spending.  Yet times change and bubbles are common throughout human history.  If we look at the housing price index of Las Vegas a housing bubble jumps out at you almost in 3D: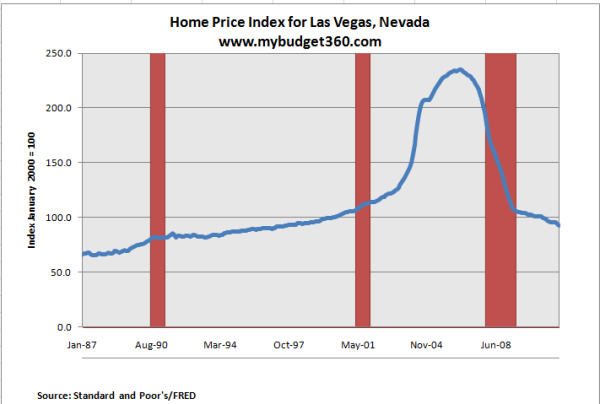 Home prices in Las Vegas went up an astonishing 150% in less than a decade.  During this time household incomes went stagnant so it was hard to justify this increase without calling it a bubble.  Just as quickly as prices went up, they have come crashing down.  Home prices in Las Vegas are now back to levels last seen in the 1990s.  This is a dramatic price reduction but when you factor the household income figures, this does make sense.  Essentially home values are reverting to price levels of real household incomes and subtracting the funny money debt that has been sloshing around the economy for well over a decade.
This is good for the typical working family.  What this means is that less money will need to go to housing which is largely an unproductive but necessary economic good.  It also means that families will need to take on less debt for a roof over their heads.  The big losers of course are the big banks that enjoy using real estate as a vehicle for massive leverage in the real casino of the world, the investment banks of Wall Street.
Still need to clear out Las Vegas bubble inventory
Las Vegas boomed during the housing bubble and because of this, there is a large amount of inventory on the market that needs to be cleared out.  So it should come as no surprise that there is little demand to build new housing: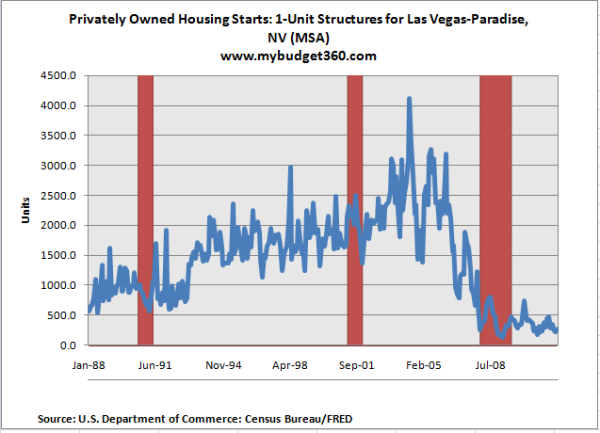 Housing starts are at the lowest they have been on record for Las Vegas.  This actually makes sense when we look at the makeup of sales for Las Vegas over the last two years: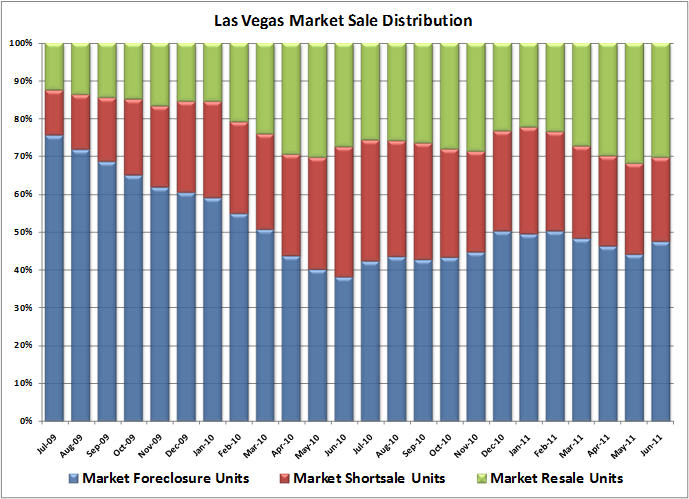 Source:  Zip Realty
This is an excellent chart highlighting the changing dynamics of the Vegas housing market.  In 2009, the market was largely dominated by foreclosure re-sales.  At a few points over 70 percent of sales were foreclosures which is astounding.  Hardly any homes sold came from the "market resale unit" section which is the healthy part of normal home sales.  As we entered into 2010 it appears that banks were more willing to sell homes via the short-sale process.  This was significant because banks finally acknowledged that Las Vegas home prices would never reach peak levels or close to peak levels again.
Today, you still see that foreclosure re-sales nearly make up 50 percent of sales and short sales make up another 20 percent.  The good news however, you are seeing more healthy sales but these are low priced homes.  Maybe someone bought a foreclosure in 2009 for $90,000 and is selling it in 2011 for $110,000.  This is the new market that is being experienced in the Vegas area since the first chart highlights that prices are still near the trough.
The next steps for the market?
The employment market in Las Vegas is still weak which means those that do look to buy or rent homes only have so much money available each month for rent or a mortgage payment: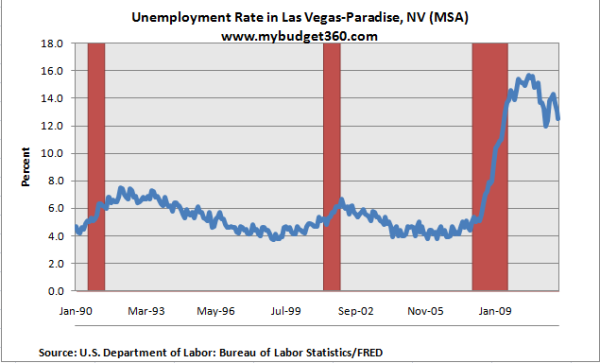 The good news from the above chart is that it does seem like the employment numbers are starting to stabilize.  The not so good news is many jobs are coming from the lower paying service sector.  If home prices remain in the range they are today however, around the $100,000 range, then this actually may be helpful for the Las Vegas market.  But to think that homes will once again climb to $200,000 or even $300,000 in the next few years is very hard to see.  We are likely to see a decade of home prices within this range since the inventory being moved through is so immense and will take years to clear out.

If you enjoyed this post click here to subscribe to a complete feed and stay up to date with today's challenging market!