Scorching the desert housing markets – Arizona and Nevada real estate blossomed with cheap fuel and easy access to debt. For last two years 40 percent of buyers came from all cash purchases. What happens when the well runs dry in the financial desert?
Posted by mybudget360 in bubbles, debt, economy, foreclosure, government, housing, income, Las Vegas, mortgages, nevada real estate, phoenix real estate
The Arizona housing market is a perfect example of what happens when the housing religion spirals out of control and implodes in dramatic fashion pushing up against environmental limits.  I remember driving in the blistering summer heat through Arizona before all the housing mania launched out of control in the late 1990s and thinking that the only reason the land was hospitable was because of cheap fuel and air conditioning.  It costs money to move large amounts of water to an otherwise arid region.  You have months of 100 plus degree weather and electric bills that run the size of your mortgage payment.  A beautiful state but one based on access to affordable fuel.  The housing market has crashed for both Arizona and neighboring Nevada.  These areas are no stranger to booms and busts yet this time it is different.  The cheap energy model that kept these locations operating is largely coming to an end.  These are commuting locations.  Have you ever tried walking down the Las Vegas strip during the summer time?  You might as well pack two gallons of water and a cowboy hat before making it two blocks.  The market has melted in the region like rubber on the bottom of your shoes.
Investors artificially prop up Arizona market
The desire to buy cheap property and low interest rates has propelled many people to purchase in Arizona.  For almost two full years all cash buyers have purchased close to 40 percent of properties in the desert city of Phoenix:
Source:  Leif Swanson
The market is saturated with investors.  In fact, you have investors selling to investors trying to squeeze out profits since household incomes in the region are low and facing the pressures of a declining middle class.  A large part of the economy in Arizona was based on home building and construction and much of the gains have now evaporated into the desert sun: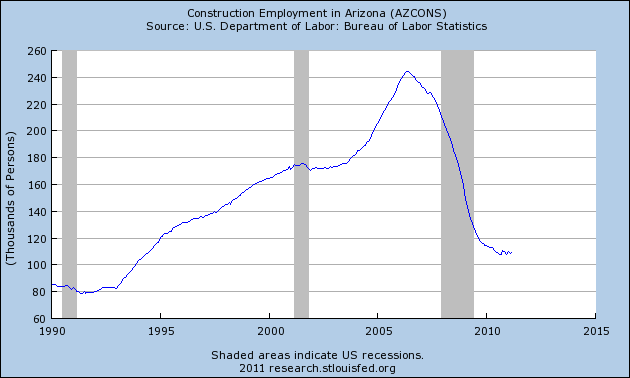 In past business cycles you can argue that this is merely a normal trough that is occurring and things will be on the mend soon.  I simply do not buy that argument.  Energy costs are rising because of global dynamics and it is unlikely we will see $2 a gallon gas ever again (at least in U.S. dollar terms).  Per capita income in the state is $25,000 which falls in line with much of the middle class struggles we have talked about.  What happens when a family is spending $400 a month for auto fuel and another $400 to keep the home cool in the summer?  The cost for energy is higher than the housing payment on a $100,000 home (which is very common in the region):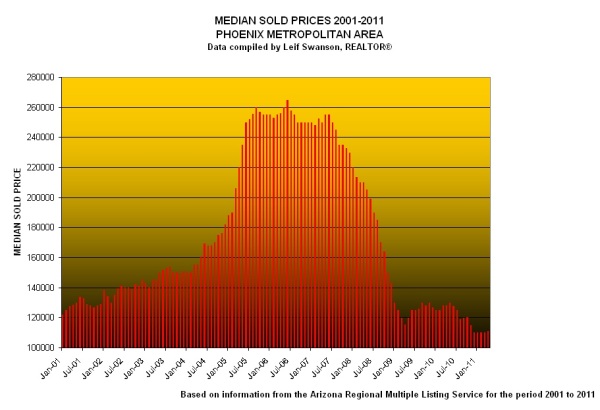 Source:  Leif Swanson
Now why is this important?  Many of the investors buying out in the region are buying for a few reasons.  First some are buying for cash flow properties.  Granted at these levels prices may make sense but again the entire system will crack with $150 a barrel oil.  We already hit over $140 a barrel and oil seems to be settling between $90 and $100 for the short-term.  What evidence do we have oil will move lower?  We also have the Fed and U.S. Treasury trashing the dollar which will make oil cost more in the U.S.
You have another smaller set of individuals buying for retirement reasons.  Some people think that just because you pay off a home that you have no additional costs.  That is not true.  You will always have the following:
-1.  Maintenance

-2.  Taxes (balance deficits will force state governments to raise taxes)

-3.  Insurance

-4.  Energy for the home
For a desert community number four can put a large pinch on retired families with fixed incomes.  Keep in mind as time goes by and the Federal Reserve is bent on crushing the dollar, each monthly check you get will buy fewer groceries and will cover a smaller portion of your energy costs.  The chart showing all cash investors should cause you to pause.  Keep in mind that the all cash percentage has been slowly decreasing but so have prices and sales volume.  The "normal" market isn't picking up the slack because people are largely battling with a shrinking middle class.  These giant McMansion suburbs were built with a richer middle class expanding in mind and perpetually cheap fuel.
You can see the crash of the desert housing market in vivid fashion by comparing it to the U.S. housing market which isn't exactly Miss America either: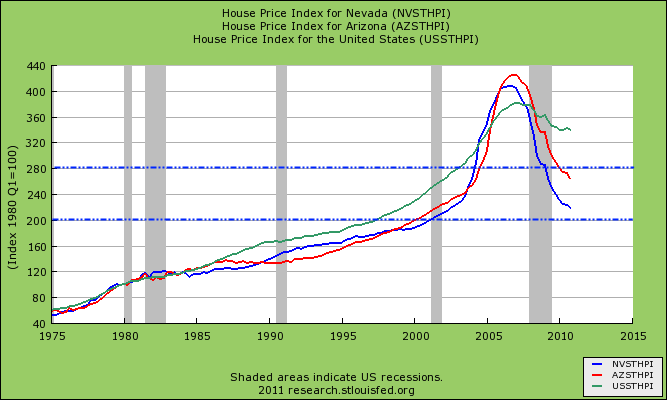 The HPI is a very conservative measure of home prices.  But even using this metric, you realize how much deeper Nevada and Arizona have fallen in relation to the rest of the country.  If we use the peak as our starting point and pick the two largest metro areas you can see this crash even stronger: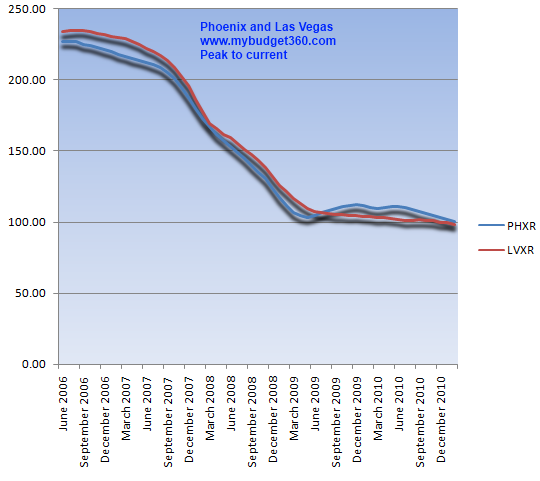 Source:  Case-Shiller
Both Phoenix and Las Vegas have fallen by over 50 percent since their 2006 peak.  Does it look like home prices are moving up?  It is fascinating that the infusion of investors has merely moved prices sideways for a full two years.  What you have is investors making a market with other investors yet the organic market is still hurting because when homes are under $100,000 many households are more focused on paying their bills, putting gas in the car, and feeding their kids.  Plus, you have a flood of rentals thanks to investors tripping over each to enter the market.  All the while the per capita income of the region is $25,000.
Arizona and Nevada have beautiful scenery but they are scorching Southwestern deserts that really are inhospitable to many living things without affordable fuel.  The abundance of cheap energy was a reason these regions blossomed for many years.  But how do you make these markets affordable to lower income families that are now facing rising energy costs?  Importing high cost items might make sense for high income markets but for these desert communities it is much tougher.  As an investor, the short-term cash flow may be dwarfed by longer macro trends.  Just look at places like Detroit where a complete shift in industry and population has left many homes selling for one dollar and a few hundred dollars in back taxes.  What got us into this housing bubble was not looking at the macro changes in our global economy.  It seems many are making the same mistake again.

If you enjoyed this post click here to subscribe to a complete feed and stay up to date with today's challenging market!