Employment Situation: 2.5 million jobs lost in 2008. 524,000 Jobs Lost in December, Unemployment Surges to 7.2%. Broader Measure of unemployment at 13.5%.
The unemployment situation continues to weaken.  The BLS reported 524,000 lost jobs in December and also revised the November numbers up to 584,000.  As we have been saying for some time, this now makes 2008 the year of worst job losses since World War II.
Job losses are going to continue for the next few months but the question is how big will they be?  More 500,000+ months are going to be brutal.  The big jump in the unemployment rate was expected and it isn't out of the realm of possibility that we will see 10% unemployment by the end of 2009: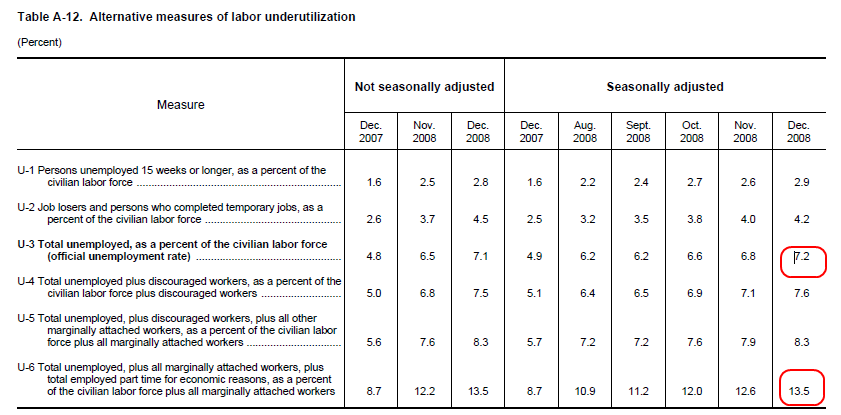 The broader measure is now at 13.5%.  The rate has shot up quickly in 2008: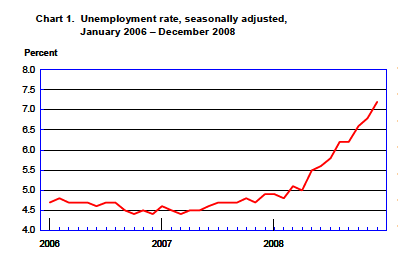 We went from a rate of 4.9% in January of 2008 to our current 7.2% in December of 2008, an increase of 2.3%.  Even if 2009 is only similar to 2008, we will reach double-digit unemployment (which of course, we are already well above that looking at the U-6 broader measure.
Only education and government saw slight ticks up:

Overall, a horrible report.  We need to keep our eye on that government establishment data to see how long the stimulus takes to hit the main street economy.  That 3 million jobs added is basically to make up for the 2.5 million lost in 2008.

If you enjoyed this post click here to subscribe to a complete feed and stay up to date with today's challenging market!