FDIC Broke and Selling Real Estate: How $13 Trillion in Assets is Protected by no Deposit Insurance Fund. FDIC Selling Properties to Replenish Fund and Collecting Early Fees.
The FDIC, that enigmatic seal of security on your bank entrance, is virtually bankrupt.  The FDIC provides deposit insurance to over 8,000 banks that collectively hold $13 trillion in assets.  We can question what those assets are really worth since many of these institutions hold $3 trillion in commercial real estate loans and defaulting residential properties.  The big problem with the FDIC is that it is protecting institutions with assets the size of U.S. GDP with no money.  The FDIC at this point is a giant paper tiger.  If we look at the asset side of the equation, we will see that FDIC backed institutions are still claiming assets are worth bubble prices: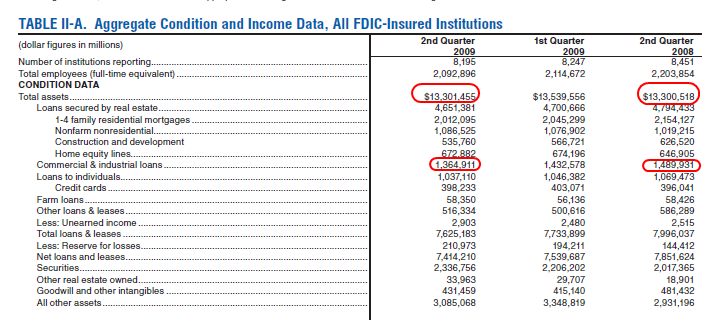 Recent reports show that commercial real estate has fallen by 40 to 45 percent from its peak values. But if you look at the change from Q2 of 2008 to Q2 of 2009, CRE values only fell by 8 percent.  It is the case that the peak was reached in 2007 so not all the losses have occurred in only this time period but one thing is certain and that is the FDIC is being overly optimistic in what insured institutions are claiming as assets.  This translates into further losses and more bank failure Fridays.
The FDIC holds $9 trillion in deposits.  This figure is stunning because the deposit insurance fund (DIF) is insolvent.  We are trusting banks with no insurance fund to guard $9 trillion in our deposits.  It has been made clear that the U.S. Treasury and Federal Reserve will bailout the FDIC if needed.  The FDIC has tried to replenish its fund by charging early premiums on institutions to raise an additional $45 billion.  Front running premiums are only a stop-gap measure in plugging the profound hole.
Another way the FDIC can raise money is by selling real estate it has in its possession.   Take a look at some office buildings in California:

Anyone in the market for a $59 million office building in Newport Beach?  Now of course, the FDIC will need to sell a lot of real estate since market analyst are expecting commercial real estate to cost banks anywhere from $500 billion to $1 trillion in additional losses.  The FDIC was never designed to take on so many losses all at once.  And the evolution of mega too big to fail banks has setup a system where small banks are failing in large numbers but one big failure can be the equivalent of 100 small banks.
Take for example the 124 bank failures in 2009.  The top 10 bank failures collectively had $92 billion in assets:

The other 114 banks had assets of $48 billion or roughly half of the top 10.  That is how the system is currently structured on a flimsy foundation made of financial sand.  The raw number of failures is of little guidance because there are so many large banks that can push the FDIC further into the red.
People should be worried about commercial real estate because these are already some of the worst performing real estate loans: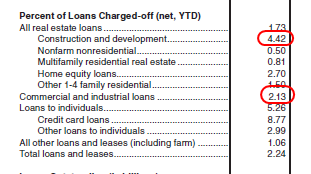 The worst performing loan category is with credit cards.  The average American is using up all that he can in order to stay solvent.  But even with that said, commercial loans are defaulting in high numbers yet banks are failing to reduce their asset value in the balance sheet.  So we have zombie buildings still being valued at peak levels.
If Americans would stop and think of the implication of having an insurance fund with no money backing up $9 trillion in their deposits, they would probably pause for a few minutes.  And just because your money is sitting in a bank account doesn't mean that it is safe.  The U.S. Treasury and Federal Reserve is on a war path to devalue the dollar so even though your money is nominally the same, in real terms you have gotten a lot poorer.  The dollar has fallen by over 15 percent since March.  This is an enormous amount but given the policies we are following, it is no surprise.
With gold at an all time high of $1,150 an ounce we are starting to see some strange behavior in the markets.  The last time we had such a deep banking crisis was during the Great Depression.  This is what was seen back then: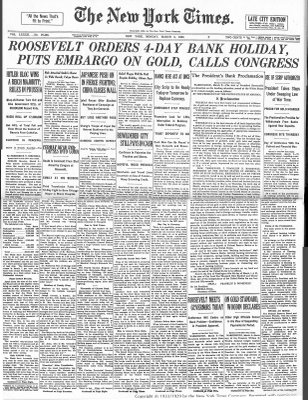 The fact that the FDIC is broke makes you wonder what the next steps for the banking system are.  If it can't make it with trillions in bailouts, what will the government do to backstop the entire system?

If you enjoyed this post click here to subscribe to a complete feed and stay up to date with today's challenging market!