FDIC Loan Report and Plan C: Nearly Half of the $7.7 trillion in Loans Outstanding at FDIC Insured Banks are in the form of Commercial Real Estate. USPS Contracting CRE Space. Drop in Restaurant Traffic.
Posted by mybudget360 in bailout, banks, commercial real estate, debt, economy, FDIC, gimmicks, government, mortgages, real estate, recession
The commercial real estate debacle is heating up.  Although the market is cheering the better than expected drop in second quarter GDP, much of the reason for a less than spectacular fall came from the "G" in the equation, government spending.  By the way, we revised Q1 GDP lower to -6.4 percent but not much interest was given to that minor detail.  Who is to say we do not revise the advanced estimate for Q2 lower?  Either way, the GDP release tells us that commercial real estate is on precipice of implosion.  Is it any wonder that the U.S. Treasury is secretly working on a preemptive bailout program called Plan C gearing up taxpayers dollars for another toxic mortgage industry that has $3 trillion in loans?  The failure of 2008's residential mortgage bailout should tell you that bailing out CRE loans is a losing cause especially for taxpayers.
The problem for commercial real estate is the shrinking demand from consumers who have now found a new form of forced austerity.  With 26,000,000 Americans unemployed or underemployed the demand for armies of strip malls is no longer a pressing issue.  Sure, we can offer gimmicks like cash for clunkers but where is this money coming from?  Most people realize that conspicuous consumption by consumers, Wall Street, and the government led us here and our solution is more conspicuous consumption?
Like a conductor prepping his orchestra, the defaults are now starting in full force: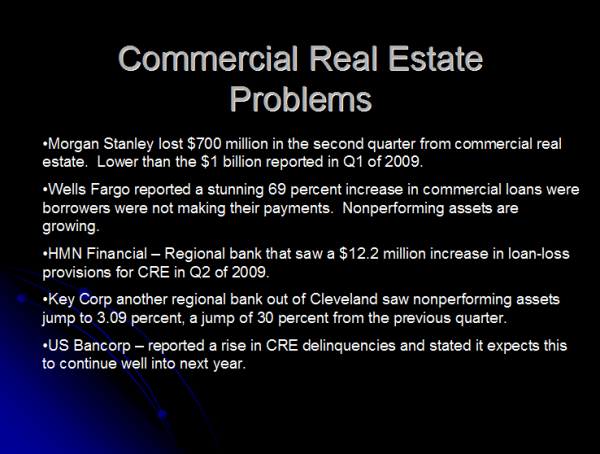 The hits are now starting to come from a variety of angles.  This is a problem that will hit everyone but will bring down hundreds (maybe up to a thousand) of the regional banks who made extremely risky bets in the commercial real estate markets.  Unable to compete with the residential real estate mortgage boom, many regional banks decided to keep things local and saddle their portfolios up with commercial real estate.  These loans are more likely to default and default huge.  With one residential property in foreclosure, the bank might lose $100,000 given the fall in housing prices but on one really bad CRE deal, a bank can stand to lose millions.
Commercial real estate goes beyond your local strip mall or dental office.  The U.S. Postal Service is announcing it will be contracting its need for CRE space:
"(Costar) The Postal Service sent a notice to American Postal Workers Union executives this summer that it was considering consolidation options in every major metro market in the country and would consider closing 3,243 of its 4,851 largest branches and centers in the review process. … The review process was to last most of the summer … but they want the consolidation to occur by October 2010.
…
According to USPS records, it owns 8,546 facilities totaling 219.6 million square feet and leases another 25,272 locations totaling 912.2 million square feet. …
"(Calculated Risk)  The postal service has already reduced their footprint a little since 2003 as shown in the chart from the GAO.
But the GAO report suggests the next reductions may be much more significant. How about another 14 million square feet of vacant retail space on the market?"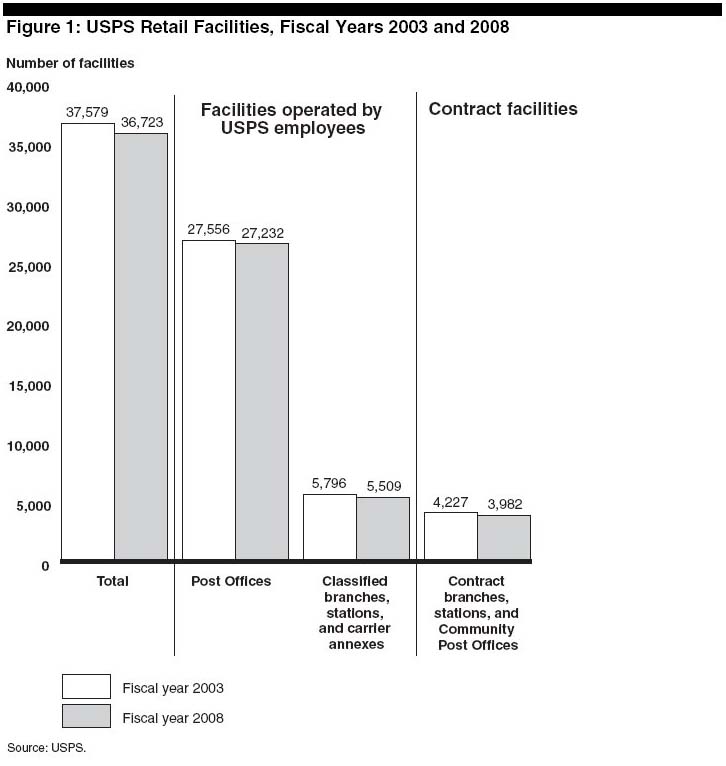 More space is coming online.  A recent deal also had Target, the giant retailer backing out of a major project due to "lack of consumer demand" which of course is what is happening on main street USA with rising unemployment and stagnant wages.  The average American household with $46,000 a year doesn't have the disposable income to support all the failed CRE projects languishing in the market: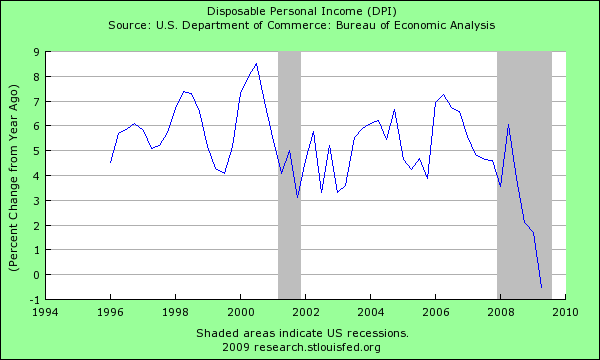 This is also being reflected in less people going to restaurants.  The National Restaurant Association (the other NRA) announced another month of contraction for the industry.  What does this mean?  Less demand for CRE space.  And in the report they also stated that current restaurant owners are noticing "negative customer traffic" in June.  I thought GDP was now booming and the recession was over as Newsweek had proclaimed?
Commerical real estate projects are failing across the country.  Take this case from Silicon Valley:
"(SJ Business Journal) Unable to work out a deal, California Bavarian Corp.'s Bordeaux Centre has been sold at auction to its lender Wrightwood Capital for less than $15 million.
Developer Mark Mordell, president of Cal Bavarian, wasn't at the auction but said Wrightwood was the only bidder on the property located in Sunnyvale.
Mordell said he was told the campus sold for less than half the $34 million debt owed on the never-occupied, 124,000-square-foot project begun by Cal Bavarian in 2007 and finished in 2008
"It was unfortunate that we couldn't get a deal done with the lender," Mordell said Tuesday morning.
The property is regarded in the brokerage community as a classy project that has been a victim of the economic downturn and companies fearful about making any moves."
So let us get some facts straight.  The project was encumbered with $34 million in debt but sold at auction for less than $15 million.  What does this mean?  More bank failures and a painful hit for those that made the loans on this specific project.  We're already up to 69 bank failures for 2009 but that doesn't seem to phase the market since all the money to fix these problems are going to come from the taxpayer.  The U.S. Treasury and Federal Reserve are happy to proclaim that the recession is over; that is, over for the real estate industry, Wall Street, and banks since they have an unlimited safety net backed up by the American public.
But these commercial real estate deals are going to be lingering for years sometimes sitting empty with tumbleweeds spinning in their empty parking lots.  This gives us two roads ahead.  The first one is the market will start facing major losses in late 2009 and 2010 and will correct once again.  The second road, includes stretching out these projects and bailing them out via Plan C and thus forcing the losses out over a decade thus giving us a Japan like trajectory.  All the bailouts are looking backwards, not forwards.  We need job creation not commercial real estate taxpayer insurance which will drown our economy in debt from toxic bets made in the past from irresponsible banks.
Why do we really need to bailout a bank that made a bad loan in a commercial project in Arizona that doesn't even have any demand?  Or a strip mall in Florida where unemployment is in the double-digits?  How does this create a sustainable economy?  It doesn't.  Here is the running tab for FDIC insured institutions as of the end of Q1 of 2009: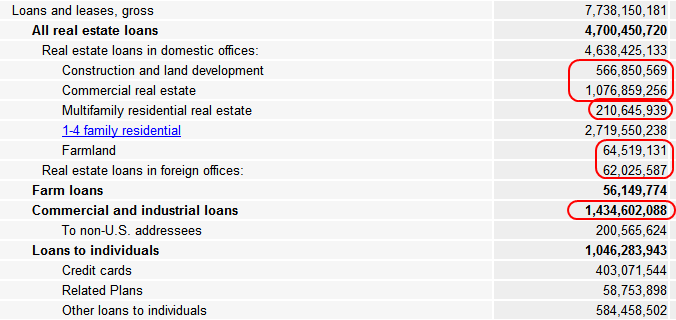 $1.4 trillion in commercial and industrial loans.  $1 trillion in commercial real estate.  $566 billion in construction in land development.  You add it up and we get over $3 trillion.  Nearly half of the $7.7 trillion in loans with FDIC insured institutions is in some form of commercial real estate.  Unless people wake up Plan C is going to be implemented and we are going to own a bunch of empty strip malls, restaurants, and other projects with no customers.  I didn't realize we'd be doing a cash for clunkers with commercial real estate.

If you enjoyed this post click here to subscribe to a complete feed and stay up to date with today's challenging market!