The Red Queen's race and the real winners from Quantitative Easing: Celebrating the five year anniversary of redistributing wealth to the top.
The Federal Reserve is celebrating its 5 year anniversary of Quantitative Easing.  As the stock market reaches record highs, it is useful to examine the real winners from QE.  Luxury good purchases have done extremely well during this period as income inequality in the nation has reached levels last seen during the Gilded Age.  Yet for the average American worker, salaries are stagnant and wage growth is nearly non-existent.  After factoring in for inflation, many are stuck in having to run faster and faster just to stay in the same place.  The Red Queen's race in Through the Looking Glass involves a race where you have to run faster just to stay in the same place.  Or in other words, trying to maintain a middle class lifestyle in an era of massive Fed intervention.  QE has made it harder for savers and most American families to keep up while the leveraged top has been able to maximize all the benefits of QE.  After 5 years, it is rather clear who the winners are.
Examining luxury goods
Few people have the means to buy Tiffany or Coach products.  So it is interesting to compare these luxury brand companies versus other places where average Americans shop after QE: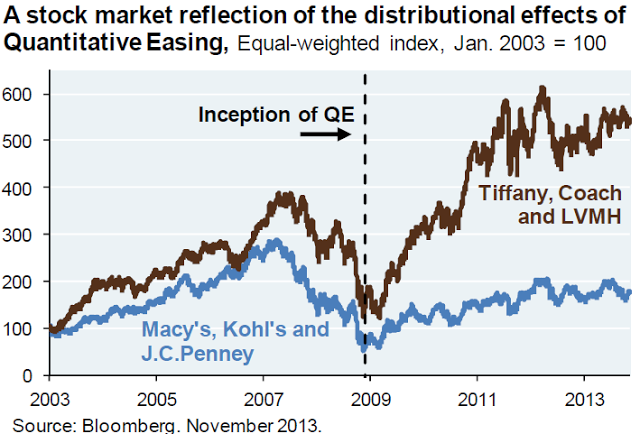 It is clear that QE has provided a dramatic benefit to products that really cater to a small sliver of the population.  QE has been a direct punishment to savers and most Americans since many do not own one piece of stock.  This is why the 144% rally in the S&P 500 has not provided the expected benefits from such a significant run.  Very little has trickled down.
We also have a very large number of Americans on food stamps.  It appears that we now have a structurally poor part of our country that seems to be permanently entrenched.  Over 47 million Americans are now on food stamps and the costs are not reversing: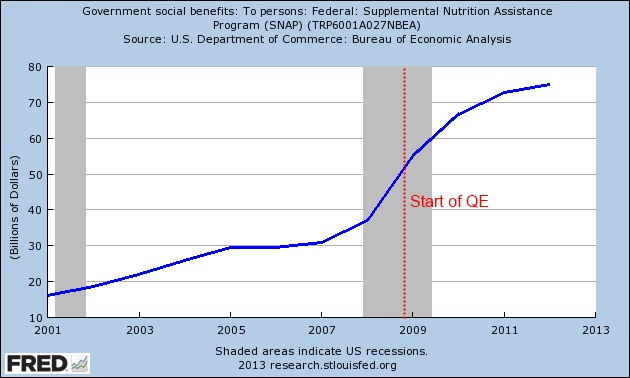 You'll notice that QE did very little in reversing this trend.  And why would it?  QE is merely a focus on assisting banks and hoping that the financial industry has the best interest of the nation at heart.  First, let us set aside that the financial crisis that led us to this cliff was brought on by none other than our financial system.  No reforms ever came about and instead more money was funneled into the banking sector and even accounting laws were paused simply to assist banks.  5 years later banks are back to making mega profits while many Americans are shutout of this prosperity.  It is a massive system of corporate social welfare.
Where the wages stagnant
If we look at average hourly earnings we find that QE was not much help here either: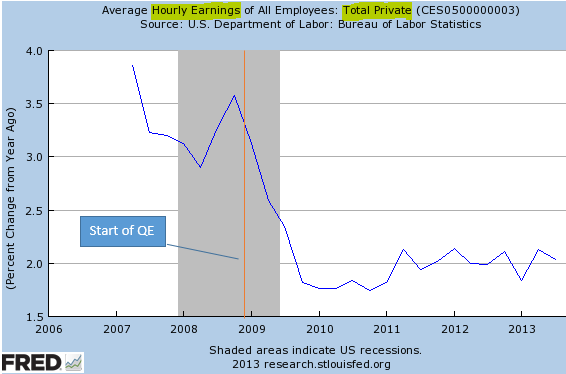 Source:  SoberLook
This wasn't a very positive development for your regular worker.  We also find that many of the jobs added since the recession officially ended in the summer of 2009 have come in the form of lower paying jobs.  It is the case that the largest employment sectors in the US pay very little: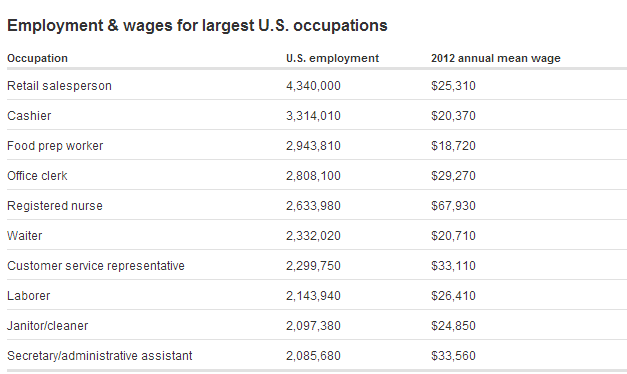 It is clear that QE has been a big win for the banking sector.  It has allowed banks the time to inflate assets and get rid of loans in a timely manner (of their choosing circumventing generational accounting rules and standards).  Ironically the real estate market has also boomed but over 5 million foreclosures have occurred over this period and many of these were sold to large banks and hedge funds for low prices financed with easy debt provided by the Fed.  In other words, from one bank to another bank and away from regular households.  You can see this in the drop in homeownership over this same time: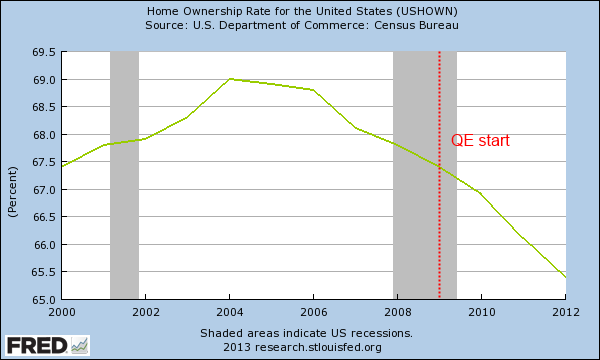 The Federal Reserve has been primarily focused on helping the financial industry.  In this mission they have succeeded.  However, as most know there is no economic free lunch and we are seeing this at the 5 year anniversary of QE.

If you enjoyed this post click here to subscribe to a complete feed and stay up to date with today's challenging market!