Opting out of the workforce: Federal disability payments and the rise of those not in the labor force. Since 2000, those on federal disability insurance are up 66 percent while population is up 13 percent.
The number of Americans receiving federal disability payments has doubled in recent decades. One reason for this is the aging of our workforce and the reality that with older age, more health problems occur. This only explains part of it. There is evidence that 40 to 60 percent of the recent rise has to do with structural issues where those in low wage employment sectors simply opt out of the labor force via federal disability payments. It shouldn't be shocking when you realize that the typical American worker takes home about $27,000 per year. For example, in 2000 we had about 6.6 million Americans on disability insurance. Today it is close to 11 million, a rise of 66 percent while the population increased roughly 13 percent. Something more than old age is contributing to this massive jump in federal disability payments. With a large low wage employment sector, you simply have more people opting to not work instead of earning a very low wage. The estimates of 40 to 60 percent seem to be right given the major discrepancy between population growth and the rise of those on disability insurance. Unfortunately this is a trend that is appearing with our "not in the labor force" growth over the last decade. Many are simply opting out of the workforce.
The rise of federal disability payments
The Great Recession has caused massive structural changes to our workforce. For many workers, it is now a case where the only option available for work is in the low wage employment sector. Since in some cases being qualified for federal disability is subjective, many more are opting out this way. The Fed had an interesting study looking at the reasons for the growth in disability insurance. Part of it does have to do with an aging population. But a large part of it has to do with the residual impacts from the Great Recession: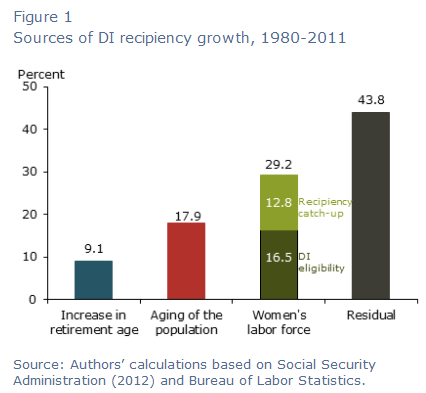 "(NY Times) The government likes to describe the increase mostly as the result of two demographic trends. Americans, on average, are getting older, and old people are less healthy. Also, as more women have entered the labor force, the share of female workers with health problems has climbed closer to the male average.

Independent experts, however, see substantial evidence that disability insurance increasingly serves as a safety net for people who cannot find jobs – people, that is, who might still have the ability to perform at least some kinds of work."
This chart is interesting. About 44 percent of the rise in disability insurance has to do with residual effects. This is fully understandable given the large rise in our low wage employment sectors. But is this healthy for the economy? Is it a good thing that disability insurance is growing at a time when many are now entering retirement age and drawing on Social Security? Many Americans are old, broke, and simply unprepared for retirement.
Another trend that seems to be hitting harder is the massive increase in people not in the labor force:
Since the recession started, we have added a whopping 13 million Americans to the "not in the labor force" category. While this is a footnote in unemployment reports, this is also a big reason for the actual decline. Have a smaller workforce.
Looking at employment growth also helps to shed light on what areas of the economy are growing: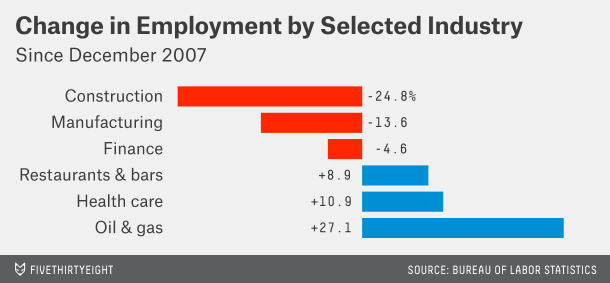 Construction and manufacturing are still having a tough go at it. This makes you wonder if the rise in disability payments also has to do with the fact that many of these were manual labor jobs. Building homes may not have a direct transferable equivalent if we are suddenly going into a low wage service sector economy. However, with the current financial structure in place we certainly have a demand for more affordable housing. We can put a large portion of this group back to work if we didn't incentivize banks to trade homes with one another instead of helping Americans with buying their family a home.
The sectors that are increasing include food, health care, and energy. Inflation is eating away at those with fixed incomes, including those drawing disability insurance. It is troubling to see so many opting out of the workforce. There is something larger going on here. Many Americans are simply unable to find work in this current economy.

If you enjoyed this post click here to subscribe to a complete feed and stay up to date with today's challenging market!