Masters of debt easing access to debt again: FICO score adjustments will allow people to take on more leverage at market peaks.
It is no coincidence that as the market gets long in the tooth, the crafty financial sector is looking for ways to offload products onto the public. This is the modus operandi of Wall Street in that after a historic bull run brought on by massive financial assistance from the government and Fed, it is now time to repeat the cycle and rid some of these assets onto the public. The latest consumer data shows that revolving credit grew very slowly in the last quarter while auto debt and student debt continued to soar. No surprise in the two areas where incomes don't matter, credit is booming. In housing, we see mortgage debt hitting a wall because consumers are tapped out and income growth is simply not occurring. A massive portion of home buying since the stock market put on the afterburners was brought on by non-traditional buyers in the form of banks and hedge funds. Looking to keep the market rolling, debt needs to be extended in spite of poor income growth. The almighty FICO score looks like it will be adjusted to give people a nice little push up. In other words, time to move the goal posts and let people that are cash strapped access to more debt. Forget about the recent report that showed a huge number of Americans have had one or more accounts in collection.
Debt plus debt equals more debt  
Our financial system is built on debt. It is important to remember that the financial crisis was brought on by insolvency, not liquidity. This is vital to understand. We did not hit a bump in the road but entered into terminal velocity for debt. The banking sector had to keep assets inflated to justify their balance sheets. Suspending accounting rules, asset swaps, and allowing banks to borrow at incredibly low rates worked to save the financially connected but has pushed inflation onto the general public.
The system now has roughly $60 trillion in total debt: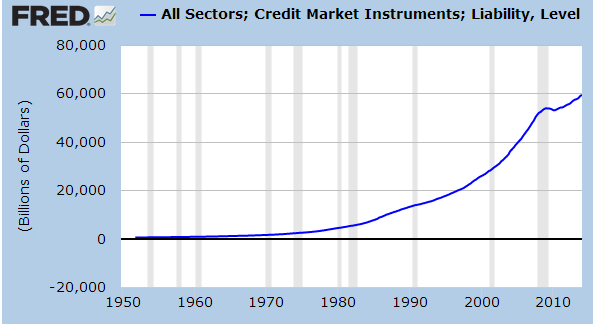 Unfortunately most of the consumer debt growth is occurring in items that do not help in increasing your wealth with auto loans and student debt booming:
"(Reuters) Revolving credit, which mostly measures credit-card use, increased only $941.54 million after a downwardly revised $1.74 billion gain in May. It was still the fourth consecutive month of increases in revolving credit.

Non-revolving credit, which includes auto loans as well as student loans made by the government, increased $16.31 billion in June.

May's figure was revised to show a $17.90 billion increase instead of the previously reported $17.82 billion advance."
We've already noted that a large part of auto loan debt is growing with subprime debt: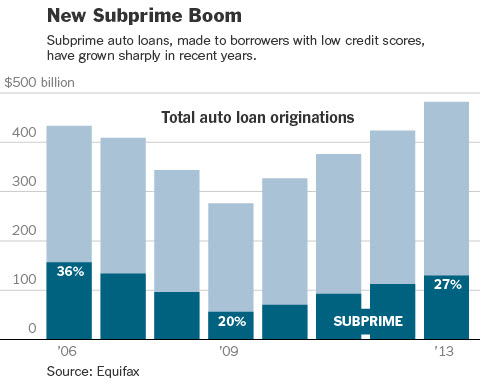 People don't have great FICO scores because they are already deep in debt, missing payments, or just don't have the income to back up their credit lines. So instead of realizing that we are tapped out, the financial system is now looking for ways to get people into deeper debt. Forget about trying to protect the middle class or focusing on income growth. No, the banking sector already got their fill from 2009 forward and is ready to stick this turkey onto the public once again. After all, a shadow bailout occurred without any Congressional approval.
Now it appears millions of Americans are going to get a nice FICO boost just because:
"(NY Times) Because of the new scoring model, individuals with a median score of 711 — and an otherwise clean credit history, except for unpaid medical debts — may see their FICO score rise by 25 points. As a result, many consumers may qualify for more attractive interest rates on various loans, potentially resulting in thousands of dollars in savings."
Great for consumers but isn't the timing odd? Now what a coincidence that as the stock market peaks, the housing market stalls out, and consumer credit slows down we all of a sudden get a revisit of the FICO score so people can get "better" credit. Instead of focusing on the true issue which is a disappearing middle class, we are now going to give people more leverage via adjusting credit scores. No change has happened with incomes or employment prospects. Simply put, people will have access to more debt under the guise of lower interest rates. Just because you can buy a car for $40,000 with a zero percent interest rate doesn't mean you should especially with the median household income of $50,000 being prevalent.
This is only one story in our debt based addiction. The problem is, debt is interchangeable with money in our system. Who pays with cash for college, auto purchases, or homes nowadays outside of big hedge funds and investors? Is it any surprise that our biggest financial crisis since the Great Depression hit at a time when Wall Street decided to enter into the credit markets and basically turn everything into a speculative casino? Who is benefitting here? After a major shadow bailout and recovery in the stock market, it is now time to handoff this hot potato to the public. Go out and enjoy that tiny boost in your FICO score.

If you enjoyed this post click here to subscribe to a complete feed and stay up to date with today's challenging market!