Major Trends in Employment: College Graduates Now Facing Higher Unemployment, U-6 Rate now at 14.8%, and 4.3 million jobs lost during this Recession.
The BLS has put out its monthly employment report and the data is once again showing weakness in the U.S. employment market.  What we are now seeing is conformation that this will in fact be the deepest and longest recession since the Great Depression.  What is more troubling is in light of the multiple bailouts and market alchemy, not much seems to be boosting the confidence of average Americans.  This is probably due to the fact that employment is contracting and most families facing unemployment have a hard time dealing with anything else than trying to find an additional stream of income for their household.
It is too simplistic to simply look at the 8.1% headline unemployment number.  First, we need to look at the acceleration of monthly job losses.  Over the past 4 months, cuts have been picking up: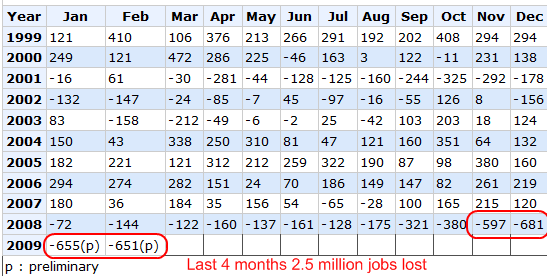 In the last 4 months alone, we have seen 2,584,000 jobs cut from our economy.  That is a large number and causes for concern since it doesn't seem like this will be abating anytime soon.  The headline unemployment rate of 8.1% now puts us back to 1984: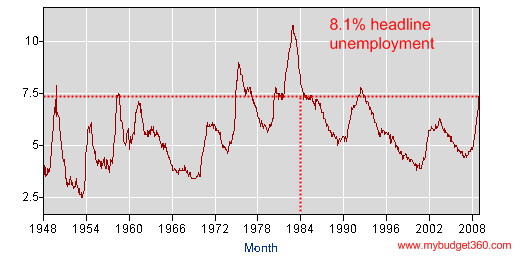 Yet this rate as I have talked about before does not highlight the magnitude of the problems in the economy including the fact that we are deleveraging from a 30 year housing and debt bubble.  A much better measure of unemployment is the U-6 data found in table A-12 which includes part-time workers and those who have given up for work: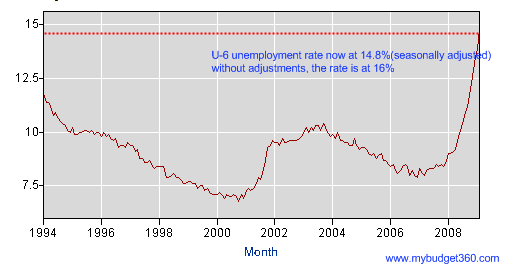 The U-6 unemployment data is more reflective of the actual feel of unemployment for the average American.  Most of us would agree that those working part-time but wanting full-time employment cannot be considered as fully employed.  We can also agree that those who have given up looking for work should also be considered as unemployed.  Hopefully, the media will shift their focus from the U-3 number to this more broader and more accurate reflection of the employment situation.  As the U.S. Treasury and Federal Reserve focus on more bailouts, very little has been done to create sustainable industries for future job creation.  In fact, the Fed is actually hoping the dollar collapses so we can then (ideally) be more competitive on a global scale yet the global economy is falling on hard times as well.
Another important indicator in the employment report is unemployment by educational level.  Of course, by all means the more education you have the higher your chances of being employed.  Let us look at some figures here: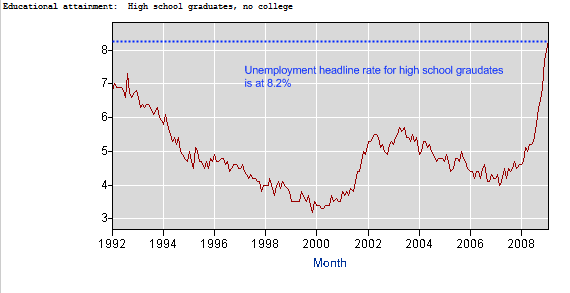 The unemployment rate of high school graduates is 8.2% which tracks the headline U-3 number.  Let us now look at the unemployment rate for college graduates (4 year degree and higher):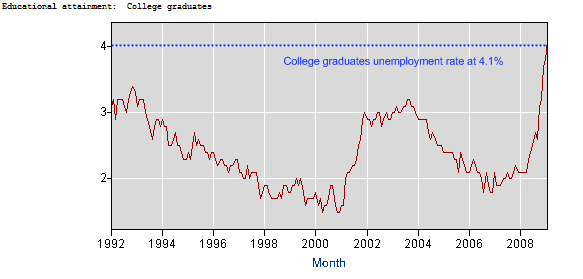 Even college graduates are falling on tougher times and this is seen in the data.  The rate for college graduates has doubled in one year meaning that higher paying jobs are now falling in large numbers.  This also means that states and the federal government will be hurting further with falling tax revenues from these higher income groups.
Yet one of the more startling stats of the day is we have surpassed the number of unemployed from the Great Depression:

During the peak of the Great Depression we had 12 million people unemployed in America.  Now, we have 12,467,000.  Of course our population is much larger, 3 times as much but this is simply another cold statistics showing us how dire the situation has gotten.

If you enjoyed this post click here to subscribe to a complete feed and stay up to date with today's challenging market!