Inflation acts as a pickpocket on the wallets of working Americans: Young Americans take a big hit given the small weight given to tuition in the CPI.
Inflation is a very real thing.  The Fed continues to downplay the impacts of inflation to support their ongoing easy monetary policy.  What this has created is an inflated stock market and hot money chasing into other asset classes including real estate.  This wouldn't be such an issue if your typical working American family was benefitting.  Instead, it is assisting larger financial institutions and big investors to pick up assets in all segments of the real economy and consequently crowds out regular buyers.  Inflation is the end outcome of all this kind of action.  More easy money chasing the same number of goods in the economy.  The way inflation is measured is odd and it also understates the impact being pushed onto younger Americans.  How is this the case?  The CPI gives very little weight to educational costs yet for many attending college, this is by far their biggest expense.  Let us look at inflation in various segments going back to 2000.
Inflation since 2000
Even a modest amount of inflation is destructive if wages are stagnant or falling.  That has largely been the case for over a decade.  Many recent college graduates are entering a market plastered with low wage jobs.  As the student loan payments come in it suddenly becomes apparent how painful it is to deal with tuition inflation if wages simply are not keeping up.
Inflation is not only occurring in college expenses.  Virtually all major spending categories have gone up steadily since 2000.  Take a look at the below chart to see the varying price increases across multiple spending categories: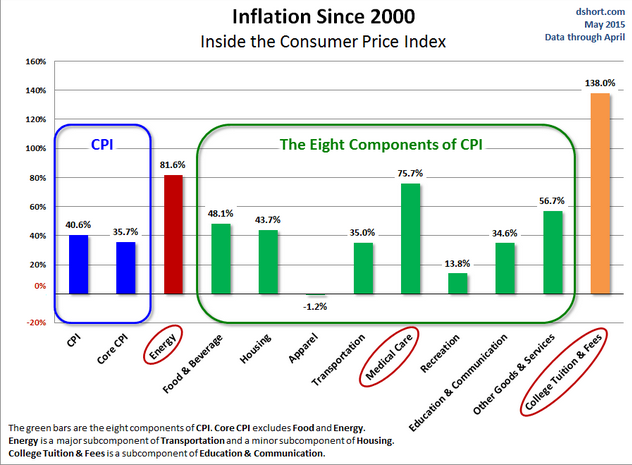 Overall the CPI is up 40 percent since 2000.  This is a big deal especially when wages are not keeping up.  But let us examine the categories more carefully:
Housing:                                              Up 43%

College tuition and fees:                 Up 138%

Medical Care:                                    Up 75%
These are three critical categories and are largely undercounting the true nature of inflation.  First, with housing it looks at the amount you would get for renting out your house.  Well the reality is, rents typically lag actual full on home payments that include taxes, insurance, principal, and interest.  Yet the majority in the US own their home.  So why look at the rental rate?  That is a big problem given this is the biggest weighted category in the CPI.  Next, college tuition and fees are given a small weighting within the education category.  But college tuition and fees are up 138 percent since 2000!  Medical Care which is a big deal to our aging nation is up 75%.  Take a look at the breakdown here: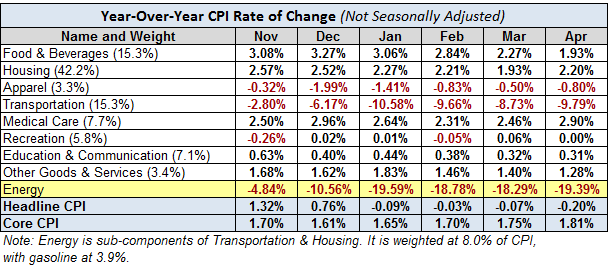 Housing makes up 42 percent of the CPI yet we don't use an accurate measure for prices.  OK.  Education and Communication (where tuition falls under) only makes up 7 percent of the CPI.  For many young Americans attending college, tuition is very likely exceeding 100 percent of their budget (hence they go into debt).  It is their largest expense yet it hardly shows up in the CPI.  Finally, Medical Care is also given a small portion of the CPI at 7 percent but this is going to be a big expensive for already cash strapped older Americans.
You want to see this in action?  Look at tuition at state schools in Texas: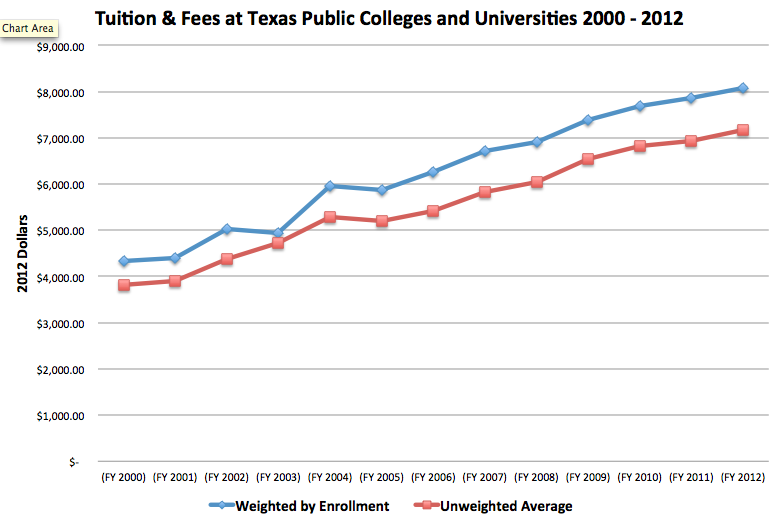 Tuition and fees at public state schools went from roughly $4,000 in 2000 to roughly $8,000 in 2012 (a 100 percent increase).  I ran the numbers for Texas A&M and it is now closer to $10,000 per year with all fees included.  And this is fairly priced compared to what other schools are charging across the nation.
So for those that are simply using the CPI to judge inflation, they are missing a large piece of the puzzle.  Inflation is acting as a pickpocket on every dollar you earn.  It becomes even tougher when the official metric isn't really doing a great job of measuring true inflation.

If you enjoyed this post click here to subscribe to a complete feed and stay up to date with today's challenging market!