Investing in Foreign Currencies: Recession Proof Investing.
As people panic to find places to store their wealth and preserve what they have earned, you may want to consider having a portion of your investment portfolio in foreign currencies. If you want to know how poorly the market has done over the past year, take a look at the following data:
| | | | |
| --- | --- | --- | --- |
| Index | 2007 | 2008 | Return |
| DOW Jones | 12,487 | 12,743 | 2% |
| NASDAQ | 2,435 | 2,413 | -0.91% |
| S&P 500 | 1,422 | 1,395 | -1.88% |
Given that inflation is still humming along and the US Dollar index fell by 10.7 percent in the same time frame, you have actually lost roughly 10 percent of your real purchasing power. Now what can you do to preserve your money in recessionary times? If you have any doubt about the magnitude of this, seeing the Fed cut rates by an unprecedented 125 basis points in 8 days shows you that they are very concerned. Look at actions and not words. And with the employment numbers last week showing a contraction in jobs for the first time in 4 years, we are nowhere out of the woods yet. Here are a few ideas of where to put your money in these trying times.
Foreign Currencies
Investing in foreign currencies isn't really that difficult. With online banks such as Everbank, you have the ability to open up a free checking account, link the account to your current checking account and then have access to purchasing foreign currencies. You can buy currencies such as the Euro, Japanese Yen, British Pound, and other currencies from around the world. The benefit of this is yes, your money is FDIC ensured. Now let us take a look at a few foreign currencies during the above investing time frame:
USD-YEN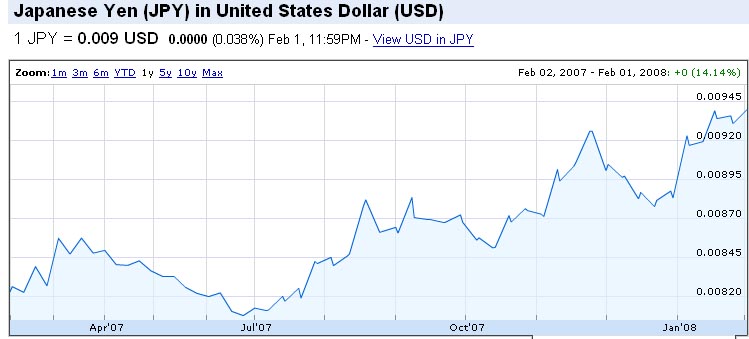 The Yen is up 14 percent in relation to the dollar in a one-year timeframe. This has a major potential of moving upward since we are seeing an unwinding of dollar debt. The Japanese hold an inordinate amount of US debt and if the unwinding continues, expect the Yen to continue to rise.
USD-Euro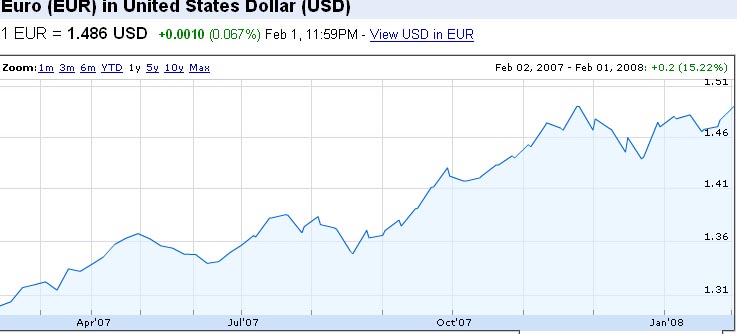 The Euro is up 15 percent in relation to the dollar in a one-year timeframe. The Euro as you may know through its central bank, has not kowtowed to the markets like the Federal Reserve who has decided to let the dollar go into a free fall. The ECB has held rates steady and also the currency has a small portion backed by gold. The dollar is simply backed by the full faith of the US government. If this faith wanders, the dollar will continue to go down. And with employment going negative and consumer spending, the life blood of this economy contracting we will have leaner times ahead. The Euro may not accelerate as much as it did last year simply because Europe is facing the same micro bubbles as we are in the US. At some point I would expect the ECB to cut rates.
Investing in foreign currencies isn't that difficult and should be a part of your overall market portfolio. If you look at the above data, even gaining 2 or 3 percent is enough to wipe away your real purchasing power because inflation is running much higher and at the same time, the dollar is declining by double-digits. Stay well and invest wisely.

If you enjoyed this post click here to subscribe to a complete feed and stay up to date with today's challenging market!