Where did the American worker go? 663,000 people were removed from the labor force pushing the figure to 90 million Americans not looking for work.
The employment report was very weak no matter how you sliced it.  The unemployment rate fell but this was largely driven by an incredibly large number of people dropping out of the labor force.  This recession has been extremely tough on US households.  The recession was technically over in the summer of 2009 which seems like an eternity ago.  However, the recession was over for a small group of Americans.  Labor force participation is now down to where it was in 1979!  The report was abysmal no matter how you diced it and this is coming on years of the Fed shoveling trillions of dollars to their friendly neighbor banks.  This was supposedly the recipe for recovery but a recovery for which group?  Certainly not the typical American family.  We have all these measures of distress hitting high levels: people on disability, about 15 percent of our population on food stamps, and labor force participation down to 63.3 percent.  This is what happens when 663,000 people drop out of the labor force.  Where did the workers go?
Dropping out of the labor force
A larger number of Americans are simply dropping out of the labor force: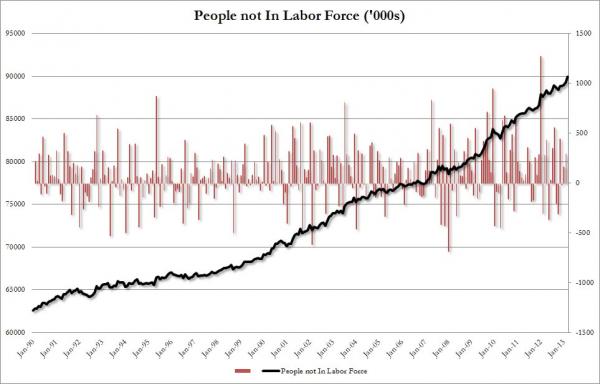 Source: ZH
This figure is very high and cannot be explained by baby boomers hitting retirement age.  We have many working age Americans dropping out of the labor force for a variety of reasons.  Some are sticking it out in very expensive colleges or some are applying for disability which has spiked dramatically in this recession.  Yet this trend is ongoing and also explains why we have 47.3 million Americans receiving food stamps: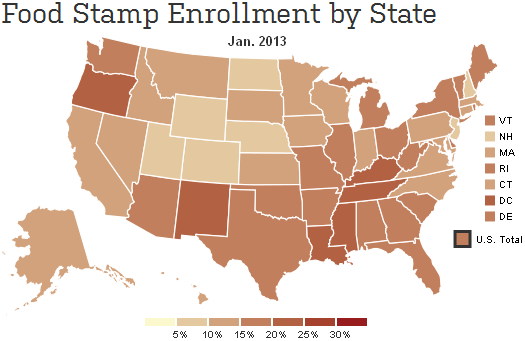 Some states like Mississippi have over 20 percent of their population on food stamps.  This is probably not the kind of recovery people had in mind.  The 663,000 removed from the labor force dropped the participation rate to levels last seen in 1979: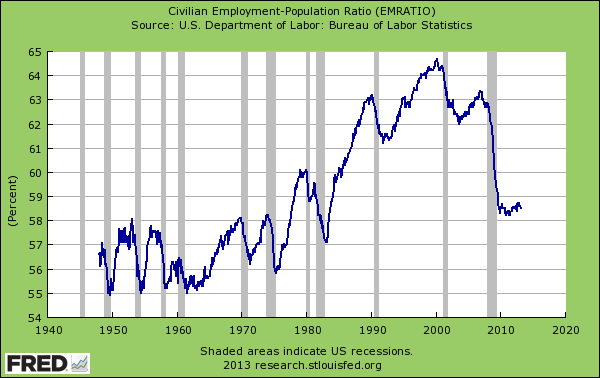 Keep in mind that since that point a higher percentage of women now participate in the labor force so this figure is showing how poor the labor force really is for your typical worker.  We should have roughly 5 more million jobs than we currently have today to meet the needs of our current labor force.  Here is the trend if you are interested: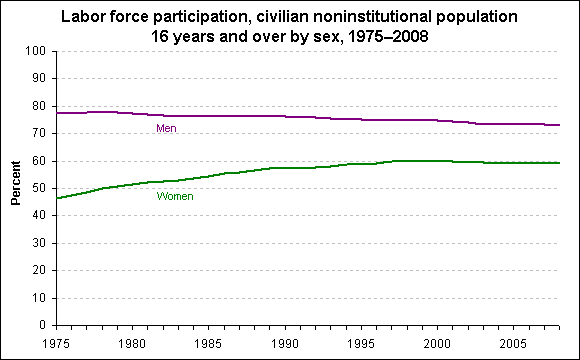 This weak report comes at a time when bank profits are at near record levels again, the stock market is peaking, and bonuses are flooding Wall Street.  Yet the real economy appears to be in shambles.  Why?  Because the Fed and government have largely chosen to bailout Wall Street while throwing crumbs at the rest of workers.  This is why it is tragic that the one place where Americans store their wealth, housing, is now turning into another bubble and Wall Street investors are buying up what little supply is available to increase rents or to flip for quick profits.  Yet this is not the path to better employment.  The drop in the unemployment rate is simply a trick of statistics.  Really, how can 663,000 people dropping out in the labor force be a sign of economic progress?

If you enjoyed this post click here to subscribe to a complete feed and stay up to date with today's challenging market!