Food service workers at a record high in US economy: Record percent of Americans now employed in food services as a share of total employment coupled with peak food stamp usage.
One of biggest contributors to jobs over the last few years has come from the low-wage food service sector.  A record 7.6 percent of Americans now work in food services and drinking places.  Given that we have 47+ million Americans on food stamps and this figure has boomed in the last decade, it should come as no surprise that as Abraham Maslow would have it, people are reverting to the basic necessities of life.  Yet there is a larger story of our economic recovery.  There was a McDonald's hiring a cashier but looking for someone with a college degree.  Welcome to the low wage recovery.  A large part of America is simply trying to get by and this population is growing.  Those that frequent financial sites on the net are probably a very small part of the overall population.  So I know it comes as a surprise to some readers when they realize the per capita wage in the US is $26,000.  I'm sure this record percent of Americans in the food services industry must come as a shock as well.
Record employment in food services
The record figures regarding food service employment doesn't surprise me.  The growth has been steady for the last few decades: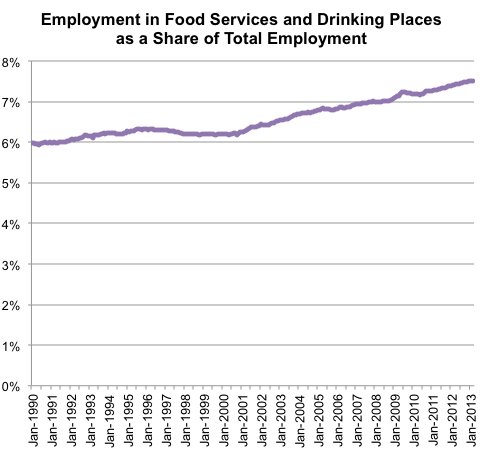 First, you cannot outsource food services.  There is no off-shoring Taco Bell and your ability to order a burrito.  There is no off-shoring Pizza Hut delivery.  In a way, food services is an industry that is built to stay in a local area.  Unfortunately the pay isn't the best but fits into the new low-wage American economy.  We've discussed that under the illusion of profits, many firms are driving stock values higher by cutting employee wages, slashing benefits, and basically squeezing all the productivity they can muster out of the current workforce.  This might be attractive when it comes to the stock market but little stock wealth is in the hands of most Americans.  In fact, the top 1 percent controls over 42 percent of all financial wealth.
With the rise of people working in food services we also have a peak number of people on food stamps: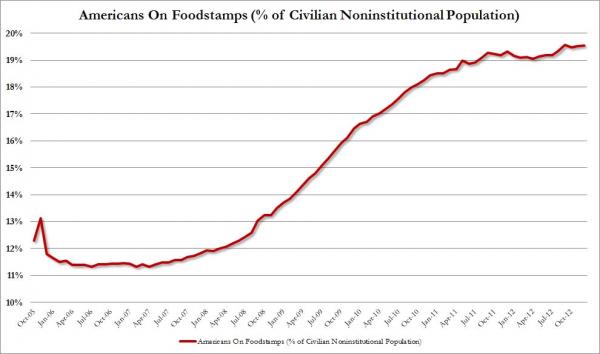 We now have a record percent of our population on food stamps and a record percent of our workforce employed by food services.  Not exactly the ideal recovery many had in mind.  You wonder what kind of economy we will have where workers are largely demonized in the media and many have lost their voice.  In fact, some in the middle class actually advocate for policies that systematically go against their own interest and the interest of the country if they believe in having a healthy middle class.  Ultimately we are on the quick road to fully converting our economy into a low-wage system.  Peak food service employment and peak food stamp usage are merely symptoms.
The case of the McDonald's in Massachusetts looking to hire a cashier with a college degree is an anecdotal example of where things stand with our economy:
"(Huff Po) Hopefully "Do you want fries with that?" is a phrase they teach in college classrooms.

A McDonald's in Winchendon, Mass., is apparently requiring potential cashiers to have a bachelor's degree, according to a recent job posting. The ad, posted on jobdiagnosis.com, also says that applicants should be "friendly" and able to "smile while serving lots of guests daily."

The job opening is with an "independent franchise," but it also appears on the McDonald's corporate site, albeit with no note of the bachelor's degree requirement. McDonald's corporate headquarters didn't immediately return email and phone messages seeking comment."
So you have young Americans paying incredibly high costs for going to college and diving into debt simply to work at a fast food restaurant?  You might write this off but given our record level of food service workers, maybe this is an unfortunate trend of our new low-wage economy.

If you enjoyed this post click here to subscribe to a complete feed and stay up to date with today's challenging market!