Line up and prepare for the next bailout in student debt: Student loan debt crosses the $1.2 trillion mark. $248,000 for an undergraduate degree?
The nation is fully engulfed in a student debt bubble.  The problems with student debt are numerous yet this unrelenting bubble is allowed to grow like weeds in a garden.  Going back to 2000 total student debt outstanding rested around $200 billion.  Today it is over $1.2 trillion.  Keep in mind that during this time household incomes have retreated back to what they were in the mid-1990s.  So college costs more but you earn less.  Sounds like a winning recipe!  Compounding this debt bubble is the reality that half of college graduates are working in jobs that don't employ their undergraduate degrees.  I continuously see that college graduates have a lower unemployment rate compared to others but in many cases this means a Starbucks job was given to someone with a college degree versus one without a degree.  I'm not sure that will be a big help when paying back $50,000 or $100,000 in student debt.
The delinquencies only get worse
Even though the problems are festering student debt is becoming a problematic liability class: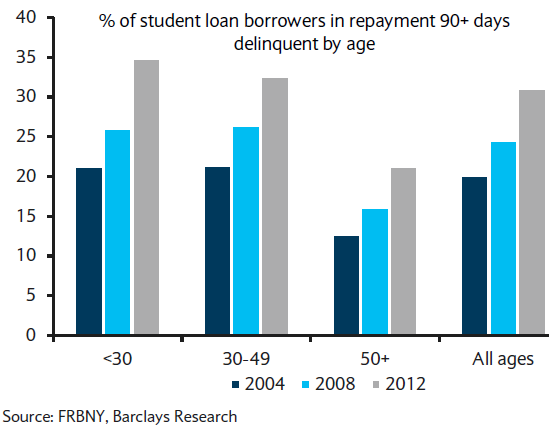 What is disturbing is that delinquencies have only gotten worse throughout the so-called recovery.  For those under 30, the amount of student debt that is delinquent is upwards of 35 percent.  The lights are flashing red that a problem is definitely here.
What is equally troubling is the fact that student debt is now the most problematic debt class in the United States (for consumer debt):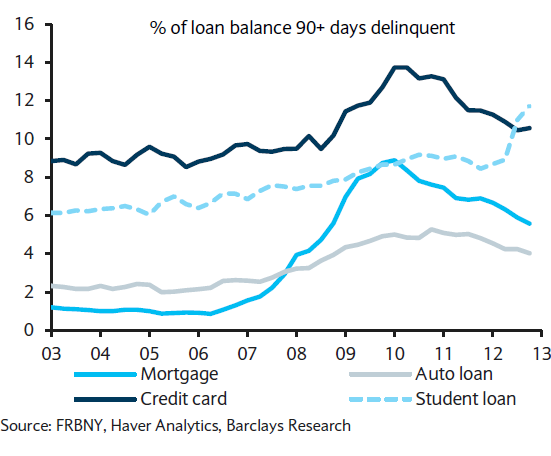 This is not a good sign.  Yet the unrelenting lending continues unabated.  All of the $1.2 trillion (minus 15%) is owned or backed by the government.  Great!  So gear up for another bailout.  When you chart out the growth of student debt merely in the last decade you realize that something is amiss here: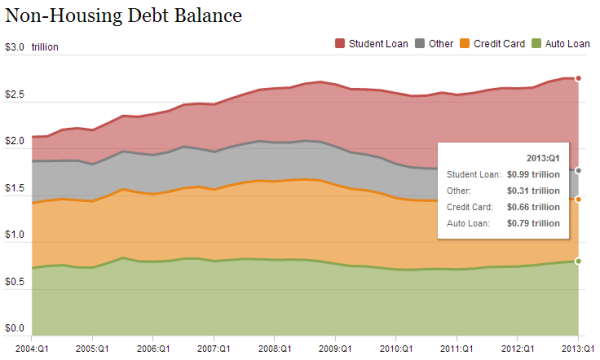 There is a big disconnect somewhere in the system.  College graduates are paying more yet earning less.  You see a near mutiny in the law school ranks since many lawyers are graduating with mortgage like debt and are competing for entry level positions unrelated to law.
Underutilization of degrees
Over half of college graduates are working careers where their degree is not being utilized.  Take a look at this chart: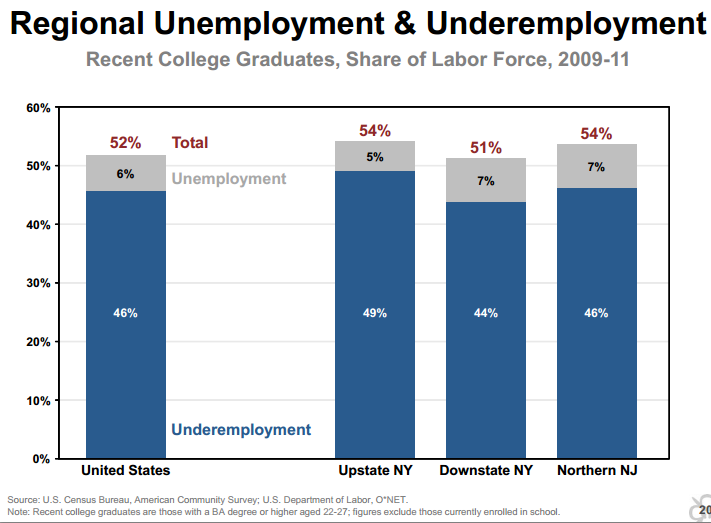 Obviously having a well-rounded academic background is important to being an intelligent human being.  But is it necessary to pay $50,000 per year for this?  What is it truly worth?  Many will argue that education is priceless and given what some are willing to pay, I think many believe this fully.
The above chart should cause you to pause.  What does it tell you that over 50 percent of college graduates are underemployed in the US?  Even more problematic, how is this going on during a stock market boom?  In reality, wages are being squeezed and you have many college graduates simply beating out lower skilled competition for those employment numbers.
Education is absolutely valuable.  Yet consider that it now costs $62,000 a year to go to NYU:
"(Daily Mail) A list released by the Department of Education lists the colleges and universities with the highest tuition in the country.

New York University, NYU is the country's most expensive school with tuition costing $61,977 a year."
Do the math here:  $62,000 x 4 = $248,000
So for 4-years assuming the listed tuition, someone is going to pay out nearly a quarter-million dollars?!  Sure sounds reasonable to me given that one third of Americans have no savings and half are living paycheck to paycheck.  Then you wonder why student loans are now the most problematic consumer debt class in America.

If you enjoyed this post click here to subscribe to a complete feed and stay up to date with today's challenging market!