Middle class acquiesces through the looking glass of financial mediocrity: The financial system continues to pillage the wealth of working and middle class Americans.
2013 can be remembered as a year where the markets fully disconnected from Main Street.  The trickle down promises are all empty and hollow words.  For example, we had one of the best stock market rallies ever yet most Americans are not seeing any wage growth.  The housing market boomed but more than 30 percent of sales are going to big banks and investors using the Fed's QE system to crowd out regular people.  Why are higher home prices positive if incomes are not going up?  The market no longer reflects the pains of the working and middle class.  In fact, the stock market must appear like a looking glass for many Americans who look at their paychecks and net worth and must wonder how they can get a piece of the action.  The con is strong since most of non-housing debt taken on this year came via auto and student loan debt.  In other words, spending what you don't have.  The financial system continues to pillage what little wealth working and middle class Americans have.
Nearly half of country struggling
A recent Gallup poll found that 44 percent of Americans are struggling and 4 percent are flat out suffering: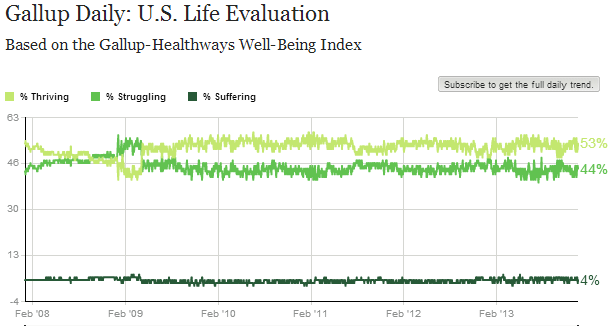 What is interesting is that even in the height of the recession, the figures were very similar.  Today we still have over 47 million Americans depending on food stamps to get by.  With a record in the stock market, it is hard to reconcile how nearly 1 out of 6 Americans has just enough to buy food.  We are still at record levels here suggesting that we have some profound structural problems in our system.
Many of the good paying jobs that left during the recession have been replaced by low wage and low benefit jobs.  While the public is dealt the heavy hand of austerity the soft hand of corporate welfare is alive and well on Wall Street.
Household income is not moving up
Adjusting for inflation, median household income is at levels last seen in the late 1980s: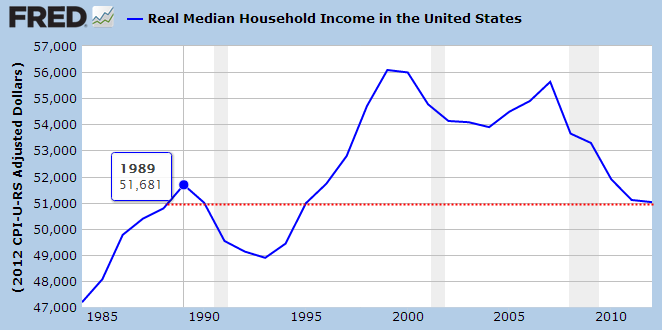 What this suggests is that the tech boom of the 1990s and the real estate of the bubble of the 2000s did help to get some people wealthier but it certainly was not the middle class.  In fact, there is a multi-decade trend going on where the middle class is slowly being pulled apart.  Keep in mind that a large part of the financial sector does absolutely nothing in creating real wealth.  They merely serve as a rentier-seeking profit machine that extracts wealth from the real economy.  This is why QE has now pushed large banks into crowding out regular households in the market.  The result?  Higher home prices and higher rents with no real increase in incomes.
Spending up on auto and student loan debt
Roughly 95 percent of the increase in non-revolving debt this year has come from student and car loans: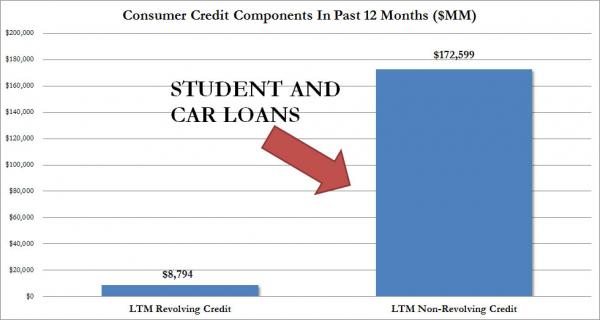 Source:   Federal Reserve, ZH
This should not be seen as a positive for the fact that real household incomes are not up.  People are simply going into debt for spending on items today.  Did this work out well last time?  It did not.  Yet the middle class is buying into the myth of a booming economy even though their incomes are not up!  This is why they need to go into mega debt to buy cars and go to college.
Student debt is already at $1.2 trillion (the Fed's chart below is lagging behind the actual real figures: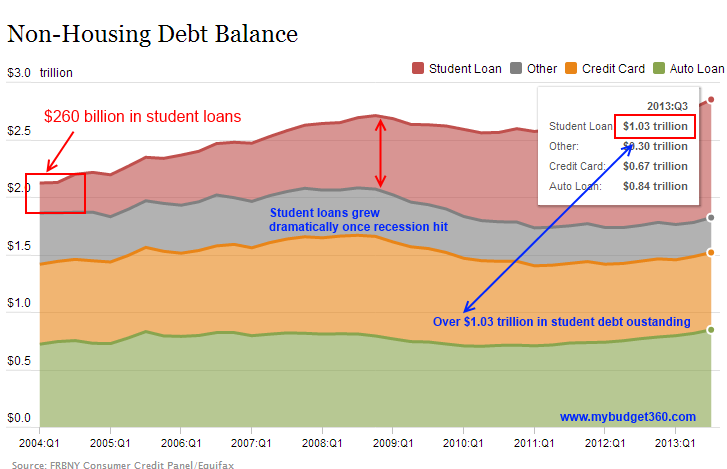 For college graduates in many disciplines the debt taken on is simply not worth it.  Yet the lack of good paying jobs has created fierce competition for work in certain fields.  Younger Americans are starting out with incredible levels of debt and very low wage jobs.  Many don't even know what a pension is as these are being pushed out (although golden parachutes for executives are completely okay in this predatory system).  The cognitive dissonance is powerful in the current market.  Wasn't it the financial industry that led this country into the worst recession since the Great Depression and is now partying on the Fed's easy money stream?
Inequality at record levels
Of course all of this has led to record levels of inequality: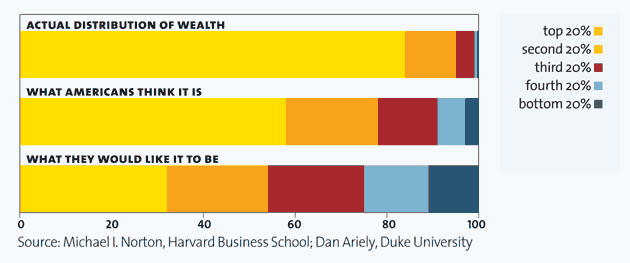 The top 10 percent control 75 percent of all the wealth in the nation.  The bottom 60 percent of this country controls absolutely nothing (it barely shows up on the chart).  This is reflected more dramatically when we look at retirement savings: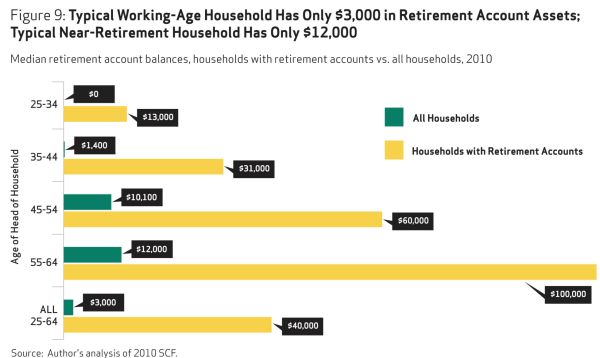 The typical working-age household has $3,000 saved for retirement in the wealthiest nation on the planet.  Is it any surprise that 48 percent of the country is struggling or downright suffering?  Yet here we are with a record in the stock market.  Makes you wonder what that $4 trillion in the Fed's balance sheet is really doing.
Many Americans are simply getting by and have accepted the status quo or are purposely bombarded with confusing messages from the mainstream press.
"Save carefully but look at that hot financial stock!"

"Don't miss out on the next housing boom!" 
Then we wonder why the middle class is slowly fading away deep into the looking glass.

If you enjoyed this post click here to subscribe to a complete feed and stay up to date with today's challenging market!