Those not in the labor force but looking for a job now rose last month: The funny numbers behind the unemployment rate.
Those "not in the labor force" Americans continues to expand while the headline unemployment rate continues to decline.  Some pundits will try to argue that this number does not accurately portray those looking for work.  Well how about a category called "not in the labor force, want a job now" for categorizing those looking for work?  We actually have a category that specifically looks at those not in the labor force but wanting a job today.  And that number went up by 90,000 last month while the unemployment rate fell.  Depending on how you define a healthy economy, you can find data that largely supports the broad case that most Americans are falling behind while a smaller portion is doing exceptionally well.  Some of this is part of the new economic framework of a system largely dependent on financialization.  It is odd to see those looking for work rise while the unemployment rate drops.
Looking for work now
There is a metric that looks specifically at those not in the labor force but that are looking for employment as of this moment.  This is an interesting statistic and gives us a general perspective on slack in the labor force.
Let us take a look at the category: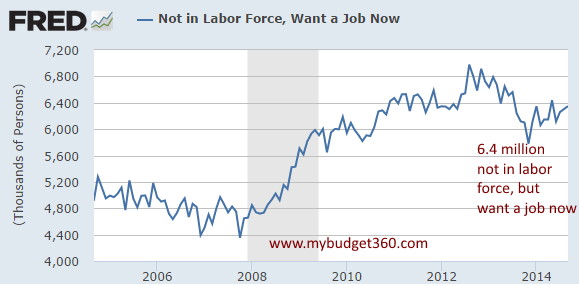 Keep in mind that the recession officially ended in 2009.  At that point we had 5.9 million Americans in this category.  Today it is up to 6.4 million (an increase of 500,000).  Also, we added 90,000 to this category last month and this is at a time when the headline unemployment rate dropped.
What is going on here?  First, we are adding jobs and many of these are in the form of low wage labor.  Yet the big reason for the decline is based on the math of losing many people from the labor force.  So you count fewer workers and what a surprise that the unemployment rate suddenly drops.  A headline 5.9 percent unemployment rate is really good in the scheme of things but most Americans are not happy with this economy: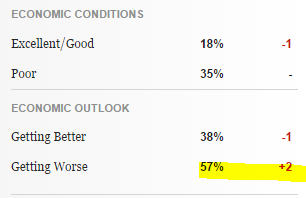 Source:  Gallup
A large reason for this is the "not in the labor force" category continues to expand at a very fast pace.  Take a look at the figures for last month: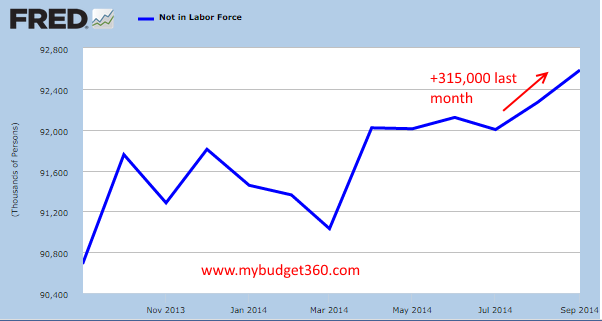 Payroll employment increased by 248,000 (a strong number) but we went ahead and added 315,000 more Americans to the "not in the labor force" category bringing the total to 92.5 million.  That is an enormous number that simply cannot be ignored but it is.  Many simply accept the party line that this number is growing because of an older population.  That is one part of the larger piece of the puzzle but we are also seeing more discouraged workers and many riding it out in college going into massive debt.  The reason for the drop in the unemployment rate is more complicated than the headline number.
I attribute the big chasm between Main Street and Wall Street sentiment directly to these numbers.  For Wall Street, the stock market is near a record high and salaries and bonuses are very healthy.  Yet this is not the case for those on Main Street.  Inflation continues to chip away at purchasing power and more daily item costs are shifted onto the balance sheets of families (i.e., retirement, healthcare, etc).  The unemployment numbers smell funny because they are.  Then when you look at the jobs being added, many are low wage jobs that barely pay enough to keep the lights on.

If you enjoyed this post click here to subscribe to a complete feed and stay up to date with today's challenging market!