Phoenix real estate breaks a record with 50 percent of all home sales coming from all cash investors. Locals barely can buy with FHA insured loans. Can a desert market dependent on cheap oil and survive in the $100+ a barrel world?
The Phoenix real estate market is a fascinating case examination of an area guided by FHA loans for first time buyers and all cash investors purchasing 50 percent of properties.  In January of 2011, the latest month of stunning data, 1 out of every 2 homes sold went to an all cash buyer.  We are seeing many investors moving off the picket fence and purchasing homes in these desert cities.  Cash is being put into action.  The price has fallen dramatically and home prices are cheaper today than they were over a decade ago.  But is this a good deal?  Are eager investors making a good move out in Phoenix?  The median price for a home sale was $119,000 which is down y-o-y by 9 percent and the median condo price was $72,000 down 24 percent y-o-y.  When we look at the statistics we see that many eager investors are moving cash off the sideline and purchasing homes with all cash.
The all cash Phoenix investor buyer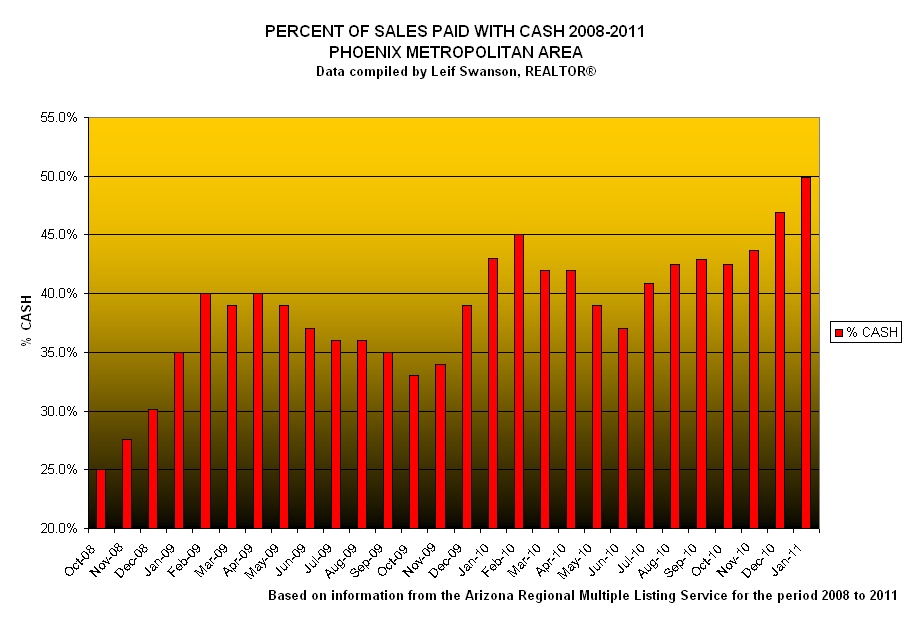 Source:  Leif Swanson
The above chart clearly shows that last month was the largest percentage of all cash buyers in the Phoenix market, ever.  Half of all home sales came from all cash investors.  Since prices have clearly fallen and there is little reason to believe prices will go up anytime soon given the economy in the Southwest, many of these investors must be betting that they will cash flow on their purchases.  This is an interesting development.  Of course if you purchase a home with all cash that you are going to cash flow simply because you put so much money in.  But what is the vacancy rate out in Phoenix?  Are tenants stable?  Will they take care of the property?  I think many investors are simply examining the short term attractiveness of a cheap price and forgetting that they are buying in a desert community that relies heavily on cheap oil.  Cheap oil is now a thing of the past.  We have yet to see how these desert communities respond to $100+ oil for many years.
Market makeup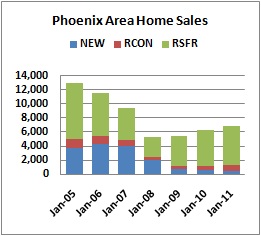 Source:  DataQuick
Home sales have perked up in the last year but again most of this is being driven by all cash investors on foreclosure re-sales.  When I last wrote about the Phoenix market many were saying that these people were buying were snowbirds looking for a winter villa.  I highly doubt this.  The homes that are being sold are cheap and in less desirable areas.  These are investors.  In fact, 45 percent of all the home sales were absentee buyers meaning they were outside of the area.  It is likely these folks are looking for a cash flowing property or are eager to flip the properties.  It is less likely that these are for flipping because many of the homes in the market are newer homes with all the typical amenities of a new home.  The area tells you that the bulk of these are for investment, not living.  Banks are loving this since it gives them a chance to off load more inventory.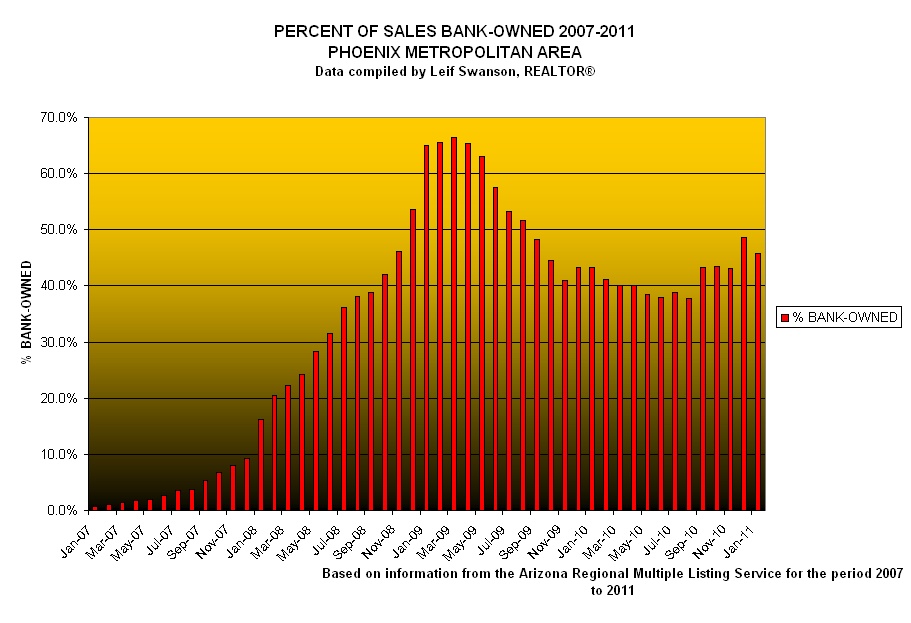 Bank owned homes are selling like pancakes in this market.  It is too early to tell if this is a good purchase but many that bought in Detroit in the 1990s because it was cheap ended up buying a losing sinkhole.  Sometimes prices are cheap for a good and logical reason.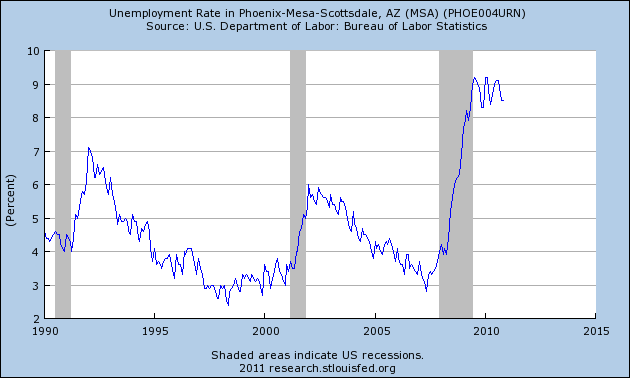 The unemployment rate in Phoenix is still near its peak levels.  Many of the newer jobs are falling in the $25,000 or lower category and are temporary.  Are many of these investors willing to chase tenets that don't pay the rent or destroy their property?  You can only yield a low rent in this market and incomes and jobs are such that you are likely to have high vacancy rates.  Yet many investors are simply looking at this: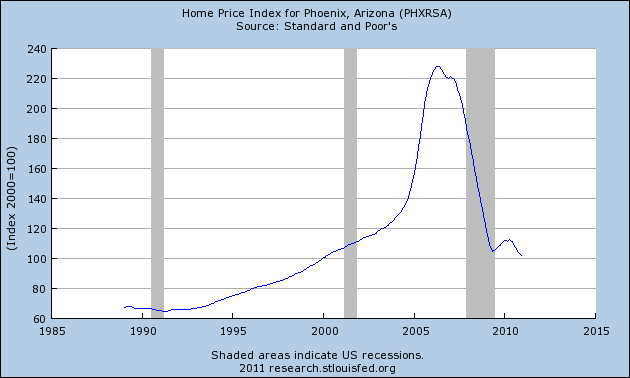 This is probably the most exhilarating and frightening chart for investors.  Prices are so low that they are now back to the late 1990s on a nominal basis.  You can see the little government and Federal Reserve bump in 2009 and 2010 but that is largely now gone.  Prices are moving lower because these homes aren't being purchased by locals in large numbers but by investors looking to rent the places out or to flip them.  Who are they going to flip to?  Each other?  Most of the homes being sold to locals are being sold under FHA and VA loans which means people are having a hard time scraping money together even for a $72,000 condo or a $100,000 home.
The desert is going to feel the pain of this housing crash for the entire decade.  Many investors are betting this is the bottom for Phoenix.  No one has a crystal ball but when I look at oil prices and the low incomes of residents here it is hard to see much upside.  At the very best case you land a good tenet and you make a nice rate of return on your cash.  In the worst case scenario you buy in an area dependent on cheap oil and housing construction and if those things don't turn favorable soon, you might end up in a similar situation as Detroit.

If you enjoyed this post click here to subscribe to a complete feed and stay up to date with today's challenging market!