The punishment of the American saver – JP Morgan Chase CEO makes 843 times the median household income and pays his Chase customers 0.01 percent on their savings.
The current financial system is designed to punish old school savers.  By definition in our debt based economy those who save are actually taking fuel out of the consumption based economy.  Spendthrifts are the high octane that keeps things spinning even if it comes with a high debt price tag.  You see this occurring in the world for example with countries with high surpluses bailing out countries with big debt problems in particular in Europe.  We are different but not so much.  The Federal Reserve has made savers a pariah in the last decade.  If you were to put your money in an old time savings account you would earn virtually no interest.  And when we say no interest, we mean you would make the same amount by stuffing your hard earned dollars into your mattress.  Why is this occurring?  Is a system so dependent on debt sustainable?  The Fed realizes that in order to keep the too big to fail banks standing people will need to continue to spend even if they are getting poorer as the statistics show.
CEO earns 843 times the median household income and manages to pay out 0.01% in interest
One of the starkest contrasts is the savings rates offered at too big to fail banks.  Take for example the current savings rate at JP Morgan Chase: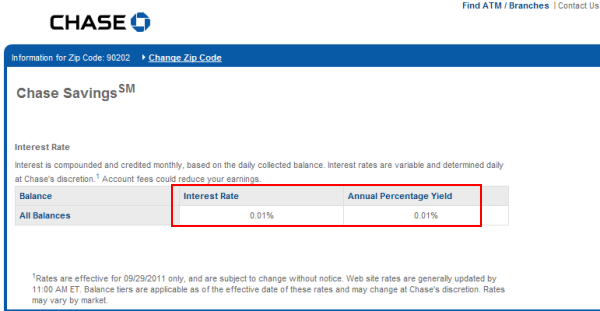 For your regular savings account at Chase you will earn 0.01% in interest.  To really highlight the contrast here the CEO of Chase earns 843 times the median household income:
"(Reuters) Dimon's total compensation jumped nearly 1,500 percent to $20.8 million in 2010 from $1.3 million a year earlier, based on the U.S. Securities and Exchange Commission's compensation formula, a regulatory filing showed.

Dimon did even better in terms of the value of money and shares actually received: his salary, bonus and stock and options from grants made largely in previous years that were actually exercised in 2010 were worth around $42 million.

By way of comparison, real median U.S. household income was just $49,777 in 2009, according to the U.S. Census Bureau."
The figures get more interesting when you run the numbers:
"The CEO of JP Morgan, one of the big beneficiaries of the bailouts, received in his total compensation 843 times the median household income of the United States.  This is where things stand.  And how many people is JP Morgan kicking out of homes this year?  How about the WaMu portfolio with all those toxic loans.  What about the service fees now charged to customers in onerous ways?  This is what we reward in America.  There is nothing wrong with rewarding say Apple for providing iPods or iPhones that people choose to buy without governmental coercion.  But here we have a bank that is largely benefitting simply by its connections to Washington D.C. and their service is gouging average Americans even further.  Where is the benefit of the too big to fail for the public?"
I wonder where he keeps most of his savings?  It is highly probable that a sizeable portion of his savings isn't put into his own bank.  Yet this is not only a trend occurring at Chase.  It is happening at all the too big to fail banks as they deal with balance sheet issues.  What is troubling of course is that as the stock market enters into extreme volatility people are quickly rebalancing and deleveraging into regular savings accounts.  The personal savings rate has been going up during the economic crisis: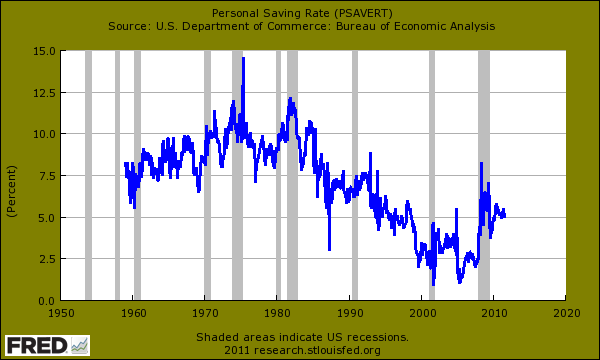 While people are saving more, they are earning virtually nothing in the bank.  This is designed.  The Federal Reserve has cut the Fed Funds Rate (FFR) down almost to zero.  The intent is to make it easier for banks to borrow but also to force people to spend even if they don't have that much extra to spend: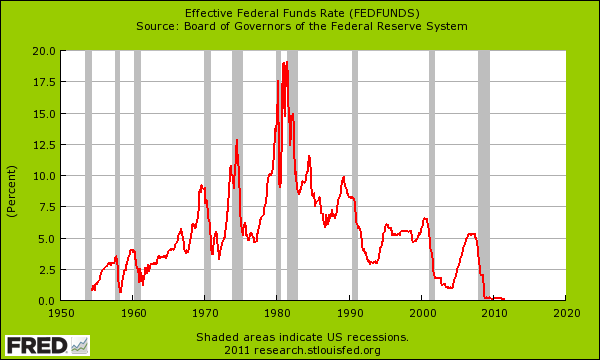 It is a striking psychological ploy.  Make savings so unattractive and push the cost of living up, that people will have the desire to either spend today or dump their money in the risky stock market to chase higher yields.
This trend is unmistakable.  Even if we look at money market accounts above $10,000 the rate isn't much better: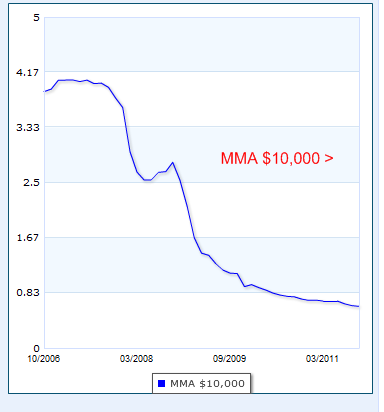 The rate paid out on money market accounts over $10,000 has fallen by a stunning 80+ percent in the last five years.  The underlying message from the Federal Reserve is simple; go out and spend every last penny you got.  The too big to fail and the select few who have amassed most of the wealth will have financial security but the rest of the country can be thankful that they will live paycheck to paycheck.  This is not how you build wealth.  The system right now is mega debt based and hyper consumption fueled.  At a certain point, you need balance and that is the painful process we are now undergoing.

If you enjoyed this post click here to subscribe to a complete feed and stay up to date with today's challenging market!