The rise of the dollar store – catering to a disappearing middle class with shrinking incomes has made dollar stores prosper in the last decade. In last decade Family Dollar grew by 62 percent in store count while U.S. population only went up by 8 percent.
Dollar stores for most Americans carry an odd sort of stigma.  In the past, these locations were seen as shopping hubs for the poor only.  Yet as we all know many in the once strong American middle class were thrown off the prosperity treadmill and into lower income brackets.  While companies struggle with growing dollar stores have found a niche in this climate.  A shrinking middle class means more customers.  All we really need to do is examine the growth in employees and in store numbers for a couple of large dollar stores in Family Dollar and the 99 Cents Only Store.  These businesses have done well in this economy for a variety of reasons but the number one reason is a shrinking pocketbook has taken away the stigma of shopping for less.  Austerity is back in fashion.
The growth of Family Dollar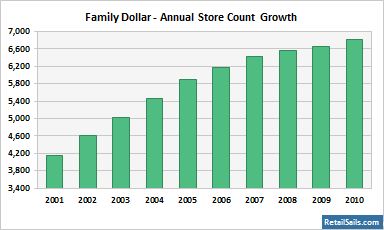 Source:  Retail Sails
In 2001 Family Dollar had approximately 4,200 stores.  Today it has 6,817.  While the U.S. population increased by 8 percent during this time Family Dollar stores expanded at a rate of 62 percent.  Part of this has to do with the reality that the average annual per capita income in the United States is $25,000.  I remember many years ago going into dollar stores and recalling the amount of trinkets that were being sold.  These stores had oddball items.  But today you will realize that many of these stores have become like half supermarkets.  In fact, Family Dollar largely sells food: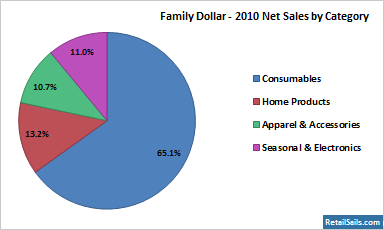 This reality also blends in with the fact that we now have over 44 million Americans receiving some form of food assistance.  The amount given each month is minimal but people are now being forced to live with much less and dollar stores are catering to this ongoing trend.  Family Dollar employs over 50,000 people and has net annual sales of $7.9 billion.  This is no small niche market.  Yet the unfortunate side is that it reflects a struggling American middle class that is shrinking as each day goes by.  Take a look at the growth in food stamp participants: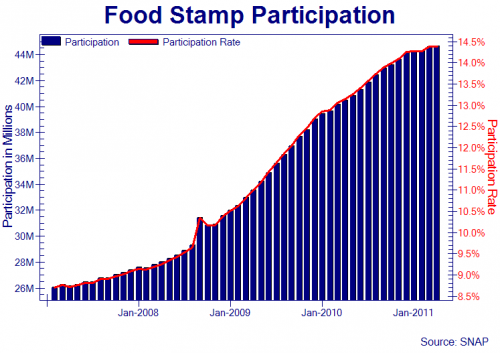 Source:  Zero Hedge
This isn't exactly a trend we want to see occurring.  Yet these dollar stores provide a larger portion of the U.S. population access to cheap food which is clearly in demand.  You wouldn't grow your store count by 62 percent when the population increased by 8 percent if there was lack of demand.  The growth came largely from the disappearing middle class and many more people being pushed into lower class positions and a reduced income base.
The 99 Cents Only Store
The 99 Cents Only stores are largely concentrated in California but have expanded out to states like Texas and Arizona.  Even in the seemingly prosperous state of California we see growth as well: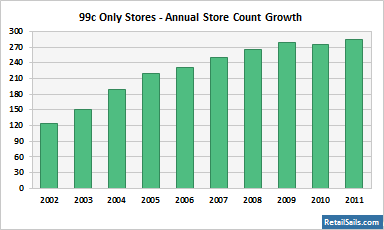 We see a similar pattern here.  The growth for 99 Cents Stores has been more aggressive in terms of store counts.  In 2002 there were roughly 120 stores and today we have 285 stores.  This is more than doubling the store count while the population again only increased by 8 percent.  What this signifies is a demand in the market for rock bottom low cost stores.  The middle class is truly shrinking and these businesses simply provide lower priced goods for a shrinking paycheck.  I know our brand obsessed media is only focused on Gucci and BMWs but the reality is people are struggling and the demand being observed here merely confirms this new reality.
It should also be clear by the above charts that this trend is nothing new.  These businesses were expanding at a rapid pace even when Wall Street was tearing it up alongside the housing bubble in the early part of the 2000s.  Yet these businesses clearly had demand for lower cost centers.  As we now all know, the entire first half of the decade was one giant debt bubble but real incomes were going nowhere but sideways.  Once the illusion popped the unraveling became apparent.
The 99 Cents Only Stores also largely make profits by selling food: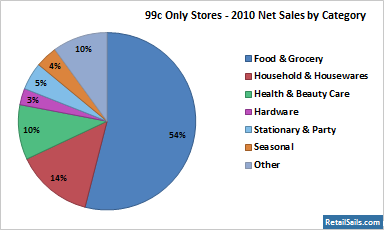 This also ties in with families waiting at Wal-Mart near midnight so their debit cards will be refilled with funds to purchase food during the end of the month.  These businesses are simply catering to a new environment but you wouldn't know it by watching the mainstream press.  You would think that many of these stores still only sell trinkets and junk.  If you walk into these places you will see name brand food and goods now being sold and taking up nearly half of the location.

If you enjoyed this post click here to subscribe to a complete feed and stay up to date with today's challenging market!