Saving Money is Bad for the Economy: Personal Savings Rate Higher, Consumption Slightly Up, Banks get new American Express, and Markets Begging for Money.
Last month the savings rate hit the 5 percent mark.  That makes two months over 4 percent and for the first time in a decade that Americans have actually saved more than 4 percent for two consecutive months.  Saved 4 percent of what?  Of their personal income.  You would think that most people would be saving a little bit of money but that has not been the case.  The average American household does not make as much as the media once portrayed.  This fact is hard to reconcile when our eyes see brand new cars and clothes on virtually every person we come into contact.  Yet the fact of the matter is the large majority of these people have those new shiny artifacts because of debt.  Let us take a look at the savings rate and consumption over the past two decades: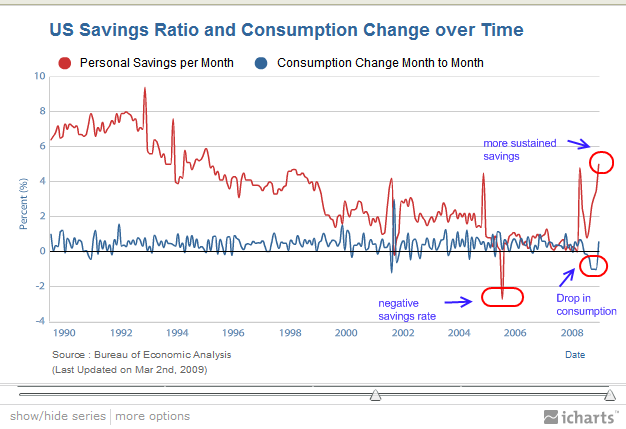 There are three key factors in the chart above.  First in this decade, we saw an incredible occurrence where the savings rate actually dipped strongly into negative territory.  That is, Americans were spending more than they actually brought in.  Next, what you'll be seeing is a sustained growth in the savings rate.  You may be wondering how is it that Americans are now saving while the economy is now in a deep recession?  First, credit is still tight for the average consumer and much of the last decade spending came from easy money.  The stock market has slammed the bottom line of many Americans.  So many are concerned and rushing to actual basic savings.  Finally, you'll notice that we have seen the first sustained drop in consumption occur in nearly 2 decades.  We had a slight jump last month but this can be attributed to lower rates and all the bailouts now probably having a slight impact.
And to give you a sense of our savings rate versus other countries, let us take a look at this chart: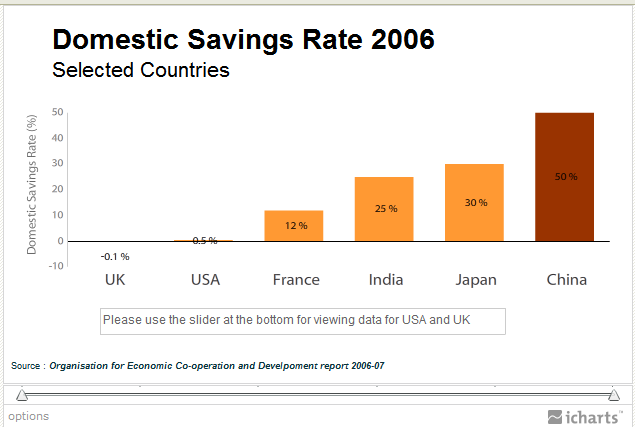 Keep in mind that we are now seeing a 4 to 5 percent savings rate that I would suspect will go higher (probably not passing 10 percent however).  Yet look at the savings rate for other countries.  Having a negative savings rate is not good for a country yet ironically, that is the last thing our economy can sustain.  That is why the U.S. Treasury and Federal Reserve combined is doing a two-pronged battle.  First, they want to decimate the dollar to make us spend more money and discourage us from saving a more and more worthless currency.  Second, they are creating elaborate "credit" (aka debt) facilities to keep Americans spending.  What do you think the TALF is about?  It is about purchasing securitized consumer debt to give more debt to tapped out Americans.  This is troubling that we have reached a point where even a modest savings rate (i.e., 10 percent) is enough to keep us in a deep and prolonged recession.  What this does signify is that we need to keep spending like good little hamsters to keep the wheels turning.
And if you think banks are okay just look at the stuff on their books: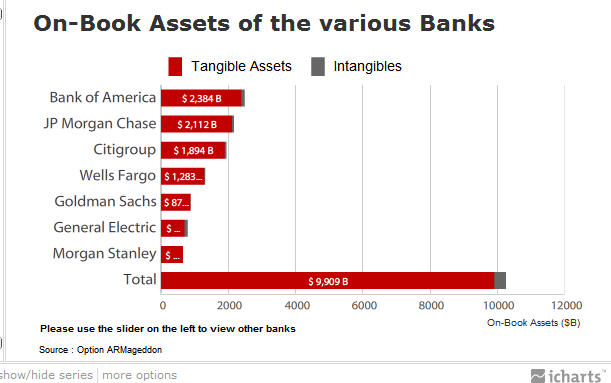 You know about that new "private-public" partnership with a price tag of $1 trillion?  It is targeted to buy the junk off these banks.  While the average consumer needs to save to clean up their balance sheet and is seeing credit being shutoff from their access, these large institutions with toxic debt have the biggest credit card available to them to dump whatever assets they see fit.  And this credit card is funded by the U.S. taxpayer, the same group of people that are seeing their access to funds being limited.  A double standard is partly why many Americans are gravitating toward populist rage.
And of course, this spending stop has caused GDP to fall the most in nearly 3 decades: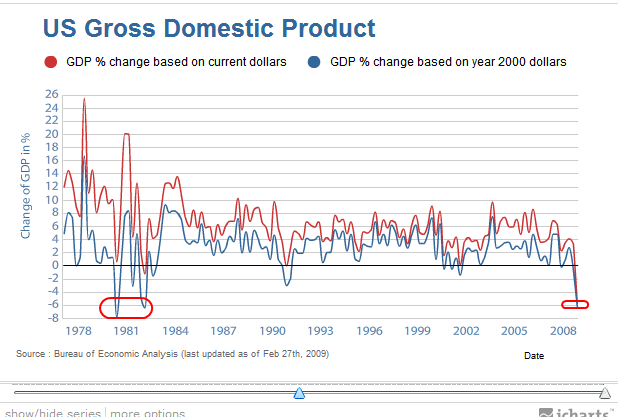 When 70 percent of your economy runs on consumption and consumption is contracting, it is only logical that you will see GDP fall off.  Yet it is fascinating that no one in public life or Wall Street is encouraging Americans to be prudent or careful with their finances.  This is the right thing to do.  Instead, we hear "go out and buy a car" or some other mantra.  Why?  Americans have over spent!  Wall Street has over spent!  The government has over spent!  Debt is the problem.  I understand the need for unemployment insurance and things of that nature but extending credit lines for more credit card debt?  Really?  Where do we draw the line on what we bailout?

If you enjoyed this post click here to subscribe to a complete feed and stay up to date with today's challenging market!