Unsocial Insecurity: Social Security Fund loses money for the first time since 1983. The new retirement model will have you working until you fall over from a heart attack.
Social Security was never designed as a long-term pension.  It was implemented in 1935 during the Great Depression to assist families from falling into absolute poverty.  The large work force dominated by men usually meant that many would die and leave a large family behind with no financial resources.  Social Security was there to protect this group.  But over the generations, Social Security is now seen as a retirement fund and many depend on it for their livelihood.  Recent figures highlight that 44 percent of retirees on Social Security would be in abject poverty without this support.  More to the point, the number one source of income for retirees in America is Social Security funds.  So it might come as a troubling surprise that the Social Security fund ran a deficit last year for the first time since 1983.
Social Security fund takes a hit
"(Bankster Bubble) The Social Security Trust Fund lost money last year…

Today's chart shows the Social Security Trust Fund's annual cash flows. As you can see, the fund took in more money than it paid out every year from 1984–2014.

However, in 2015, the fund handed out $3 billion more than it received. It was the fund's first deficit since 1983.

Unless the government reforms Social Security, the Congressional Budget Office says the fund will run out of money by 2029."
Here is the chart: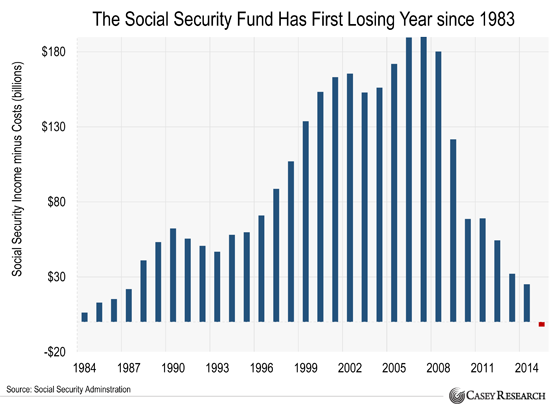 This is not a good thing.  The average retiree gets a check of $1,355 from Social Security each month.  To bring cost in line for long term feasibility, a report was done saying a 29% cut was required bringing the monthly payment down to $962.  I for one can tell you this is not going to happen because older Americans are a massive voting bloc and with the cost of living soaring, this is political kryptonite.
Not only is this a third rail in politics, half of retirees would be in absolute poverty without Social Security: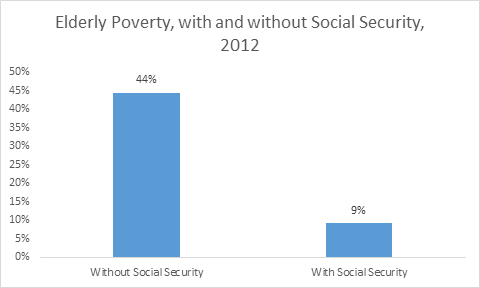 "In fact, if it were not for Social Security roughly 44 percent of elderly Americans would be in poverty.  This is calculated by how many Americans receive Social Security and the standard poverty income cutoff created by Census figures."
Many Americans are worried and this is being reflected in the extreme political sentiment this year.  If things are so fantastic, how is it that the Social Security fund lost money?  This is the first time this has happened in over a generation.  I'm sure retirees are going to be thrilled to hear about this.
The fund handed out $3 billion more than it took in last year.  You need to remember that many young people are earning low wages and this is where taxes are being taken.  So you are taking from one struggling group and shifting to another struggling group.  And in the end the middle class disappears.  Nothing to see here people.  Just the first time the Social Security fund ran a deficit since 1983.  Ironically around this time there was a rush to destroy the American pension in lieu of juicy casino like mutual funds and stocks pushed by Wall Street: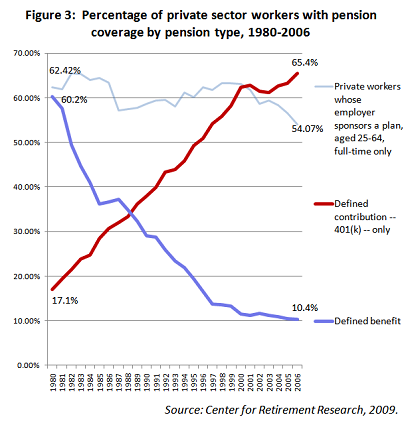 And this leads us into 2016, a year full of insecurity and uncertainty.

If you enjoyed this post click here to subscribe to a complete feed and stay up to date with today's challenging market!