The temporary employment recovery: Quantitative Easing and favorable banking policies creating a rising tide of temporary workers similar to Japan. Part-time workers up nearly 100 percent in US since 2007.
This recovery unlike other recoveries has been very weak in creating a large number of good paying jobs.  Corporate profits are up under a market where wages, benefits, and quality of jobs have decreased while low-wage jobs continue to be added in the tens of thousands each month.  Why the reluctance for firms to boost wages?  There is still a large pool of people working part-time gigs in the US hoping for full-time employment.  We have a large number of people working in this category, nearly twice as many since 2007.  What is interesting is that Japan, over two decades ago followed a similar path of recovery focused on Quantitative Easing to support their banking apparatus after a gigantic stock market and real estate bust.  The results after a generation?  A permanently high level of part-time/non-regular type of work for their labor force.  We seem to be offering a similar future to the young in America.  Many of the jobs that were lost during the Great Recession came in the $20+/hr job range while we've been adding jobs in the $10+/hr job range in this recovery.  Do policies favoring banks and larger corporations create a situation where low-wage employment is simply the end result like in Japan?
The temporary employment recovery
We've been adding jobs since the recession officially ended in the summer of 2009.  Yet the quality of jobs is important to analyze.  We lost something like 4.5 million good paying jobs during the crisis and have yet to add these back.  Sure, we've added roughly the same amount of jobs but most of these are lower paying jobs with massively reduced benefits (if we have retirement issues now what about this group with low wages and little benefits?).
It is interesting to look at data highlighting the rise in temporary work since the recession ended: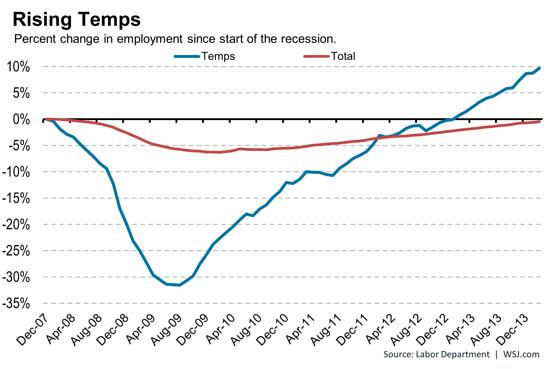 We've nearly matched the number of workers we had prior to the recession but keep in mind that some of the full-time jobs being added are simply not of the same caliber even though corporate profits are soaring and wealth inequality is rising.  What we are seeing is a growing number of temporary workers in the economy as the chart above highlights.
What does Japan show after a generation of QE and banking bailouts?
Japan has an interesting situation where a massive portion of their population is not working full-time when it comes to employment.  In Japan over 30 percent of their work-force is under the non-regular employment where 20 percent of this is part-time employment in nature.  The rest is contract work where workers are treated as full-time for a brief duration but with heavily curtailed benefits: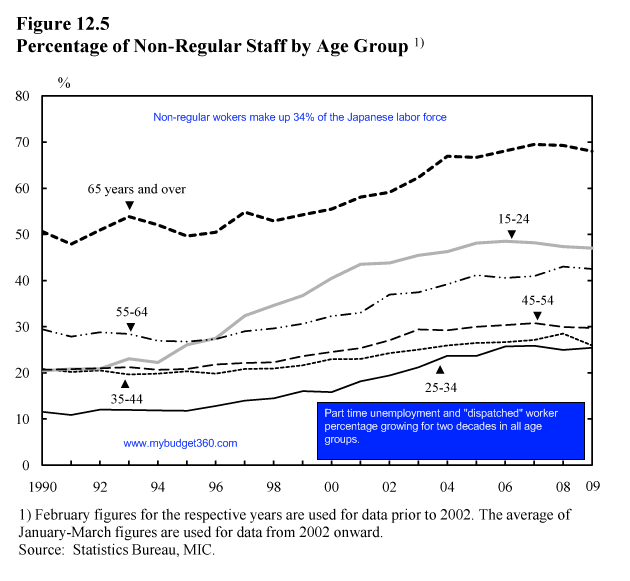 This is a big deal.  The bailouts and QE efforts in Japan led to more than two lost decades.  For the typical worker this meant lower wages, reduced benefits, and having to deal with inflated assets since the banks were given favorable treatment during the crisis.  It is no surprise that we are seeing a similar path unfolding here in the US: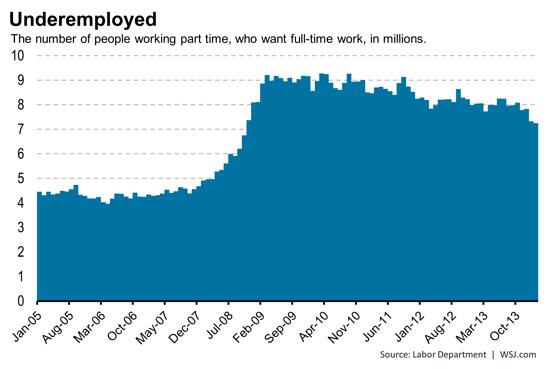 What is telling for Japan is that their real estate values and stock market fell in line over this period as well: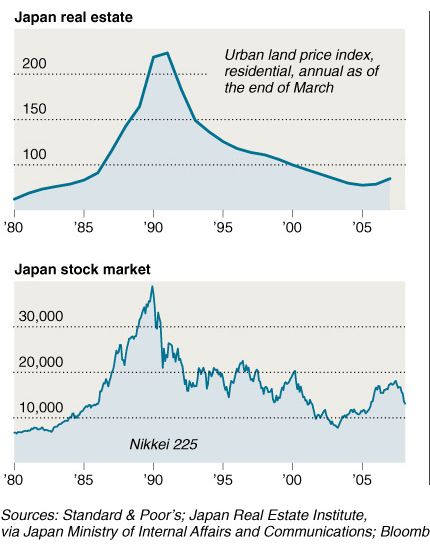 In the US, home values are moving up and so are rents yet incomes remain stagnant.  Inflation is deeply problematic when wage increases are not part of the menu.  This inflation is coming from large pools of money chasing asset purchases in real estate crowding out the regular market.  More Americans are now becoming aware of the high costs of healthcare insurance and this will also take a big chunk out of what income they have.  The rise of a temporary labor force is telling since it reflects employers desire to offer the lowest wage possible and capture profits at increasingly higher levels since policies favor this arrangement.  As the charts above highlight, there is plenty of slack in the labor force for this trend to continue onwards for years to come.  Does Japan offer an insight into a new structure of the US economy?  Probably only in the temporary employment side but demographics in the US are favorable for growth but growth where?  Are we simply going to have a large lower-wage class while developing a small elite at the top?  A healthy economy is one with a strong middle class but this assumes people are willing to fight for this.

If you enjoyed this post click here to subscribe to a complete feed and stay up to date with today's challenging market!