The Capture of our Government by Wall Street: A 70 Percent Stock Market Rally lines up with an Additional 2.7 Million Jobs Lost since March of 2009. How Wall Street Reflects the Interest of the Corporatocracy and not the Real Economy.
It is a sight to behold that the stock market is rallying since the March 2009 low even though we have officially lost an additional 2,700,000+ jobs since that time.  That is right, the system is so upside down right now that somehow nearly 3 million jobs lost is worthy of a nearly 70 percent rally in the S&P 500.  I sit back and can only watch amazed as the stock market is converted into a full-fledge casino for the corporatocracy while the real economy is still hemorrhaging from multiple financial wounds.  Even in the last headline unemployment reading, we lost 85,000 additional jobs and October job losses were revised upward from 111,000 to 127,000 yet the big focus was on the preliminary 4,000 job gain in November.  This is what passes as news to rally the market in today's market.
In fact, the S&P 500 70 percent rally comes parallel to us losing jobs for 25 straight months: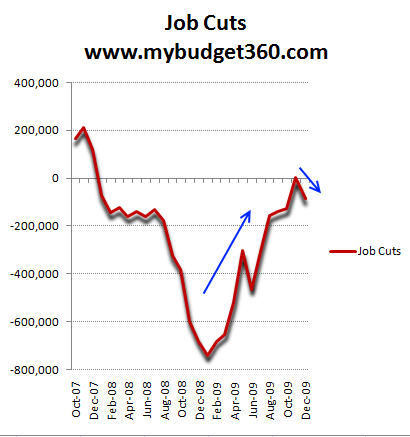 We have lost over 7.2 million jobs officially (8 million once the February revision is put in) and yet the market keeps moving up.  Why?  Because the banking system is using every ill gotten penny to gamble in futures, derivatives, and every other financially toxic product while the average American continues to bailout their gambling ways.  Andrew Carnegie at least left us with steel and a solid infrastructure for economic growth when he amassed his wealth.  What has the banking sector with financial innovation left us over the last few decades?  It has left this country with the destruction of the U.S. dollar, a lost decade in jobs, an imploded housing bubble, and double-digit unemployment.  Isn't the verdict clear?  The banking sector has been an abject failure.  The symbiotic bond between our government and Wall Street is so tightly woven, that people go in and out of Wall Street and public sector jobs as if it were a revolving door.  This is our new form of government and at the core is the corporatocracy.  A government bought by Wall Street and for Wall Street.  The interest of the people only comes into question if there is money left over after bonuses.
It is amazing the anger people have at banks and the impotence our political leaders have.  In a few interviews I have heard politicians say, "but the banks are so powerful.  What can we do?"  Then why do we have politicians?  Are they only there to be spectators to our legalized bank robbery and report back on what we already know?  The data being pumped out is so obvious of how wasteful and how quickly our economy is being diluted by the corporatocracy.  Take for example consumer lending.  Remember this was touted as the "life blood" of our economy.  You would think that banks would make loans to struggling U.S. consumers at least as courtesy for being bailed out.  You would be wrong: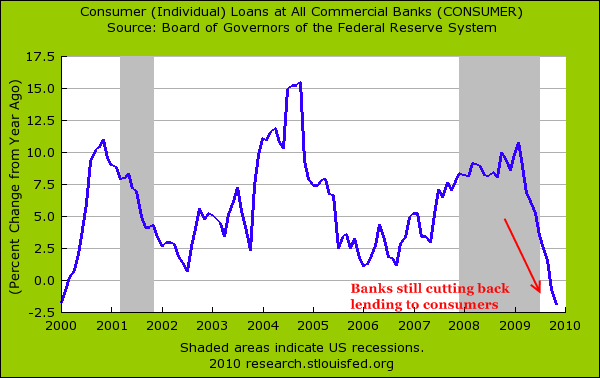 Consumer lending is contracting at an incredibly rapid pace.  So one has to ask where did all those trillions go?  It certainly didn't go into hiring unemployed Americans.  It didn't go into lending.  Yet banks have been making record profits because instead of lending that "life blood" to the economy they have gone back to Wall Street to play the American slot machine: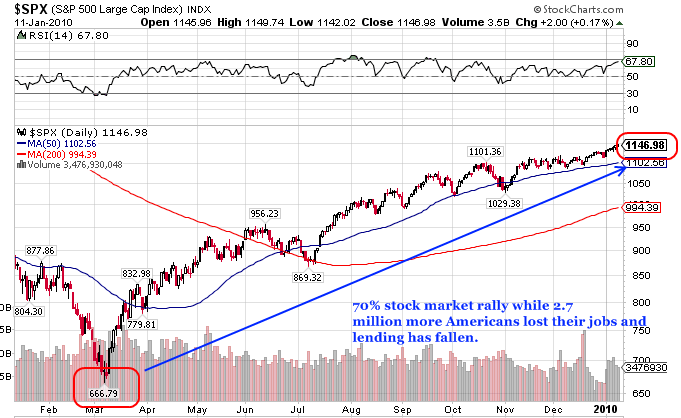 It really makes you wonder what in the world is going on.  Yet many Americans are so ingrained in believing that the stock market is a reflection of the actual economy that they have bought into the corporatocracy propaganda.  If you listen to the financial television shows you keep hearing these bank analyst saying, "companies are running leaner and profits are now much more healthy."  In other words, we fired people left and right and now we have more money for our corporate executives.  This is always good for a short-term profit but what does this do to your longer term profits when you are destroying your future customer base?  Even Henry Ford realized people needed to be able to buy the items they were building.  And the banking sector is merely making outsized profits on producing no discernable good to the public.  Some will say that we now have loans for homes and places to keep our money.  Fine, break the banks up and let them become like utilities.  Those that want to gamble do it on their own dime.
You want to know how corrupt the system is?  Goldman Sachs, the paradigm and head corporatocracy leader paid an effective tax rate of 1 percent in December of 2008, right in the midst of the crisis:
"Dec. 16 (Bloomberg) — Goldman Sachs Group Inc., which got $10 billion and debt guarantees from the U.S. government in October, expects to pay $14 million in taxes worldwide for 2008 compared with $6 billion in 2007.

The company's effective income tax rate dropped to 1 percent from 34.1 percent, New York-based Goldman Sachs said today in a statement. The firm reported a $2.3 billion profit for the year after paying $10.9 billion in employee compensation and benefits.

Goldman Sachs, which today reported its first quarterly loss since going public in 1999, lowered its rate with more tax credits as a percentage of earnings and because of "changes in geographic earnings mix," the company said.

The rate decline looks "a little extreme," said Robert Willens, president and chief executive officer of tax and accounting advisory firm Robert Willens LLC."
This while they were receiving billions in bailouts.  Even lottery winners have to pay close to fifty percent of their winnings to the government.  Not the banking elite.  See, they know how to game the entire system.  But you might be saying, well this rate only applied because of their massive quarterly loss.  Surely they must pay more?  Not at all.  Those wonderful hedge funds that nearly blew up the system pay a tax rate of 15 percent:
"(Economic Policy Institute) In addition to being unregulated, these financial institutions also reap substantial benefits from special tax provisions that, like the regulatory framework, are no longer appropriate. The professional fund managers of these hedge funds and private equity firms are allowed to treat a substantial portion of their compensation as capital gains, meaning they are most likely taxed at 15% rather than the 35% rate that applies to ordinary income such as wages and salary. Such an exemption, however, makes little sense: in economic terms, the fund managers (also known as investment advisors) perform a professional service, much like lawyers or doctors, and receive remuneration for their labor.

These investment advisors and hedge fund managers can take advantage of this tax structure because they are often compensated through a scheme that, in part, pays them according to the returns on the fund. The industry standard for hedge fund managers is "two and twenty," which is shorthand for an "overhead" fee of 2% of capital under management plus carried interest (often called a "carry") of 20% of the returns on the fund. Thus a $100 million fund earning 20% would pay its fund manager $2 million for overhead and $4 million in carry. The carry portion of their compensation is treated under the tax code as capital gains for the fund manager and is taxable at the much lower capital gains tax rate of 15%."
Interesting that the above article was posted on July 2007 before the entire system went into meltdown mode.  So much for people not seeing this crisis coming like the corporatocracy would like you to believe.  Over and over we hear the "no one saw this coming" from the head cheerleaders of Wall Street but people did see it coming it's just that their echo chamber doesn't allow outside thought to enter.  Now why is this important?  Because the vast majority of Americans actually work to earn their living, not gamble in some casino.  The amount of wealth has concentrated in fewer and fewer hands: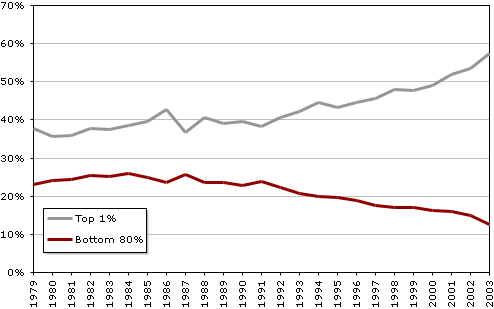 Share of capital income earned by top 1% and bottom 80%, 1979-2003 (From Shapiro & Friedman, 2006.)
This has only gotten worse in this crisis.  The above chart doesn't show the average American wealth destruction that happened since the bust.  So while you pay federal, state, Social Security, and Medicare taxes these big banks and hedge funds only get charged 15 percent in taxes as capital gains.  Plus, Social Security only goes up to roughly $100,000 so the average American gets saddled with more debt because of this corrupt banking sector.
The current system cannot stay.  It is no longer working.  We are heading into another big crisis if something isn't done to radically change the system.  Wall Street will try to scare the public into believing that the stock market is a reflection of what is happening in the economy.  Just look at the above data and ask yourself if this is true.  We are near peak foreclosures, we have yet to have a solid month of job gains, and Americans are wondering where their lost decade went.  Yet somehow banks are dishing out record bonuses.  Just follow the money.  Time to break up these banks and release the hold Wall Street has on our political system.

If you enjoyed this post click here to subscribe to a complete feed and stay up to date with today's challenging market!