1.41 Million Americans Filed for Personal Bankruptcies in 2009 a jump of 32 Percent from 2008. More and More Average Americans Resorting to Bankruptcy even with Tougher Rules to File.
The employment report out on Friday just goes to show that the American economy is still struggling to create jobs for average Americans.  In fact 85,000 more jobs were lost in December but that isn't the biggest data point out of the report.  The civilian labor force shrunk by a stunning 661,000 and that is really the only reason the unemployment rate is still at 10 percent.  This economy that is still very much in a jobs recession has pushed more and more Americans into the ultimate economic distress equivalent of a SOS.  Bankruptcies are soaring and in 2009 1.41 million Americans filed for personal bankruptcies, a jump of 32 percent from 2008.
This must put the recent stock market rally into perspective.  The average American is still trying to negotiate the new economic landscape while the select few are able to increase their wealth at the expense of the many.  Let us look at bankruptcy filings per year: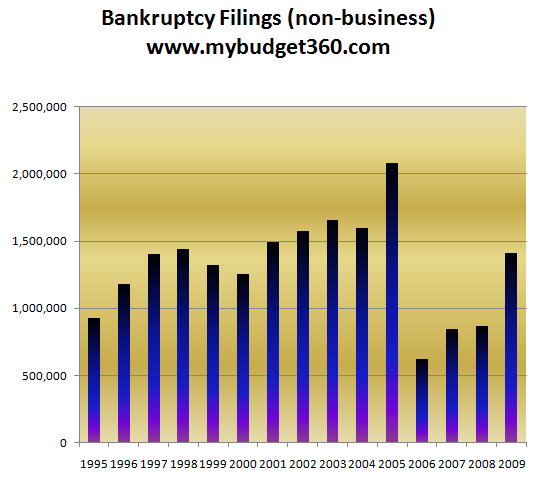 Now you might be wondering why there was a big jump in 2005 in the midst of the "growing" economy.  In 2005 new rules and regulations were coming into effect that would make future bankruptcy filings more onerous and had clauses to gouge average Americans.  So many rushed to file before means testing and other criteria came into effect.  So this recent jump is more significant since it comes in light of the new tougher standards to file.  But the economy is aching and average Americans are trying all they can to get by, tougher rules or not.  How much money can you squeeze out of a family that just lost their job?
This enormous jump in bankruptcies came in a year that the stock market rallied by over 60 percent from the March lows in 2009.  Apparently, this stock market rally did very little to assist many average Americans in their economic struggles.  As you would expect this crisis is causing many people to file and not what you may expect.  Average Americans from all levels are having troubles servicing their mounting debt:
"(WSJ) during this recession, the housing crisis and high unemployment rate have prompted more people to file for bankruptcy who may never have considered the option before, experts said. Filings from 2008 showed more people with high income and high education levels resorting to bankruptcy petitions, according to an annual survey of consumer-bankruptcy filers' demographics by the Institute for Financial Literacy, a nonprofit that provides bankruptcy-related counseling and education services. Those demographic trends appeared to continue last year.

Mr. Mann said he believes bankruptcies reached their peak sometime last year, but bankruptcy attorneys from across the country said there was no sign that business was slowing. The 113,274 filings in December alone were a third higher than the same month a year earlier.

"I can't see over the top of the files on my desk," said Cathleen Moran, a bankruptcy attorney at Moran Law Group in Mountain View, Calif., likening it to the rush of clients before the revised law went into effect. In a three-month period before those rules changed in 2005, her firm filed five times as many cases as usual.

Ms. Moran's clients in 2008 typically were people who earned between $40,000 and $80,000. That changed last year when a rash of people who earned $100,000 to $300,000 began filing as well, she said."
So of course, those that are in the trenches continue to see problems in the economy.  The 10 percent headline unemployment rate is misleading.  If we look at the underemployment and unemployment rate we find that 27 million Americans are without work or are working part-time hoping for full-time work.  And with this recession, it is looking like more and more of those jobs are not coming back: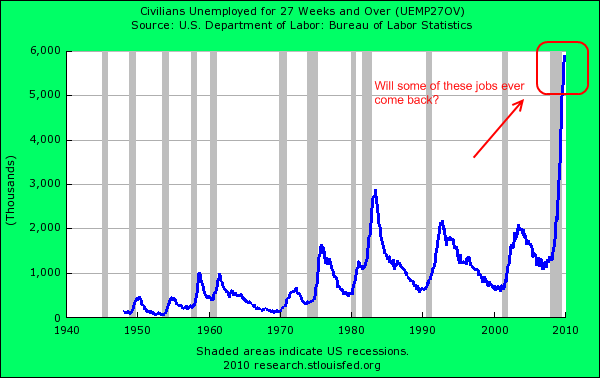 As the unemployment situation struggles to improve, we may be seeing a permanent shift in the economy where high part-time employment is simply part of our economy.  Now this is only more reason to believe bankruptcies will remain elevated since debt is the major reason for bankruptcies.  Or better put, the ability to service the debt.  And as many bankruptcy attorneys are finding out many people with once high incomes may have had to take cuts in their wages while their debt is still elevated to the halcyon days of the bubble.  This brings us to a new austerity in the country that is probably something we have yet to go through since the post-World War II era.
Now if we look at the pool of those that are at risk for bankruptcy, we still see that many average Americans are still in massive amounts of debt: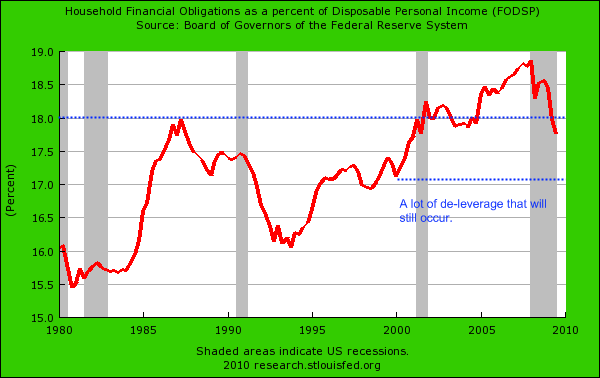 Household debt obligations as a percent of personal income is still higher than it was in 2000 at the start of the bubble.  What that means is we can expect more de-leveraging of debt that people cannot pay with current incomes.  That is why there is little reason to believe foreclosures will slow down significantly in 2010 and also, bankruptcies will remain elevated.  It is also the case that credit card companies are putting on the clamps on households that are struggling even though credit card companies have received enormous amounts of bailouts.  It is a misnomer to label them "credit card companies" since the too big to fail banks issue the largest amount of credit cards.  This again shows how the corporatocracy is able to wield excellent profits while the economy is really struggling.
People forget that no one wants to file bankruptcy just as much as someone wants to go through foreclosure.  These are financial decisions made in stressful situations.  No one wakes up and says, "today seems like a good day to go into bankruptcy."  Many bankruptcies hit even in the best of times as the chart above highlights.  Yet the double-edged sword of debt is that it maximizes pain in the bad times just as it amplifies bets in the good times.  A household that cannot pay their debts won't.  It is that simple.  The rise in bankruptcies only reflects what we all know and that is the economy for the average American is still in tough shape.

If you enjoyed this post click here to subscribe to a complete feed and stay up to date with today's challenging market!