Underwater Mortgages: HUD Announces Eligibility for up to 125 Percent Loan to Value. Why This is Smoke and Mirrors Financial Theatre.
Only a few days ago HUD Secretary Shaun Donovan announced that mortgages with a 125 percent loan to value would now be eligible for the Home Affordable Refinance Program.  I received a few e-mails from readers dismayed about this announcement since it would be troubling for the government to simply buy mortgages that are severely underwater.  Initially the cap was set at 105 percent but this has done very little.  So far, only 80,000 mortgages have refinanced under the program which is nothing given the millions of loans in trouble.  The 125 percent is only for owner occupied first lien mortgages that are backed by Fannie Mae and Freddie Mac.  So many concerned of big balance California non-agency mortgages have little to worry about (with this program at least).
Another reason why there is little cause for concern here is we already own virtually all of Fannie Mae and Freddie Mac.  At this point, we want to keep these loans going strong.  The mistake comes when we start rolling in Alt-A and option ARMs into the mix since most of the agency backed debt is prime.  Doesn't mean it is good as we are now seeing massive prime defaults but it is nothing like the criminal Alt-A and option ARM toxic waste.  This program doesn't open the door for the more toxic products.  However, the way the current modifications are being used many borrowers are essentially turning into long-term renters with a government backed option ARM product.  Not a good financial move for the owner.
Another concern was about equity in neighborhoods.  "Do I qualify for this?"  There is an easy way to search for this: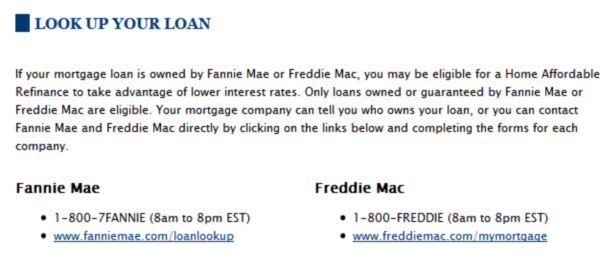 The site provides an easy way to see if your property has a Fannie Mae or Freddie Mac backed mortgage.  Keep in mind many lenders have botched the roll out of this program so badly.  This is expected since we are trusting the same banking industry that led us to the financial edge to all of a sudden have a sense of prudence and financial restraint.  The U.S. Treasury and Federal Reserve would love nothing more for every person qualified to refinance and be put into a 40-year fixed mortgage converting thousands into a new debt serfdom.  Why?  Because this would give irresponsible banks a second chance by converting many borrowers into long term renters.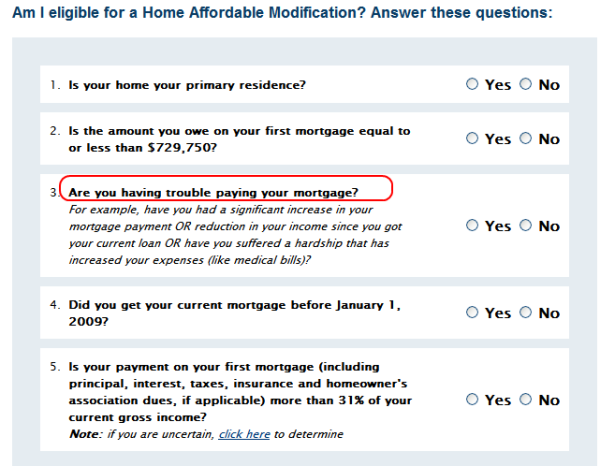 There will be abuse with the program.  The first two questions are easily answered and verified.  If you want to refinance your second home then this won't work.  If you have a $1 million mortgage, you do not qualify.  But question 3 is ambiguous.  Who will determine if a borrower is having a hard time paying their mortgage?  Are we going to give this judgment call to lenders who thought someone making $40,000 was qualified to take on a $500,000 mortgage?  Plus, questions 3 and 5 once again punish the prudent.  Let us say you are living within your means but are okay in paying your mortgage but you have a PITI below 31 percent?  Why should you not be eligible for a refinance?  Once again, those who have been prudent get slammed.  Winners are banks and those who over leveraged in loans they could not afford.
The current market volatility is reflecting the unsettling reality that this recession might last longer than many had hoped.  Housing prices continue to move lower and unemployment stays uncomfortably high.  But in the end, these kind of programs simply flush more money down the drain.  If you think about it, since we practically own Fannie Mae and Freddie Mac why should we offer any incentive to anyone for fixing these problems?  The taxpayer is now on the bill for this but we are going to give incentives to loan servicers for this?  More billions out the door to the real estate industry.
The problem with the current debate on housing is how it is framed.  The notion that everyone should remain in their home no matter what is wrong.  Some people would actually have a better financial picture if they downsized and rented.  They still have adequate shelter but maybe not their dream home.  Just because I don't drive around in a Ferrari doesn't mean I don't have access to transportation.  Yet the way we are talking about housing is that everyone no matter what should stay put in their home.  Some shouldn't.  Why do we need more taxpayer money to do the obvious?  The reason is the financial and real estate industries are being propped up by the U.S. Treasury and Federal Reserve.  They don't care about your financial health.  Why do you think they are actually concerned about the rising savings rate right now?  Savings money is good but of course, they want to keep you on the hamster wheel spinning until you fly off due to consumption exhaustion.
I wouldn't worry much about this program since it is the taxpayer money at stake already.  What I would keep an eagle eye on is how the government is going to deal with the Alt-A mortgages.  This is one area where they need to keep out 100 percent.  These mortgages were made in high speculative areas and were created with a structure to circumvent the checks and balances of conforming mortgages.  Therefore, they were meant to be high risk.  That risk did not pay off and taxpayers should not shoulder any burden for these products.  The government backed paper with the 125 percent cap basically means we are going to give servicers extra money for modifying loans that are already ours.  Forget the incentive fee, how about they do it free for all the money they lost during the housing bubble?

If you enjoyed this post click here to subscribe to a complete feed and stay up to date with today's challenging market!