Un-preparing the future with the higher education bubble – graduating students with more debt and with degrees that have little demand in the marketplace. For-profits now account for nearly 10 percent of all undergraduate enrollment when in 1997-98 they accounted for 3 percent.
The higher education bubble only continues to spiral out of control because the profits are so good for the massive banking industry that is pushing student loan debt to the trillion dollar level.  At the same time the return on investment in education has been slowly diluted as more for-profit degrees enter the market place and water down what it once meant to have a bachelor's degree.  If you can get what is the equivalent to a piece of paper and claim you have an education then the marketplace is going to add more scrutiny to those that graduate.  On a bigger scale is the fact that our country is largely run by gambling bankers that are exploiting the population in every facet from housing, education, and even healthcare.  Our financial system is a predatory mess and this can be seen in the form of the higher education bubble.  What is more troubling is the subject areas students are studying in and the amount of debt they are going into for these degrees.
Students are simply not preparing for jobs in the current marketplace
I saw this fascinating chart that also propelled me to dig deeper into the massively expanding for-profit sector: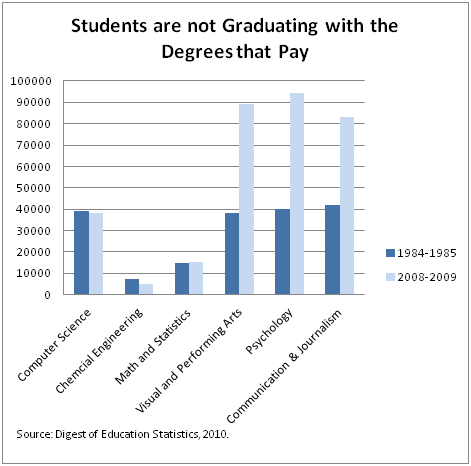 Source:  Marginal Revolution
This was a fascinating chart.  We are essentially graduating the same number of computer science, chemical engineers, and math majors as we were in 1984-1985.  These are fields with incredible amounts of growth and innovation yet people are not graduating with these degrees.  At the same time the amount of student loan debt has reached astronomical levels.  But take a look at the other degrees that are being granted.  These are typically lower paying fields and with the troubling economy of today, many are left with no jobs.
Yet I want to highlight a deeper point.  If you graduated with an arts degree in 1985 the odds of you being massively in debt were slim.  So you had the ability to retool and get by with your life with a college education and a degree in a field that largely did not land you a job.  Today, these people are coming out with the same amounts of debt as say a chemical engineer yet the median wage for most Americans is $26,000.  In many cases these students are graduating with more debt than their first annual salary when 25 years ago this was not the case.  Maybe your degree didn't land you a job but you were better off because of the knowledge you acquired without going into debt serfdom.
This leads into the expansion of the for-profit institutions.  This is a big problem in higher education.  These systems have proven time and time again that the return on investment is not worth it.  Yet they spend large amounts on their marketing budgets to lure in unsuspecting students.
"A report found that as a sector the for-profits spend 20 to 25 percent on marketing and 10 to 20 percent on actual faculty."
This is a big problem.  Take a look at the share of their growth: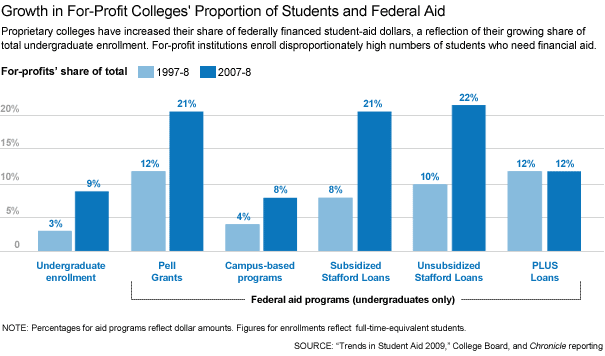 Source:  Chronicle of Higher Education
In 1997-98 the for-profits enrolled 3 percent of total undergraduates.  In the above dataset that number grew to 9 percent (I saw a recent figure pitting it at 10 percent).  They also consume a large portion of federal aid.  And what degrees are they pumping out with large amounts of debt and government aid?  Take a look at one of the largest, University of Phoenix: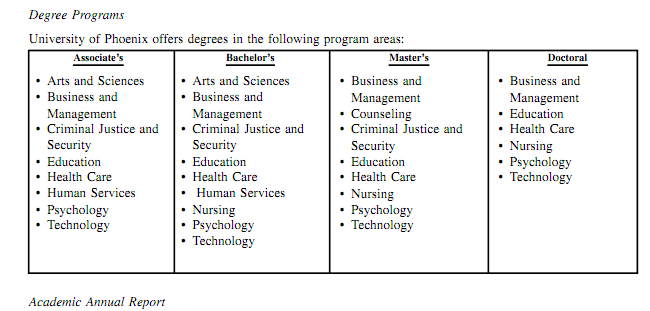 Source:  University of Phoenix annual report 2010
Where is chemical engineering?  Where is computer science?  What about biology?  And this is where the large growth is occurring.  Make no mistake, the enrollments are high even if we simply look at one institution: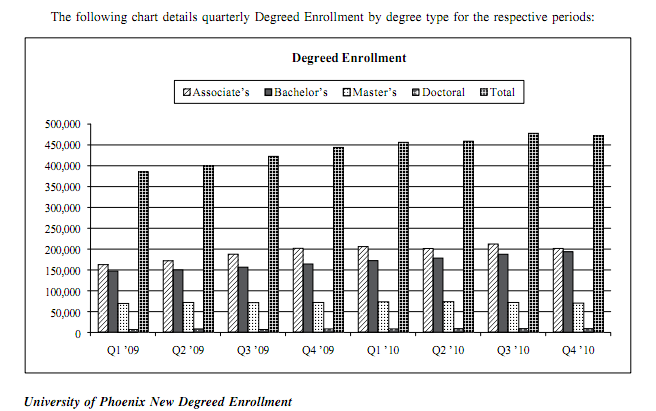 As of Q4 of 2010 this one institution has over 450,000 students enrolled.  The profits at higher education institutions have been so good because of banking's close relationship with the government.  In the end this is a large burden placed on society just like the housing bubble bursting.  It certainly isn't Wall Street that is paying for their unethical gambling.
There is little value being added here.  Where are the reports showing placement rates here?  And the stories of the for-profits are troubling and investigations have found incredibly aggressive selling tactics similar to mortgage brokers pushing subprime loans when they should have been pushing more traditional and cheaper fixed rate mortgages.  Yet what do we expect?  Our banking system now largely controls a puppet government system that even five years into the worst crisis since the Great Depression, has done absolutely nothing to reform or change the system.  In the meantime we allow this incredible bubble to expand in higher education and allow the for-profits to suck more and more government resources that should go to legitimate programs that meet the demands of our future economy.

If you enjoyed this post click here to subscribe to a complete feed and stay up to date with today's challenging market!