The desert mirage of easy housing profits – Phoenix Arizona home prices on track for four consecutive years of year-over-year home price declines. 55 percent fall from peak and nominal home prices back to 2000 levels. What happens when investors dominate the market?
The foreclosure epidemic in states like Arizona and Nevada is breathtaking and incredibly disheartening.  Prices have cratered much more quickly than the methodical rise up in the last decade.  Home prices in Phoenix now sit precariously where they did in 2000 without adjusting for inflation.  These desert communities largely built on a dream, fast construction, and unsustainable notions of cheap energy are putting strains on local infrastructure.  Now that the housing bubble has popped with a loud bang, you are now seeing a prolonged period with many investors rushing in to buy cheap places.  Yet the market is being flooded with investors lured by cheap prices and many are now competing with one another.  The data is startling because you find a surreal market being fueled by investors seeking long-term investments.  Yet the challenge of course is assuming you have a steady employment base to rent a unit out.  Cities like Detroit have shown that populations can leave once an industry implodes like manufacturing and home prices that may seem cheap may even get cheaper since construction was such a staple for these areas.  When we gaze at empty subdivisions with the blistering desert heat, you can't stop to think about ancient ruins that once were populated and vibrant only to be retaken by nature.
Prices have been falling for four years straight
Prices fell so fast in Arizona that many buy and hold investors started jumping in only two years after the crisis hit.  Yet after the initial euphoria, prices are back on their way down: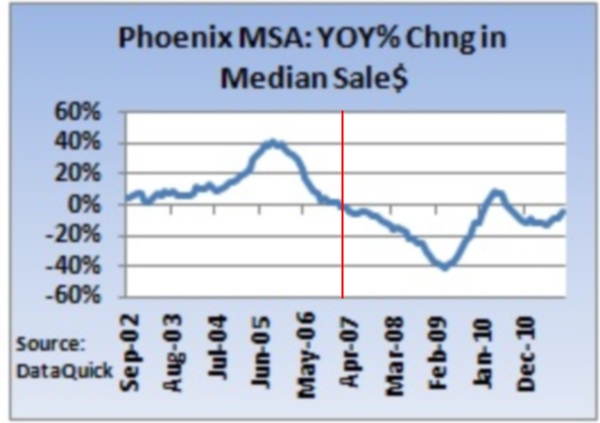 It is startling to see how quickly prices have fallen in the region and the largest market is Phoenix.  If we look at the HPI for this area it becomes more apparent: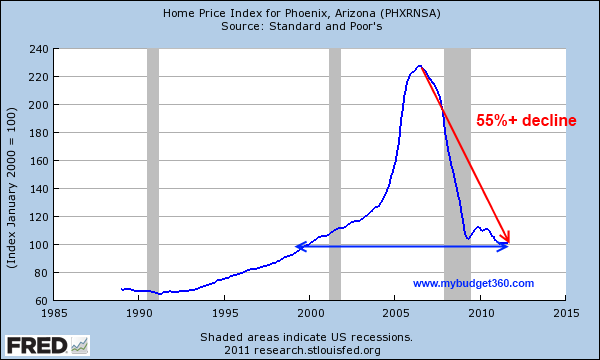 Prices have now fallen by over 55 percent from their peak and are now nominally back to what they were in 2000.  The financial crisis has hit the big red reset button on some of these cities.  The fact that over 42 percent of last month's buyers were absentee buyers tells you a lot about the current market makeup in the region.  Nearly 40 percent of buyers paid all cash and before you think that they are dropping big bucks, the typical price paid was $88,000 for cash purchases.
You can also throw in the fact that another 34 percent of buyers came from the low down payment FHA market.  So you basically have investors looking for dirt cheap properties while local residents can only afford a tiny down payment because of the weak economy.  These are working class areas for the most part.  The problem with a market like Arizona's is that you have the housing bubble tied in with a large part of the economic base.  When the bubble bursts you also lose some of your bigger industries like construction: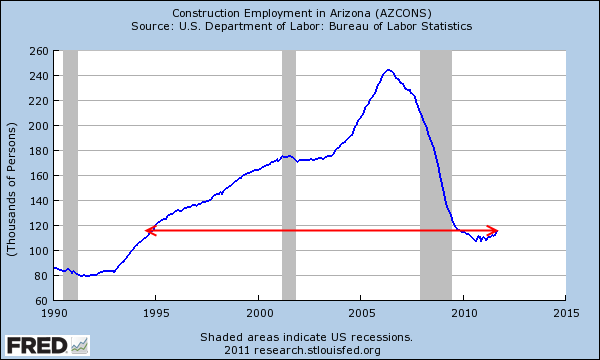 Arizona now employs the same number of people in construction as it did back in 1995 with a much larger population.  More to the point, families working in Arizona are only able to afford so much on their housing payment.  This is why after a major correction, the September 2010 re-sale home sold for $130,000 but this figure slipped to $120,000 in September of 2011.  While the unemployment rate has fallen a bit from the peak you are moving people from higher paying jobs in construction to sectors like leisure and hospitality that pay much less: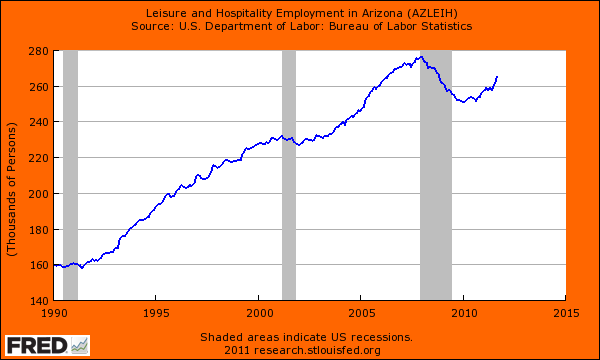 The typical American worker is pulling in $26,000 so this is sometimes lost on many investors.  Rental vacancy rates are still very high: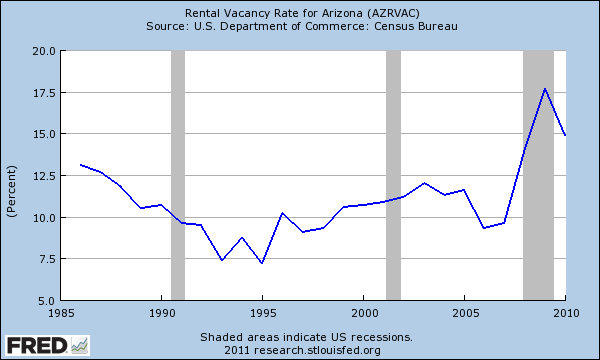 Although it looks like it has improved, it is still incredibly high.  Plus, 2009 and 2010 had a bit of a rebound with the stock market which has evaporated in 2011.  How much will this impact the local market?  What is more disturbing is that with home prices so low, you have to ask why are so few people buying here that are non-investors?  Obviously the locals know more about an area and the employment prospects that are around.
A quick glance even shows some multi-unit places with multiple vacancies: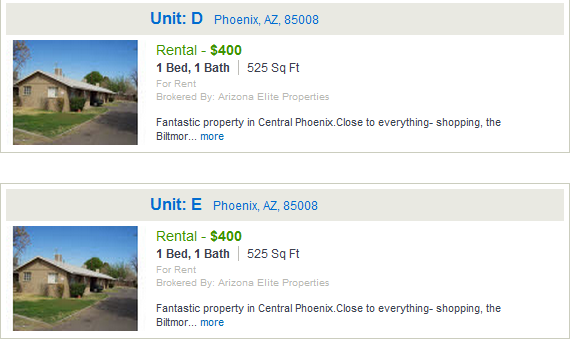 Those looking for a quick buck or for rentals that will stay rented for ages might be in for a tough market ahead.  For most Americans the economy is not picking up and low prices might exist for a reason.

If you enjoyed this post click here to subscribe to a complete feed and stay up to date with today's challenging market!