10 States with Underemployment Rates of 20+ Percent. Manufacturing Sector Employs Same Number of Workers that we did in 1940.
The average American family must look at the current stock market rally as some kind of cruel joke.  We have people anxiously waiting for government funds or paychecks to clear at the end of the month so they can wait outside of a Wal-Mart shopping center at midnight to buy food once their funds clear.  We have nearly 36 million Americans on food stamps and another 27 million unemployed or underemployed.  If this is the new recovery, many want very little to do with it.
It is hard to believe in this recovery because the bailout has gone to the financial sector and is reflected in hyper-inflated equity prices.  As obvious as it seems, some people don't make the connection that an unemployed American is a weaker consumer.  Consumption as we all know is two-thirds of our economy.  Therefore you would assume that investors would make this connection but that is not the case.  The banks being the few with any sort of heavy government money, instead of lending to Americans, are once again gambling in the stock market casino.  What a sad testimony to our crony capitalistic system that banks instead of believing in the average American, are deciding to double down on Wall Street and trying to recoup their 2008 losses.  This on the pretense that banks needed money to get lending going again.
One thing that is clear is the employment situation is in a major funk.  10 states now have underemployment rates of over 20 percent.  We are talking about Great Depression statistics here: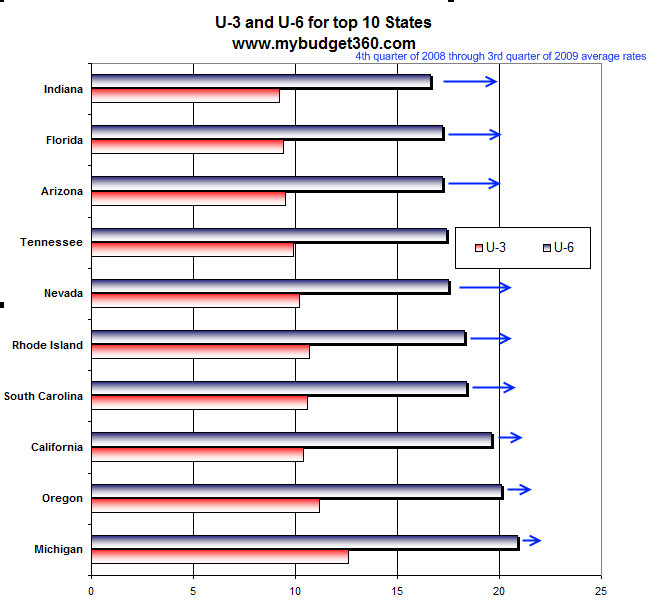 The above data is pulled from the Bureau of Labor and Statistics and is an average from the fourth quarter of 2008 to the end of the third quarter in 2009.  In other words, the data above is optimistic and doesn't use the latest data that is even higher.  For example, California recently reported their U-6 rate is now up to 22 percent.  Michigan?  Their U-6 is now closer to 25 percent.  There is nothing remotely close to a recovery in the data above.
This recovery is unlike your daddy's recovery because multinational companies can leverage cheap labor and a pathetically weak dollar to increase business overseas.  In past recessions when we actually had a manufacturing base, once the recession started ebbing you started to see domestic production pick up thus bringing people back to work: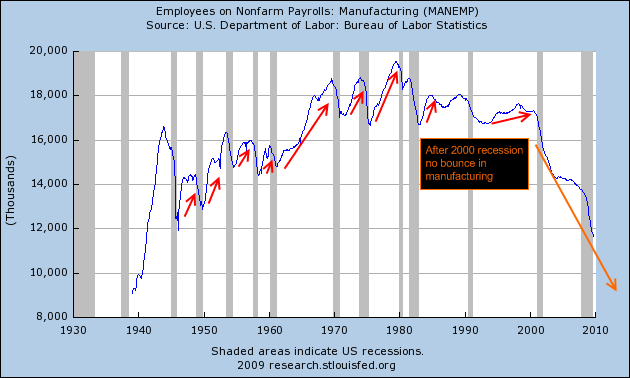 The pattern is unmistakable.  After every recession since the 1940s, manufacturing jobs contracted throughout the recession only to pickup after the recession ended.  This trend started getting weaker in the 1970s.  Even in the early 1990s recession, manufacturing jobs picked up slightly throughout the decade.  Now, in the 2001 recession manufacturing has been plummeting and has completely broken the trend.  In fact, we now have the same number of people working in manufacturing as we did back in 1940.  One slight difference.  The U.S. had 132 million people in 1940 and now we have 307 million.  We have nearly 2.5 times the population and the same amount of people working in manufacturing.
The U.S. Treasury and Federal Reserve would want to convince you that a declining dollar is good for you.  This might be the case if you weren't paid in U.S. dollars and most Americans buy imported goods that will become more expensive eventually.  After all, it isn't like we are making the stuff anymore as the above charts show.  It is a myth that the Fed tries to sell.  If a weak currency is a good thing, Zimbabwe would be the world financial center.  Or consider the fact that we import most of our oil.  There isn't much we can do about that.  Even with demand waning domestically, oil is now approaching $80 a barrel.  We can thank our central bankers for attempting to destroy the U.S. dollar.
And forget about employment growth.  We have lost 8 million jobs since the recession started in December of 2007, 22 months ago.  We have lost an average of 360,000 jobs per month since the recession started.  Where are these jobs going to come from?  What is troubling is how many of these jobs are gone for good: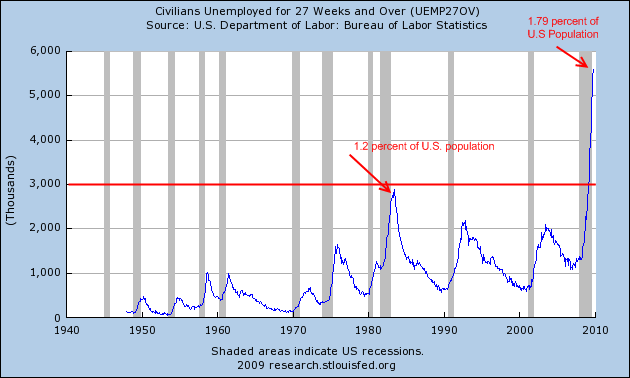 Long-term unemployment is now at a record high.  Many of these jobs are likely never coming back.  For example, think of the tens of thousands who worked in the housing industry as mortgage brokers, bankers, and construction workers that now are going to need to adjust to a new economy.  Or if you want a specific example, think of Winnebago: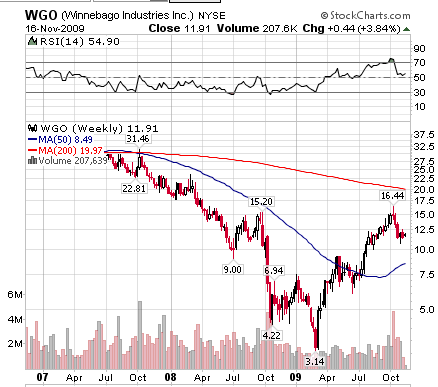 Here is a company that manufactured the consumer happy motorist dream of RVs.  Yet it was built on the idea of cheap oil.  At one point, at the March low, this company was trading 90 percent off its recent highs.  The stock is still off by 65 percent even with the current stock market casino rally.  Do you think this demand is every coming back?  The average American is now looking for cheaper goods and sadly, much of that is imported.  Instead of traveling the roads on $1 a gallon oil many are looking to make food last until the end of the month.
The government is in cahoots with Wall Street and maybe they don't care what the average American is going through.  Clearly on the jobs front little of the bailout money is making its way down.  If we consider 79.9 percent interest rates on credit cards as helping the consumer then we really have things backwards.
Welcome to the new kind of recovery where jobs are lost and incomes get sucked into a vortex.  But at least you can still afford cable and see that wonderful CNBC ticker go up as those on Wall Street gamble the bailout money away.

If you enjoyed this post click here to subscribe to a complete feed and stay up to date with today's challenging market!