$100,000 a Year Will Make you Go Broke with the California Tax System: Why California is a Fiscal Disaster. Broken Tax Structure built on Bubbles.
Posted by mybudget360 in bankruptcy, bubbles, budget, california housing, debt, economy, government, housing, income, market history, psychology, real estate, recession
It is amazing how little attention on a national scale the California debacle is getting.  California alone is the 8th largest economy in the world and contributes $1.8 trillion a year to the national GDP.  In the mainstream press, all you hear is sound bites of "there goes California" yet the state is teetering on economic insolvency.  The U.S. Treasury and Federal Reserve seem more concerned about shoring up a situation where the U.S. dollar collapses instead of focusing on systematically changing the problems that have driven our economy to the cliff.  California is a perfect example of how not to finance a state economy.  I know many people out of state have a hard time understanding how $100,000 a year can make you feel broke in this state but after reading this article, you will understand why.  Keep in mind, you can live here on a $46,000 a year budget but that is now going to become harder and harder given this crisis.
California has drastically changed in the past century.  Before 1912 California would pull 70 percent of its revenue from property taxes.  In most cases property taxes are a better and steadier revenue stream because they tend to fluctuate the least in challenging economic times (assuming we don't have mega once in a century national real estate bubbles like we just did).  Even with recessions, property taxes are a good revenue stream because people for the most part will cut back on virtually every other line item before losing a home.  Yet that is now not the case.  Now, the primary sources of income for the state are personal income taxes, sales and use taxes, bank and corporation taxes, and a variety of excise taxes.  This is how it breaks down: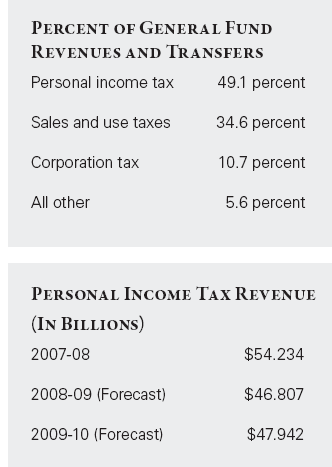 It is rather apparent how a recession this deep will plunge the state to near economic collapse.  First, personal income taxes take major hits during a crisis like this.  If the state is drawing nearly half of its revenue from a volatile stream, you will get volatile tax collections.  Plus, with an 11.5 percent unemployment rate meaning over 2,100,000 people are "officially" unemployed there is no income tax being paid in the first place by a large contingent.  Sales and use taxes make up nearly 35 percent.  Well of course during a crisis, people are going to pull back and not buy items like cars, big televisions, and therefore sales taxes will be hit as well.  The California revenue system is a boom and bust system.  Take a look at revenue streams for the past few years: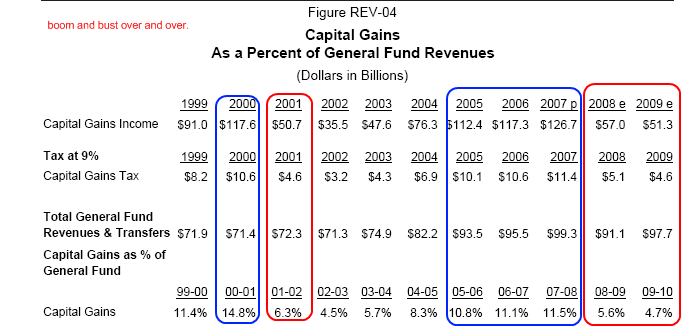 Capital gains income highlights this boom and bust cycle perfectly.  In 2000 with the technology bubble California residents took in $117.56 billion in capital gains which the state received a nice chunk of $10.6 billion.  Yet after the bust, in 2001 only $50.7 billion was made and only $35.5 billion in 2002.  So of course, this revenue stream was chopped each year.  Then with the real estate bubble, we see that 2005, 2006, and 2007 actually brought in more money than the tech bubble.  The state of course collected nice sums of money from this bubble.  Yet now, this has busted and capital gains income has fallen off a cliff.  Interestingly enough, property taxes actually increased from 2000 to 2001 at a modest rate even while cap gains split in half.
Now we are seeing drops in property tax collections given the epic California housing bubble that was built over the decade.  Property taxes for the most part are viewed as local revenue streams and impact cities, counties, and schools more directly.  The breakdown for example is roughly 17 percent counties, 11 for cities, 53 percent to schools, and 19 percent to special districts.  Here is the breakdown: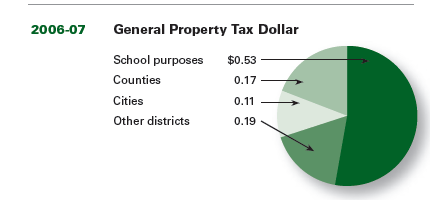 Now keep in mind, this is for 2006-07 which was a banner year.   During the 2006-07 fiscal year property tax revenues came in at $43.16 billion.  According to data provided by the Board of Equalization property assessed values during this time reached $4.28 trillion in the state.  Now this was at the peak.  By most estimates, the bubble has popped and California as whole has seen the median price drop by 50 percent.  So it is safe to say that the values are now at $2.1 trillion.  No wonder why revenue is drying up from every possible angle.
A big shift in revenue streams came on June 6, 1978 when voters overwhelmingly approved Proposition 13.  The reason this was passed is dramatic rises in property taxes during that time and also, a growing state surplus of $5 billion.  Proposition 13 rolled most local property taxes back to 1975 assessments and limited property tax rate increases to 1 percent plus the rate of local voter approved bond measures.  It was a limit to future property taxes.
After this measure passed, property taxes collapsed from $10.8 billion in 1977-78 to $5.4 billion in 1978-79.  So people tend to forget that once this happened local governments went into fiscal haywire.  For the first two years after Proposition 13 passed the legislature had to bailout local governments.  The first year a stop-gap measure costing $4.17 billion was used from the state surplus.  A second year bailout cost the state $4.85 billion.
But many properties have traded hands in recent years given the California housing bubble.  With this, many properties are now sitting on overpriced assessments.  Proposition 13 allows for reassessment when properties exchange hands.  So now after the drastic collapse in prices, you can rest assured that taxes may be too high on some properties ironically.  It is pure insanity how California does its taxes.  How so?  Well if you assessed property at bubble level prices on a yearly basis, the overall cost of owning a home would be more accurately reflected.  We now have people who bought at the peak with overpriced homes and over assessed properties.  It just doesn't give an accurate reflection of true cost.  Also, you have corporations who use Proposition 13 as a shell to keep paying commercial rates dating back to the 1970s since they don't need to exchange property as often as say a residential homeowner.
Yet that is one side of the story.  The bigger drain is the personal income tax stream plus the sales tax.  Let us see how this plays out for someone making $100,000 a year: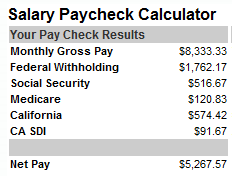 Let us assume you are a young working professional making $100,000 a year.  The above chart shows you how much money you are left with once all taxes are taken.  After all is said and done, nearly 40 percent of your income is gone (most of it going to the federal government).  So after that, you can feel good right?  No.  Because the state will then tax you like crazy with sales tax.  Here in California many counties now have 9 to 10 percent sales tax rates!  So after your $8,333 a month gross goes to $5,267 net, you now have to go out and buy things.  But when you buy an item, you are going to pay an additional tax.  The true tax burden for Californians is near 50 percent when all is said and done.  It would be one thing to pay for effective government but can you call what we have effective?
What many people don't realize is that 15 percent of California taxpayers, those that make over $100,000 pay 84 percent of all the personal income tax revenue.  And those that make over $480,940 which are the top 1 percent pay 48 percent of all state personal income taxes: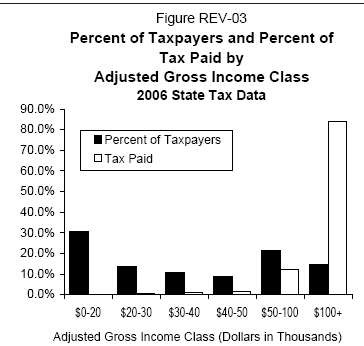 The problem with this system especially when you had many in the technology industry making tons of bubble money during the bubble is once it bursts, you will lose your primary source of income.  More recently, you had a double revenue bubble since property taxes soared because of the massive housing bubble but you also had tons of people working in the finance, real estate, and other related industries making these high incomes which are now gone.  So you lose the income and the property tax streams.  Systemically our system is broken.  Proposition 13 is only one piece of the puzzle.  The problem is we depend on revenue sources that are not stable.  Unfortunately a better source of revenue is property taxes just like many other states have.  Yet to raise property taxes without adjusting state personal income taxes is insanity.
Also, going back to the $100,000 worker, housing prices are still much too high.  For example, let us now assume this person wants to buy a modest home in a decent area.  Let us look at some L.A. areas for an example.  Let us assume this person wants to buy a starter home in Eagle Rock.  The median price for Eagle Rock is $475,000 and that is with the current reality that L.A. County as a region has seen the median price drop by 50 percent (of course much of this is because of the lower end distress market making up over half of sales).  So this person decides to buy this home with 10 percent down:
Down payment:                               $47,500
Mortgage:                           $427,500 (30 year fixed at 5.5 percent)
PITI:                                       $2,921
Net Income:                       $5,267
Disposable income after house payment:            $2,346
Now many would say big deal here.  But you need to remember we have done no contribution to a 401k or we haven't even factored in healthcare costs.  Food?  Car?  You can see that a $100,000 in California does not go a long way and only 15 percent of taxpayers fall in this bracket.  Just imagine for the median income earner which is approximately $50,000.  So you say what about 2 income households?  That puts us up to 26 percent of the population that makes over $100,000 but this is from 2007 data.  With unemployment skyrocketing since then that figure is surely lower.  It'll be fascinating to see the data figures once we have our next big census in 2010.  We may see a lost decade of income for many Californians.
If it isn't obvious to you already, we need a massive overhaul of the system.  The current solutions of pure cuts or pure tax hikes are piecemeal solutions because as you can see, we'll be back at this again next year.  We need to reform the system to include more stable revenue streams and link up state government to these streams so they don't go into feast and famine mode every few years.  For the past 20 years, we jumped from one bubble to the next.  Unfortunately, there is no other bubble in the short-term and the reality of the mess is being exposed.  Because if $100,000 a year is not enough for someone to live on here in the state and have a middle class lifestyle, then we have some serious issues.

If you enjoyed this post click here to subscribe to a complete feed and stay up to date with today's challenging market!