The American Dream has imploded with the Homeownership rate hitting another low: Most Americans too broke to buy a Home.
Owning a home is symbolic with having a piece of the American Dream.  The stereotypical picket white fence with a nice lawn is easily conjured up in the minds of many.  Yet for many, this is only a dream because it will never become reality.  The American Dream has imploded with many other areas of the economy.  We have hit another low when it comes to the homeownership rate.  Americans are too broke to purchase homes even with record low interest rates.  Home prices have increased hand and hand with the stock market but the problem is, most of the gains have gone to big investors and not families purchasing a place to live.  The big bet from Wall Street was to convert many foreclosures into rentals and push rents higher.  This is all interconnected like an intricate spider web and the public is the fly trying to break free.  The only problem is the housing market has transformed into another trophy for big money investors.
The end of an era
Housing is an important component of the American Dream for a variety of reasons.  Housing tends to be a forced savings account.  Every month, some part of principal is paid down and housing normally tracks inflation.  So what you have is a fixed cost and overtime, what you hope will happen is equity is built up while the payment remains the same.
Most Americans do not invest in the stock market so the housing market has given many a nice little cushion when retirement hits.  That little cushion is becoming rare in this market: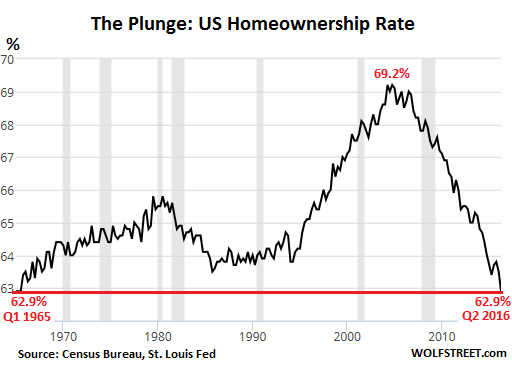 The last time the homeownership rate was this low was back in 1965.  We are looking at well over a half century since the homeownership rate was this low in America.  Many young buyers simply cannot afford to purchase a home even with low mortgage rates because many already carry an ungodly amount of student debt.  For many Americans, the thought of carrying another large amount of debt is hard to digest.
The bigger issue at hand has been the willful manipulation of the market.  The steps were clear:
-1.  When the market tanked, the bailouts were designed to help the banks, not the public

-2.  Millions of foreclosures happened at the same time banks were being bailed out

-3.  A few years later, banks morphed and all of a sudden you see Wall Street gobbling up those foreclosures

-4.  Now big money has a hand on many single family homes.  Many are turned into rentals

-5.  Builders don't build because they realize the demand is being shifted here

-6.  Prices get inflated, to buy and to rent

-7.  The homeownership rate continues declining since it hits its peak during the last bubble
Today we have a massively inflated market and many Americans are unable to purchase homes even with low interest rates.  As it turns out, we now have a massive number of renters that are being squeezed on rents as well.
The American Dream has imploded but at least you can get a low interest rate.

If you enjoyed this post click here to subscribe to a complete feed and stay up to date with today's challenging market!