Austerity nation – 45 million Americans on food assistance programs. Americans shopping at discount dollar stores confronting the realities of a shrinking dollar and disappearing middle class.
From November to December of 2010 487,000 Americans were added to the food stamp program.  Keep in mind this all occurred while the stock market continued to soar and has rallied nearly 100 percent from the lows reached in March of 2009.  Working and middle class Americans barely have enough to pay for the monthly bills so speculating in Wall Street is likely the least of their concerns.  The data on food stamp usage usually trails the current calendar date by one quarter.  The latest data we have is from December of 2010.  However, we are adding roughly 300,000 people per month to the food stamp program called SNAP.  If that is the case, as of today we now have 45,000,000 Americans participating in the food stamp program.  We've noted trends in the economy where people line up at mid-night during certain key dates in the month at Wal-Mart locations waiting for their debit cards to refill so they can purchase food for their families.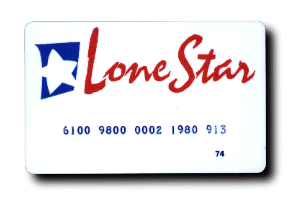 One of the troubling aspects of this recession is the hidden aspect of the financial pain that it is causing.  Many people have no idea their neighbor is in foreclosure until the home is taken back by the bank.  It is hard to see this in action and people don't speak up because of embarrassment.  Also with the media thumping its chest about recovery many blame their own failings for their misery.  And with the movement of food stamps from embarrassing paper coupons to debit cards, many have no idea how many of their fellow Americans are receiving food assistance.  The debit cards blend in with most any other piece of plastic Americans carry in their wallets.   The reality however is that 14 percent of our entire population (man, woman, or child) is on SNAP.  There has been little stopping this trend.  And this is something that has been going on for well over a decade but not many were paying attention because of the massive credit induced housing bubble and the lack of a voice for this group: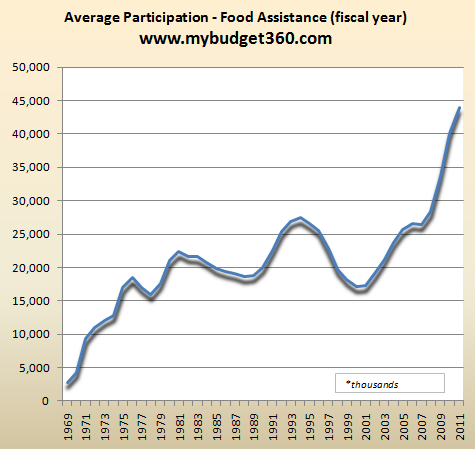 Source:  SNAP
This is the highest percent of Americans on food assistance since the Great Depression when there was no food assistance early on aside from local charities.  Yet this is somehow an economic recovery.  A Wal-Mart executive was quoted as saying:
"(NY Times) There are families not eating at the end of the month," said Stephen Quinn, executive vice president and chief marketing officer at Wal-Mart Stores, and "literally lining up at midnight" at Wal-Mart stores waiting to buy food when paychecks or government checks land in their accounts."
Even in more affluent neighborhoods and in states like California where the impression is that everyone is flush with money food stamp usage is on the rise:
"(NC Times) More than 218,000 San Diego County residents were receiving food stamps as of mid-February, a whopping 70 percent increase from just two years ago.

Since January 2010, the number has gone up by about 49,040, county supervisors were told Tuesday as they adopted a 58-point blueprint to speed up delivery of food assistance.

The increase in recipients stems from a continuing sluggish economy and what managers of the county's food stamp program and advocacy groups said are improvements in the application system that resulted from talks between the two.

"We've seen dramatic increases in demand," said Dale Fleming, who oversees the food stamp program for the county. "We've also changed the way we do business."

But despite the higher numbers, advocacy group representatives say the county still has a long way to go to make sure people aren't going hungry."
This trend hasn't shown any signs of slowing down.  And this is also a reason dollar stores have done so well during this recession as people shift from wants to absolute necessities:

Family Dollar and The 99 Cent store are up 89 and 54 percent respectively in the last five years.  These dollar stores have also shifted the inventory they carry from random plastic goods to having much more food to reflect the needs of the community.  And many people who never thought about shopping frugally are now being forced to:
"(Sign on San Diego) John Sanchez had never stepped foot inside a dollar store until last April. That's when he was laid off from his job and was forced to make some drastic budget cuts, including getting back to basics for a buck. Now, even though he's returned to work, it's hard to get him to shop anywhere else.

"I always thought dollar stores just sold junk and were for the really low-income (consumer). I was shocked when I saw that they sell a lot of the same stuff as the grocery store or drugstores. And it's all just a dollar," said the 61-year-old San Diego resident, as he exited the 99 Cents Only store in Clairemont pushing a cart filled with produce, bakery items, toiletries and a variety of cleaning products. "Why would anyone want to pay more for the same thing?"
Many working and middle class Americans are now confronting the realities of a shrinking middle class. Decades of complacency and Wall Street corruption and government assistance has allowed the core of our economy to be gutted out.  When does the media ever bring up the fact that 45 million Americans are on food assistance?  This is never brought up even though it truly reflects the health of our working class economy.  In other words, the media does not care about working and middle class Americans.  Many are owned by large corporations that want to continue selling the message that everything is fine and dandy.  If you really look at the data this recession is still going on even though it ended officially a long time ago.  Austerity is on the rise and it won't be televised.

If you enjoyed this post click here to subscribe to a complete feed and stay up to date with today's challenging market!