Bank of America: $931 billion in Loans and Leases. Net Income Fell by $11 billion in 2008. Gear up for Financial Earnings Season.
The market is now fully engaged in earnings season.  Market sentiment stocks like Alcoa reported a loss bigger than analyst had expected but all eyes are focused on the financial industry.  That is why when Wells Fargo announced an early $3 billion profit, the markets went into full rally mode.  Yet once you dig into the details, you realize that the gain was nothing more than smoke and mirrors.  This is like getting excited over Countrywide Financial announcing profits months before the market crashed.  It is important to examine the financial situation of these banks earlier since we will be hearing many reports in the next few weeks.  One bank to look at is Bank of America.
Bank of America has $931 billion in loans and leases on its books.  It has assets of $1.8 trillion making it one of the gigantic firms in the U.S.  Let us look at the year end results of 2008: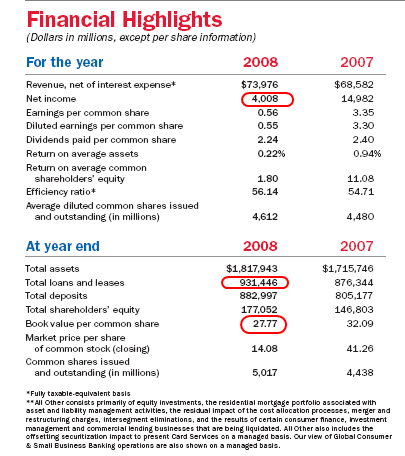 Take a quick look above.  Bank of America saw net income drop from nearly $15 billion in 2007 to $4 billion in 2008.  What is more important to focus on is the massive loan and lease portfolio which is up nearing $1 trillion.  With Bank of America swallowing up Countrywide Financial and Merrill Lynch, we are left to wonder how many questionable loans are sitting in that gigantic portfolio.  It is interesting to see where Bank of America has been drawing on for its net income: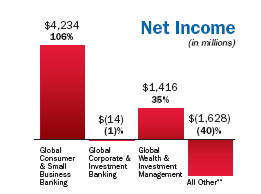 Most of Bank of America's profits in 2008 came from small banking and wealth management.  However, the global markets were outpacing the U.S. in the first half of 2008 yet joined the ranks later in the year.  Now, global markets are having tougher times than the U.S.  So it is hard to imagine that these profits continue in 2009.  So these combined should make it tougher to turn a profit.  Breaking this down further, we find a few areas that are positive: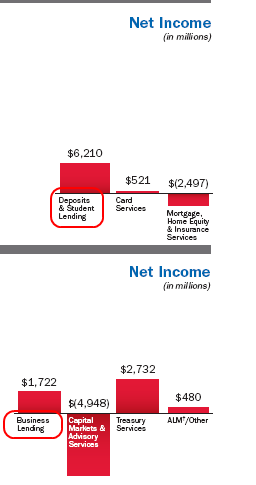 Business lending, deposits, and student lending.  These areas as we know have been contracting for the first quarter of 2009.  So it will be interesting when earnings come out to see how these areas are holding up.  Yet as many people are now realizing through credit card rates banks are now becoming more strategic on how they bring in money.  Let us see how Bank of America is doing in these areas: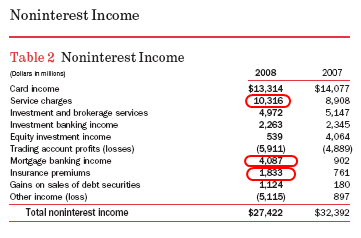 What a surprise that BofA collected nearly $1.5 billion more in service charge fees in 2008 than in 2007.  As the global economy got tougher and BofA was getting life lines from the U.S. Treasury, it was putting on the vice grips to customers.  These same customers are the same people who are also providing tax funds to support the bailout of this bank. Amazing.
But things get better.  While recent data is showing many filing for bankruptcy and credit card default rising, BofA seems to be doing okay here: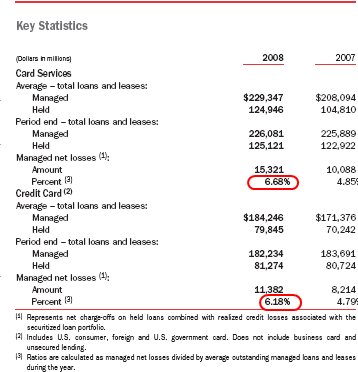 The fascinating thing is in 2008, arguably one of the worst housing markets on record BofA actually pumped out in loan production nearly 35 percent more in mortgages than in 2007: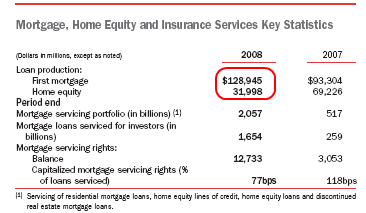 Let us get a better look of the entire consumer loan and lease portfolio: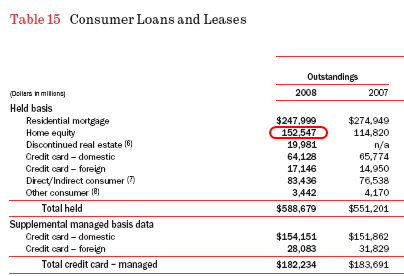 You tell me how you can expand your home equity exposure in 2008 in a year when the Federal government was bailing you out and expect everything to be okay?  Any way you slice it, the risk is still inherent here.  BofA would not be standing without Federal money.

If you enjoyed this post click here to subscribe to a complete feed and stay up to date with today's challenging market!