Wells Fargo: $865 Billion in Loans. Time to Really Examine the Wells Fargo $3 Billion First Quarter Expected Bounce. $57 billion in Pick-a-Pay Loans Still Waiting.
It was rather stunning to see the market react so positively to a bank that has received $25 billion in taxpayer money turn a profit of $3 billion in the first quarter, which also included the FASB mark to market rule adjustment.  What many people have seemed to forget in the last few weeks is that Wells Fargo in their infinite wisdom took over Wachovia.  Wachovia for many of those who do not know swallowed uber toxic mortgage dealer Golden West that ultimately led to the demise of the bank because of mortgage indigestion.  So Wachoiva was swallowed up by Wells Fargo in a shotgun marriage similar to JP Morgan Chase taking the entirety of Washington Mutual.
What brought down WaMu and Wachoiva were toxic liar loans.  Sadly, many of these loans still sit in the massive $865 billion loan portfolio over at Wells Fargo.  We will have to wait a couple of weeks before we get full details but take a look at where things were at in the Q4 of 2008: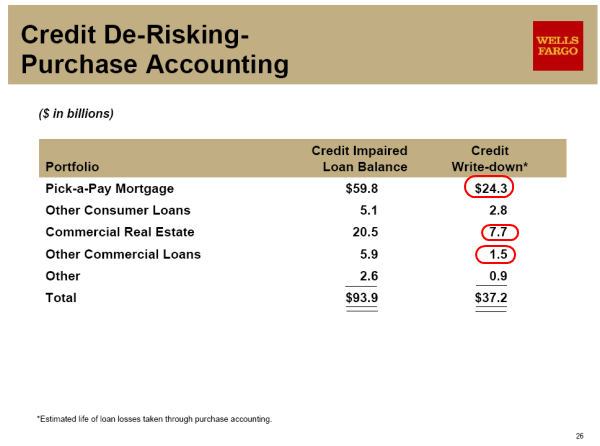 Well look at that.  Tons of pick-a-pay mortgages are still on the books.  A large portion of commercial loans as well.  Keep in mind Wachovia made tons of these loans in California and many of these are only hitting their stride recasting in a state with one of the highest unemployment rate in the country.  It probably doesn't help that home values have fallen by 50% but thanks to new accounting methods, we can forget about marking those assets to market.  If you were to sell these homes, you might get $250,000 but let them keep it on their books for $500,000.
And for those of you with short term memories, Wells Fargo also took a hit by being intertwined with none other than Bernard Madoff: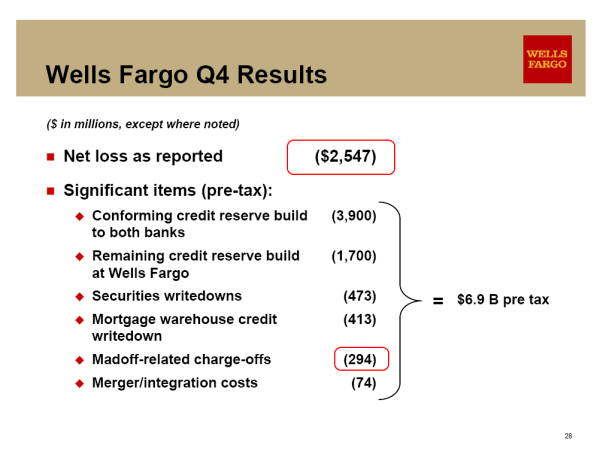 So this supposed $3 billion earnings quarter is on the back of a $2.5 billion loss last quarter.  $25 billion in taxpayer money, changing accounting rules, having the Fed sacrifice the dollar for cheap mortgage rates, and all you get is a $3 billion quarter?
Of the pick-a-pay portfolio $57.7 billion is still sitting in "non-impaired status" which is insane.  How much exposure do they have to the most toxic states?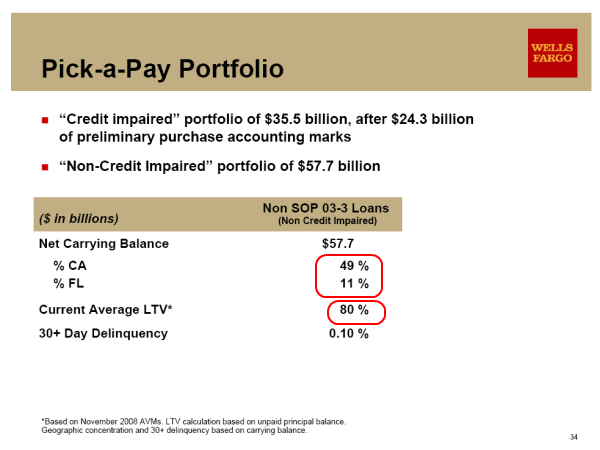 Rest assured if these homes were put on the market, you would easily have a $3 billion loss.  California has a 10.5% unemployment rate, but more like a 16 to 19 percent rate if we do a better calculation.  These pick-a-pay loans are the most toxic of mortgages.  To think these are not going to have further losses is insane.
So how did Wells Fargo pull it off?
-$175 billion in loan commitments, mortgage originations, and mortgage securities purchases.
-$190 billion in mortgage applications for over 800,000 homeowners
-Funded $100 billion in mortgage loans, helping over 450,000 homeowners either purchase a home or lower their payment through refinancing.
We aren't told the value of those refinancing versus those who are purchasing.  This is a key factor.  It is very likely the majority of these loans are refinances with the record low rates.  Once we get results, we'll be better able to see what is occurring.
Bottom line, this is a one hit wonder because of mark to market freezes, TARP funds, lower interest rate hitting a trough, and a pause before those pick-a-pays start recasting in mass.  Keep in mind, this is the lowest mortgage rates are going to get.  We have only one way to go from here and that is up.  There is a reason why the government decided to hold on releasing those stress test results until all banks reported earnings.

If you enjoyed this post click here to subscribe to a complete feed and stay up to date with today's challenging market!